Chicago Board of Trade Market News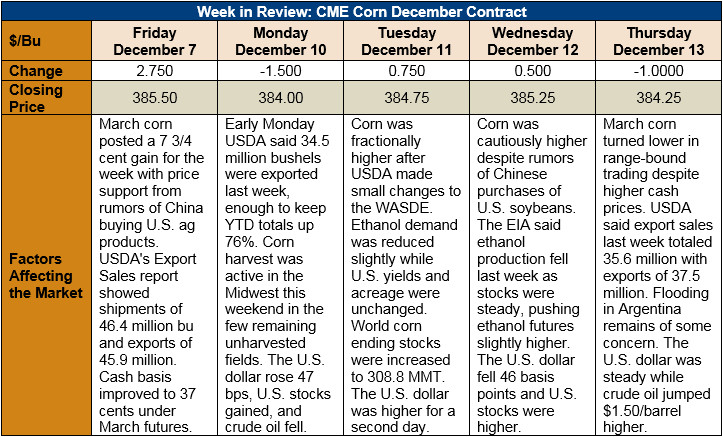 Outlook: March corn futures are down 1.25 cents/bushel (0.3 percent) from last Friday's close as fresh fundamental news has been limited. Harvest is in the final stages of completion in the U.S. and current prices are encouraging farmers to store their crop. Basis levels have been rising but futures are decidedly range-bound. The December WASDE was expectedly uneventful with modest additions to world ending stocks not exerting much influence on the corn market.
The December WASDE featured few changes to the U.S. corn balance sheet as the USDA left yields and harvested acreage estimates unchanged. The agency reduced ethanol use of corn by 1.27 MMT (50 million bushels) and dropped the import figure 0.127 MMT (5 million bushels). Those two changes rolled down the balance sheet to boost U.S. 2018/19 ending stocks 1.143 MMT (45 million bushels). The latest ending stocks/use figure is 11.8 percent, down 3 percent from 2017/18.
Around the world, the latest WASDE boosted world ending stocks 0.4 percent to 308.8 MMT, which put ending stocks/use near 23.9 percent – down 3.6 percent from the prior year. There were few other changes to foreign countries' balance sheets beyond modest beginning stocks adjustments and a 1.5-MMT-increase in Ukraine's 2018/19 corn production.
This week's Export Sales report from USDA featured 1.243 MMT of 2018/19 sales and 1.1663 MMT of shipments. USDA also noted 105 KMT of sorghum and 800 MT of barley were shipped last week as well. YTD corn exports are up 79 percent while YTD bookings (exports plus unshipped sales) are up 17 percent. Barley exports are up 39 percent YTD.
March corn futures are decidedly range-bound and look to remain so in the near-term. Funds have pared back their short position in this commodity, eliminating short-covering as a catalyst for higher prices. Cash prices are steady this week with basis firming amid slightly lower futures. Notably, cash prices are up 13 percent over last year at this same date. Without strong U.S. exports or a supply shock somewhere in the world, it seems March corn futures will continue their sideways trend, slowing grinding higher.