Chicago Board of Trade Market News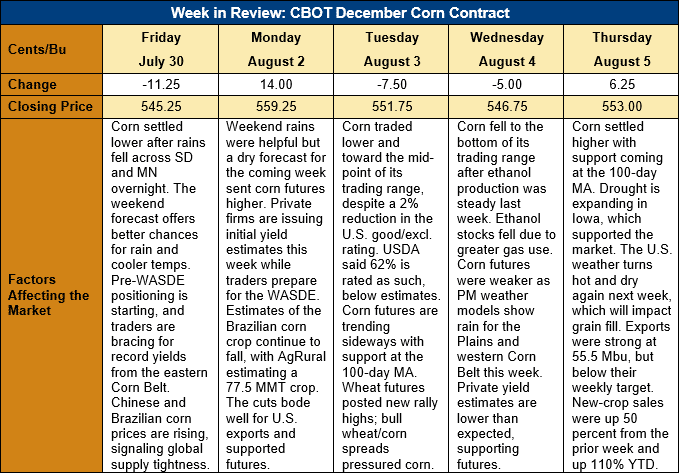 Outlook: December corn futures are 7 ¾ cents (1.4 percent) higher after another week of choppy, sideways trade. The market fell hard last Friday as end-of-the-month profit taking and weak macro markets pressured the CBOT. Since then, stronger new-crop export demand, pre-WASDE positioning, and a drier U.S. weather forecast have supported corn futures on breaks, even though rallies saw little follow-through buying. Next week's WASDE report will offer needed insights into U.S. and world corn supply potential as well as how international trade patterns may shift in the new crop year. Until then, corn futures seem to have settled into a sideways trading pattern near $5.50.
One of the biggest numbers coming from next week's WASDE will be the Brazilian corn export forecast. Brazil's safrinha corn crop suffered drought and multiple frost/freeze events that have caused analysts to lower their assessment of the crop. Some private firms now estimate the total Brazilian 2020/21 corn crop at 77.5-80 MMT, well below USDA's July forecast of 93 MMT. Some analysts project Brazilian corn exports may only total 20 MMT, which would be down 40 percent from 2019/20 volumes. USDA is expected to lower both production and export forecast for the Brazilian crop, but questions remain as to how aggressive the agency will be in the August report. Regardless, the smaller Brazilian crop will place additional burden on other international suppliers, including Ukraine and the U.S., and the WASDE should reflect this shift.
Another bullish development in South America is in Argentina, where drought has lowered the Parana River's draft and forced export vessels to load 20-50 percent less volume in the country's "Upriver" ports (e.g., Rosario). Vessels have been completing loads in southern ports (e.g., Bahia Blanca) and paying up to $55/MT ($1.40/bushel) more for corn at these ports. Now, an ongoing strike that Argentine truck drivers started last Friday is restricting shipment of corn from the surplus-producing regions in the north to southern ports.  The strike is greatly slowing the Argentine export program as vessels can no longer "top off" at southern ports.
U.S. old crop corn export sales continue to follow their seasonal pattern lower, but weekly exports were up 4 percent from the prior week at 1.41 MMT. YTD exports are up 64 percent at 63.5 MMT while YTD bookings (exports plus unshipped sales) are up 59 percent at 69.723 MMT. YTD bookings have reached 96 percent of USDA's 2020/21 corn export forecast while YTD exports are 88 percent of that figure. New crop export sales were up 57 percent from the prior week and outstanding 2021/22 sales total 17.487 MMT, up 110 percent from this time last year.
From a technical standpoint, December corn futures are marching sideways with support coming on breaks to the 100-day moving average. The contract is trading a tight range from $5.40-5.65 and is unlikely to break out of that pattern before next week's WASDE. Beyond that, December corn has trendline support at $5.23 and trendline resistance at $5.82 ½. The market seems to be consolidating in a wedge pattern and, given that the long-term trend is still higher, an upside breakout from the wedge is more likely. However, it seems funds are waiting for very clear, bullish fundamentals to develop before chasing any technical rally. The WASDE may provide such input, but USDA often waits until the September report to make major adjustments to its yield forecasts. Consequently, corn futures' current sideways pattern could continue into the fall before the market makes a major move.