Chicago Board of Trade Market News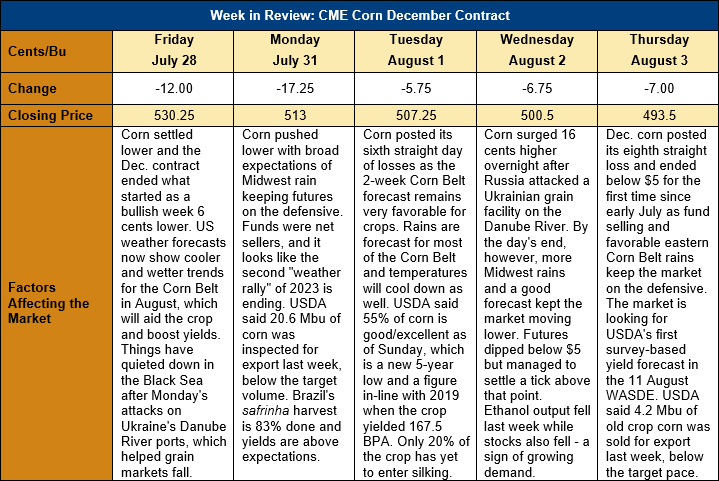 Outlook: Corn futures are 36 ¾ cents (6.9 percent) lower this week as a dramatic change in the U.S. weather forecasts, which now offer cool conditions with ample Midwest precipitation, sent commodity markets sharply lower. The late-July run up in prices was primarily motivated by the then-threatening forecast with a substantial heatwave present for the Midwest and coupled with very dry conditions. With models having shifted (and now agreeing with each other) to predict far more favorable conditions for the Corn Belt, futures have turned lower on expectations of a large 2023 U.S. crop.
Last week's heat and dryness over the Corn Belt and most of the rest of the Midwest helped pare back crop conditions ratings. The share of corn rated good/excellent fell 2 percentage points to 55 percent last week, which is a new five-year low for the last week of August. The conditions ratings are very similar to those of 2019 when the national average yield totaled just 167.5 BPA. The conditions deterioration is not isolated to corn, however, and sorghum ratings fell 5 percentage points last week to 55 percent good/excellent while barley ratings fell 2 percentage points to 50 percent good/excellent.
Beyond the conditions ratings, Monday's Crop Progress report showed that 80 percent of U.S.  corn is silking, meaning just one-fifth of the crop will pollinate during the cooler, wetter conditions of this week and next. Twenty-nine percent of the crop is in the dough stage, which is a few percentage points ahead of the five-year average with only Ohio, Nebraska, and Colorado significantly behind their normal pace.
U.S. old crop exports are following their seasonal trend lower and gross sales totaled 232 KMT last week with 626.2 KMT of exports. The export figure was up 66 percent from the prior week and put YTD exports at 36.873 MMT, down 35 percent. YTD bookings now total 40.167 MMT and are down 34 percent from last year but account for 95.8 percent of USDA's July WASDE forecast.
One interesting trend in the export market is the uptick in demand for U.S. sorghum. Old crop sorghum export sales have increased recently in contrast to their usual trend and this week's gross sales were 140.9 KMT, up 268 percent from the prior week. Exports were down from the prior week at 70.4 KMT, but the increase in old crop sales and bookings highlights better-than-expected demand. Moreover, new crop sales now total 881 KMT, up 553 percent from the bookings reported this time last year.