Chicago Board of Trade Market News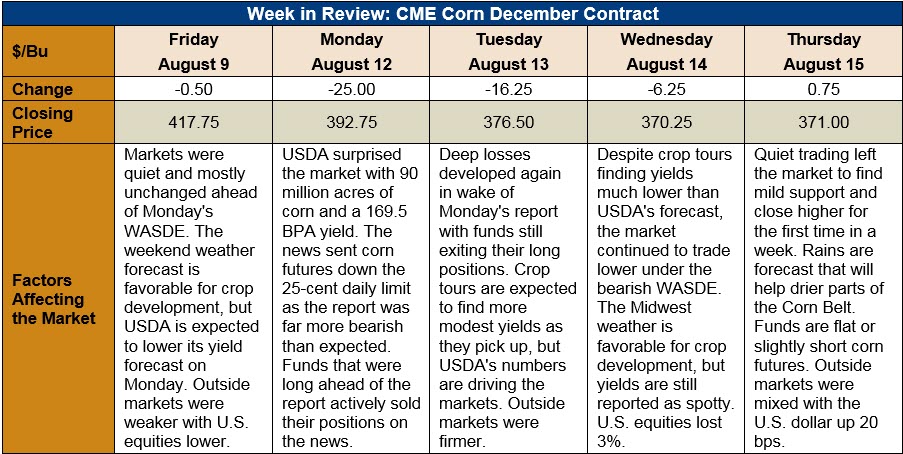 Outlook: December corn futures are down 46.75 cents (11.2 percent) this week as the market adjusts to USDA's August WASDE. USDA surprised the market with larger-than-expected planted area and yield forecasts, despite this year's difficult weather. Funds were holding a slight long position heading into the report and have since largely exited that and are believed to be neutral or slightly short corn. Looking forward, summer crop tours will bring additional yield forecasts to the market's attention and early reports suggest final yields may be lower than the USDA's latest estimate.
The headline numbers from the August WASDE were USDA's forecast of 90 million planted acres and a U.S.-average yield of 10.64 MT/ha (169.5 bushels/acre). That yield forecast, combined with expectations of 82 million harvested acres created 2019/20 production forecast of 353.1 MMT (13.901 billion bushels). USDA also reduced its 2019/20 export forecast for the U.S. by 5 percent, leaving 55.4 MMT (2.181 billion bushels) of ending stocks. The ending stocks/use forecast of 15.4 percent is certainly lower than the prior year's 16.5 percent, but hardly painted the expected tight supply situation.
Outside the corn market, USDA increased its assessment of 2019 sorghum planted acres to 5.3 million and increased the yield forecast 10 percent. Those two changes increased 2019/20 production by 15 percent, which USDA now expects to be 7.707 MMT (354 million bushels). The agency increased its expectations for feed and residual use but kept its export forecast unchanged, leaving a 23 percent increase in ending stocks. Despite the build-up in stocks, USDA only decreased its farm price expectation 10 cents/bushel.
USDA made few changes to its barley forecast for the U.S., increasing the yield and forecasts 1 percent each, which resulted in a 2 percent increase in ending stocks. The farm gate price was increased 5 cents/bushel on better-than-expected prices during the first half of the year.
Despite increases in sorghum and barley yields, USDA lowered its expectations for the oat yield by 2 percent. The smaller yield and production figures created a small decrease in ending stocks but the agency left the farm price forecast unchanged at $2.90/bushel.
Internationally, USDA increased the world corn 2019/20 production estimate to 1,108 MMT on larger crops in the U.S., Ukraine, and the EU. The EU crop adjustments were made largely on much better-than-expected crops in Eastern Europe that outweighed the heatwave-reduced crops in France, Germany, and Poland. The agency also increased world ending stocks to 307.7 MMT, though that figure is still 7 percent lower than 2018/19.
USDA's weekly Export Inspections report featured net sales of 56,100 MT and exports of 707,900 MT. The export figure was up 2 percent from the prior week and narrowly less than needed to keep pace with USDA's latest export forecast. YTD exports are down 11 percent while YTD bookings are off 17 percent. USDA also noted that 77,000 MT of sorghum and 200 MT of barley were exported last week.
U.S. cash prices are weaker across the Midwest this week with the average price moving 13 percent lower to $137.72/MT. Barge CIF NOLA and FOB NOLA corn prices are also lower with Gulf export offers reaching $164.75/MT, a decrease of 11 percent from the prior week. FOB NOLA prices are 5 percent higher than this time in 2018.
From a technical standpoint, December corn is stabilizing after its steep, post-WASDE selloff and is near major technical support. Additionally, Tuesday's opening left a gap on the daily chart near $3.90 and markets tend to trade back through price ranges that were missed by gap openings. That tendency, combined with technical support and the end of long position liquidation suggests the market could bounce back from its recent lows, especially if crop tours continue finding spotty yields.