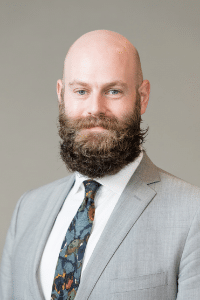 Since 2016, Brian Healy has served the U.S. Grains Council (USGC), most recently as its director of global ethanol market development. During his time with the Council, Healy has made many positive contributions to the organization and the ethanol industry.
"Brian's collaborative style of working has helped forge interagency working groups within the U.S. government, and his expertise in policy and technical matters related to ethanol have kept us on the right track," said USGC President and CEO Ryan LeGrand. "The trust he has built with members has been extremely beneficial to the Council as we seek to lead the industry through the challenges and opportunities that exist in the global market. Several years ago, we started to build our reputation as the leader in ethanol export market development, and Brian has helped cement that reputation."
Healy sat down with Global Update editors to share his Council experience.
When did you start working for the Council? What interested you about the position?
I began working with the Council in December 2016. I was previously with USDA's Foreign Agricultural Service (FAS), working with the Council and other industry groups right at the time a full-fledged market development effort for ethanol was getting underway. At the time, I had already led ethanol market assessment missions to Mexico, India and China with FAS. The Council created a new role that allowed me an opportunity to get in on the ground floor of a global initiative that needed to be scaled.
How has your job changed over the years you have worked at the Council?
Initially, everything happened all at once. We were simultaneously conducting market discovery, getting the organization up to speed on a new product and launching credibility within the industry. Establishing our identity in the space was key early on; nothing this extensive had ever been done before for the global market. Getting partnerships and strategic alignment right with the broader industry from the start made us so effective. Today, we have 10 offices, including the Washington, D.C., headquarters, operating at full tilt to develop the market, and we have seen successes even in a challenging landscape. My role most recently involved ensuring the foundations we have built are current and generating results in the form of expanded global ethanol use and trade.
Tell me about one of your favorite memories or highlights working for the Council – a work trip, an event, an interaction.
I have two favorite memories.
The first is the Global Ethanol Summit; nothing like it had ever been done before. We had more than 450 attendees from 60 countries learn about one topic: expanding ethanol use. Government, industry and academia were all aligned and received the same message: new policy support, direct sales at the event and even greater industry support for our global program.
The second was when the Council led a delegation to Iowa following a bilateral government and industry dialogue. A recurring question on vehicle compatibility was put to rest after a test drive, as no amount of technical documentation had satisfied the delegation's inquiries. Following the test drive, the question was declared resolved, with great credit to our state partners and supporters. The long-standing effectiveness of hosting delegations in the U.S. with local partners is something I will never forget.
What have you enjoyed most about working for the Council?
First and foremost, the people. The Council has an incredibly talented team all around the world and a great Board of Directors. That extends to our partners and members; united, the organization and its members are carrying out an enormous agenda that benefits the industry. I have also enjoyed the work itself. The markets are dynamic and no matter how prepared you are, you have to problem solve on your feet, which I really enjoy. Finally, every day is different. It sounds cliché, but there is a great deal of ambiguity to constantly navigate. Having a clear goal and ongoing communication is what makes the Council successful.
What would you consider to be your highlights in your ethanol work since you began working with the Council?
Seeing the confidence and support the U.S. industry has for our global work on ethanol has been a paramount achievement in my view. The same is true in support from our governmental colleagues we work with around the world – their support is critical to our successes.
What do you think we should be watching for in the ethanol industry in the future?
First and foremost, we should be watching for opportunities for greater collaboration as a global industry. It is poised for growth only if we work together. This is true today and will be true in 2050. Together, the industry can eliminate legacy tariff discrepancies that limit ethanol trade. It can also work together to bolster the environmental and climate narrative that countries are increasingly focused on. Growth on the global stage requires collaboration, which is why it has always been a focus of the Council's work.
What would you consider to be your top three accomplishments in your Council career?
First, scaling up the program from its infancy to the 20-market program it is today with 10 offices operating autonomously.
Secondly, seeing wins in markets like Japan, where U.S. market share went from zero to 66 percent; tariff rate reductions of 25 percent in markets like Vietnam; and seeing formalized partnerships established in many of our markets.
Lastly, personal growth. I am a more effective, genuine leader today than I was when I started at the Council. The path was not perfect – I certainly made mistakes along the way – but I learned from those experiences and had a network of mentors who helped guide me through challenges and believed in my ability to take on larger, highly visible roles.
Any parting words as you move out of your current role?
Empower others and create opportunities for them to grow. Without question, it is the best way to learn.
Healy officially transitioned out of his role as director on May 2, welcoming Mackenzie Boubin into the position. Healy will hold an advisory role with the Council through August to ensure a smooth transition within the ethanol department.
The Council thanks Brian for his contributions to the organization and the industry and wishes him the best of luck in the future!
About The U.S. Grains Council
The U.S. Grains Council develops export markets for U.S. barley, corn, sorghum and related products including distiller's dried grains with solubles (DDGS) and ethanol. With full-time presence in 28 locations, the Council operates programs in more than 50 countries and the European Union. The Council believes exports are vital to global economic development and to U.S. agriculture's profitability. Detailed information about the Council and its programs is online at www.grains.org.