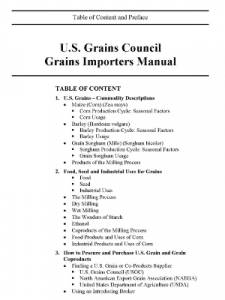 Want to learn more about importing U.S. grains? The U.S. Grains Council (USGC) has just the resource – the Importer Manual. The manual was recently updated for the first time since 2004.
The Importer Manual was created to provide the Council's international customers with a comprehensive resource on how to properly import U.S. grains. The manual also provides additional resources and importer stakeholder information to better serve the organization's members and international buyers.
"Enabling trade is an integral part of the U.S. Grains Council's mission, and that's exactly what the importer manual is set to accomplish," said Sadie Marks, USGC manager of global programs. "The new edition of the manual dives deeper into important topics and highlights our membership, which represents the full U.S. export industry, to create a seamless and transparent guide for our international buyers to purchase U.S. grains."
The manual is comprised of 14 chapters, each covering a different topic in ensuring the successful importation of U.S. grains. The chapters are as follows:
U.S. Grains – Commodity Descriptions
Food, Seed and Industrial Uses for Grains
How to Procure and Purchase U.S. Grain and Grain Co-products
Grain Quality – U.S. Grades and Standards
U.S. Grain Exports and Trade Flows
Shipping Terms – FAS, FOB, C&F, CIF
Ocean Freight and Transportation
Payment and Financing of U.S. Grains
Price Discovery and Cash Markets
Derivative Markets
Market Analysis
Price Risk Management and Hedging in U.S. Grain Markets
How to Become "Import Ready"
List of Resources
The new version has been significantly revised by expanding the depth of information, updating current resources and creating additional chapters, including hedging, derivative markets and the historical perspective behind U.S. grain exports and trade flows. Chapter three provides a link to the Council's full membership directory, which represents the grain export system in its entirety, a valuable resource for international buyers.
The full document is downloadable on grains.org.
About The U.S. Grains Council
The U.S. Grains Council develops export markets for U.S. barley, corn, sorghum and related products including distiller's dried grains with solubles (DDGS) and ethanol. With full-time presence in 28 locations, the Council operates programs in more than 50 countries and the European Union. The Council believes exports are vital to global economic development and to U.S. agriculture's profitability. Detailed information about the Council and its programs is online at www.grains.org.