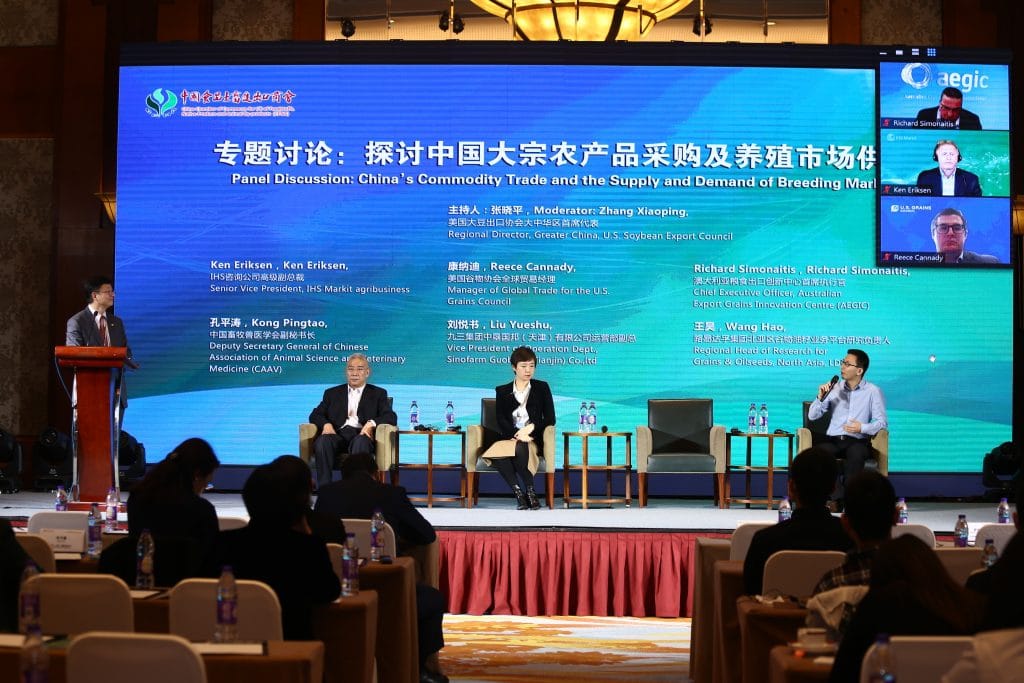 To give customers in China a market and harvest update on U.S. sorghum, corn and distiller's dried grains with solubles (DDGS), the U.S. Grains Council (USGC) recently had a role in the 12th China International Cereals and Oils Industry Summit, hosted by the China Chamber of Commerce of Import and Export of Foodstuffs, Native Produce and Animal By-Products (CFNA).
With more than 200 grains buyers, livestock end-users, feed millers and other grains and oilseeds industry stakeholders in attendance, USGC was able to build upon its longstanding relationships with key customers by providing useful market information to help them make sound purchases, while boosting the sales of U.S. sorghum, corn and DDGS.
Attendees heard from several Council representatives including Ryan LeGrand, USGC president and CEO; Paige Stevenson, USGC manager of global trade; and Reece Cannady, USGC manager of global trade.
LeGrand expressed his gratitude for the relationship between China and the United States on agricultural trade.
"U.S. Grains Council members, American corn and sorghum producers, as well as ethanol producers and agribusinesses greatly appreciate the increased sales to China over the last year and a half. We hope this mutually beneficial trade relationship between your nation and ours continues to strengthen for many years to come," LeGrand said.
"China's role as a leading export market for U.S. sorghum has returned, and China will import more than half of all U.S. sorghum produced in the current crop year. It's also well known that China's imports of U.S. corn have surpassed all expectations, with over 21 million metric tons [826,728,000 bushels] shipped to China in the 2020/2021 crop year, and over 10 million metric tons [393,680,000 bushels] contracted so far for the current crop year. Your recent imports make China by far the biggest importer of U.S. corn ever."
Stevenson shared an update on corn, sorghum and DDGS production, supply and demand with attendees, in addition to an update on the port situation in New Orleans following Hurricane Ida.
"Sorghum primarily exports out of the Texas Gulf, and Hurricane Ida did not impact that area. Most of the impacted sorghum will come by rail down to the Texas Gulf and will export there. Sorghum boats should certainly be able to export normally and should not be impacted by Hurricane Ida," Stevenson said. "In New Orleans, nine of the 10 grain export terminals are back online and loading boats again. Last week, we exported about 60 percent of the amount of corn we did a year ago, so we're certainly not fully back up, but we are picking up."
Cannady joined the question-and-answer session on behalf of the Council, further building upon Stevenson's presentation by discussing commodity trade in China and supply and demand in the market.
Exports to China more than tripled in the 2020/2021 marketing year, making it the top importer of U.S. grains in all forms at more than 35.2 million metric tons (1.3 billion bushels) in corn equivalent.
Read more about the Council's work in China.
About The U.S. Grains Council
The U.S. Grains Council develops export markets for U.S. barley, corn, sorghum and related products including distiller's dried grains with solubles (DDGS) and ethanol. With full-time presence in 28 locations, the Council operates programs in more than 50 countries and the European Union. The Council believes exports are vital to global economic development and to U.S. agriculture's profitability. Detailed information about the Council and its programs is online at www.grains.org.