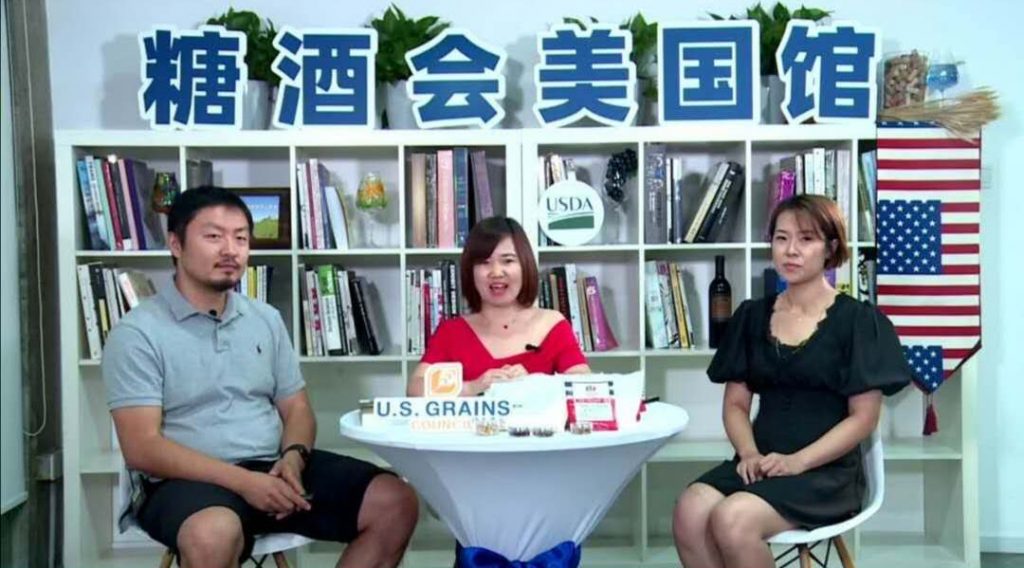 The U.S. Grains Council (USGC) demonstrated the advantages of U.S. barley and malt with Chinese brewers and maltsters during virtual events in late July – the latest in a series of activities to introduce the two ingredients into the market following new market access for U.S. barley included in the U.S.-China Phase One agreement.
A webinar on July 31 discussed U.S. malting barley varieties and brewing characteristics. More than 70 representatives from the Chinese beer, malting and trading industries tuned into the technical presentation and a panel discussion that featured four brewers in China.
"For most of the participants, this webinar was their first exposure to U.S. barley," said Wennie Liu, USGC program manager in China. "They were really interested in learning about U.S. malt quality and merits for brewing and discussing the differences between U.S. malt and European malt."
The Council also worked with Chinese partner SuperMalt on a 15-minute live-streaming introduction of U.S. malt during the U.S. Pavilion of the Virtual China Food and Drink Fair on July 29. This year's exhibition was a virtual version of the long-running China Food and Drinks Fair, which has been known as the barometer of China's food and drink industry since the event started in 1955.
During the livestreamed activity, SuperMalt introduced several base malts and specialty malts, showing different U.S. malt samples to the audience. Nearly 5,000 attendees tuned in for the livestream.
SuperMalt purchased 20 metric tons of U.S. malt on Aug. 10, bringing their total for the calendar year (January to August 2020) to 50 metric tons. While these sales are still small compared to other markets, the total is already a record for U.S. malt exports to China. The Council is also partnering with the company to promote U.S. malt and barley during the Beijing Brew in mid-September, with more workshops are planned for future months.
"We are organizing more workshops on U.S. malt and barley throughout China," Liu said. "These events will focus on demand building and end-user education, helping more of our importers and end-users in China gain a better understanding of U.S. malt and barley."
China imports five to 10 million tons (459 million bushels) of barley each year – with one to two million tons (45.9 million to 91.9 million bushels) destined for malt and the rest used for feed use – with fluctuations due to changes in domestic policy and global feed barley supplies. Traditionally, Australia is China's primary barley supplier, trading two to five million tons annually. However, Australian barley is currently subject to anti-dumping duties of around 80 percent, which severely limits exports to China.
In contrast, in May, the United States and China agreed to a phytosanitary protocol for U.S. barley being shipped to China, a market development achievement years in the making finally accomplished with a boost from the U.S.-China Phase One deal signed in January. The Council and the U.S. barley industry have since been working to ensure potential exporters meet administrative requirements to sell to China.
"There is significant interest and potential for U.S. malt and barley in China," Liu said. "We will continue working with traders and end-users to help the United States grow as a malt and barley supplier."
Learn more about the Council's work to promote U.S. malt and barley in China.
About The U.S. Grains Council
The U.S. Grains Council develops export markets for U.S. barley, corn, sorghum and related products including distiller's dried grains with solubles (DDGS) and ethanol. With full-time presence in 28 locations, the Council operates programs in more than 50 countries and the European Union. The Council believes exports are vital to global economic development and to U.S. agriculture's profitability. Detailed information about the Council and its programs is online at www.grains.org.