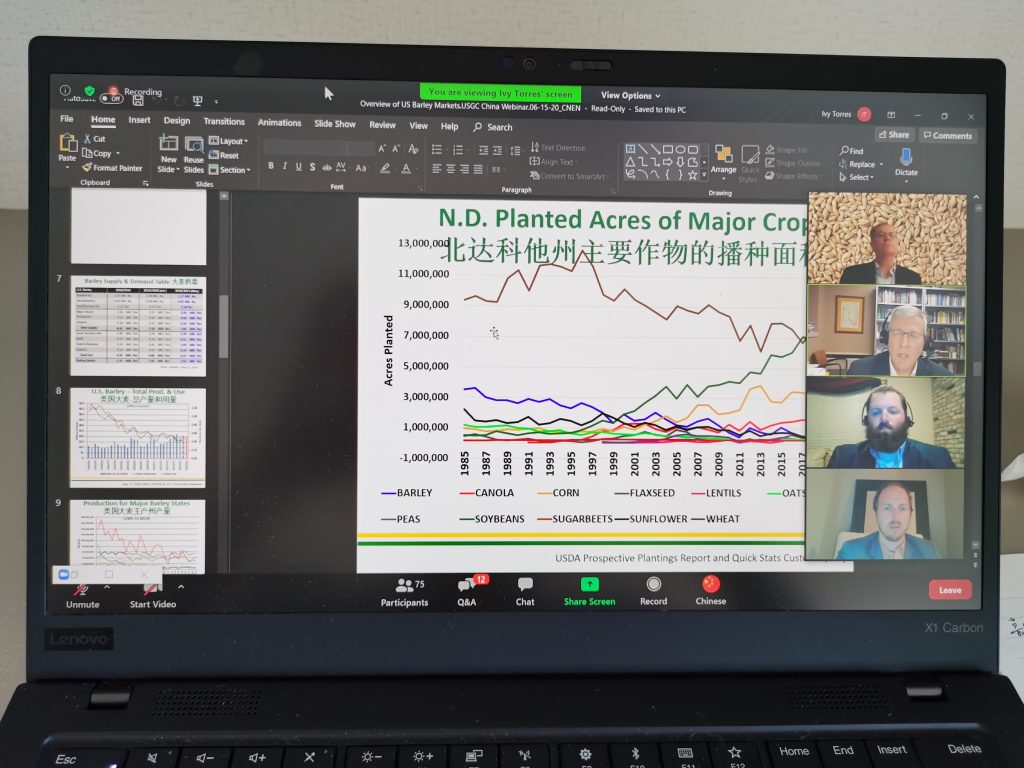 With a freshly minted U.S. barley import protocol in place, the U.S. Grains Council (USGC) is exploring how U.S. feed barley and U.S. malt can help supply growing Chinese feed and brewing industries.
"Generating more malt barley sales matches U.S. farmer preference for contract growing, but there is also significant demand for feed barley in China," said Bryan Lohmar, USGC director in China. "While the United States currently has a limited exportable supply of U.S. barley, the long-term potential for sales is worth exploring with Chinese importers and end-users."
In a webinar last week, the Council brought together representatives from the Chinese feed and livestock industry and the Chinese brewing industry, two U.S. barley exporters and a U.S. crop economist. The webinar also included two Chinese end-users who currently import barley – one representing the feed and livestock industry and the other from the malting industry.
The webinar covered U.S. barley production, use and export trends. One malt barley importer, who arranged for his entire department to participate, said activities like these help systematically introduce the U.S. export supply chain to Chinese importers by providing a better understanding of the potential for U.S. barley imports.
"Customers greatly appreciated the market insight from the U.S. barley exporters who participated in the webinar," Lohmar said. "The webinar exceeded our expectations. The customers were engaged and asked questions about exportable supplies of U.S. barley and the logistics of barley movement."
Import Protocol Opens Door For U.S. Barley Exports
China imports five to 10 million tons of barley each year with fluctuations due to changes in domestic policy and global feed barley supplies. Traditionally, Australia is China's primary barley supplier, trading two to five million tons annually. However, Australian barley is currently subject to anti-dumping duties of around 80 percent, which severely limits exports to China.
In contrast, in May, the United States and China agreed to a phytosanitary protocol for U.S. barley being shipped into China, a market development achievement years in the making finally accomplished with a boost from the U.S.-China Phase One deal signed in January.
The Council is now working with the USDA's Animal and Plant Health Inspection Service (USDA-APHIS) and Chinese officials to develop fumigation and industry best practices requirements, and the Council and barley industry will work to ensure potential exporters meet administrative requirements to sell to China.
"The Council continues to support the development of new markets for U.S. barley, even as planted acreage has decreased," said Cary Sifferath, USGC senior director of global programs. "We saw the Phase One trade deal as a prime opportunity to deal with this technical issue and help open China up to importing more U.S. feed grains, including barley."
Chinese Beer Industry Represents New Market For U.S. Malt
China also has significant potential for U.S. malt exports. The country is the world's largest beer producer and home to a small, but rapidly growing, craft beer industry. Malt import potential into China is smaller than the feed market – imports of 7,000 to 13,000 tons annually – but represents a value-added market for U.S. barley farmers and malt producers.
The Council has actively explored how U.S. malt can meet Chinese demand, including through missions to China and arranging for teams of Chinese brewers to see U.S. barley and malt production firsthand. Because U.S. barley farmers commonly supply barley for malt under a production contract, the U.S. malt producers who handle those contracts can sell U.S. malt to importers directly or through beer ingredient supply companies that already import to China.
Thanks to the Council's direct involvement, the Phase One trade deal eliminated 25 percent retaliatory tariffs imposed by China in response to the U.S. Section 301 tariffs, which had limited exports. During that process, one of the importers who participated in a USGC trade team submitted the petition needed for the barley malt exemption. It was approved by the Chinese government, and the importer has started purchasing U.S. malt.
"The initial purchases of U.S. malt into China represent demonstrative progress in gaining access to the Chinese brewing supply chain," Lohmar said. "Now the Council is supporting more Chinese brewers as they ask questions about how best to procure U.S. malt."
Through activities like this past week's webinar, the Council continues to engage both the Chinese malt and feed industries to help these diverse end-users better understand the quality of U.S. barley and malt and connect with U.S. barley industry partners on future trades.
Learn more about the Council's work to promote barley in China.
About The U.S. Grains Council
The U.S. Grains Council develops export markets for U.S. barley, corn, sorghum and related products including distiller's dried grains with solubles (DDGS) and ethanol. With full-time presence in 28 locations, the Council operates programs in more than 50 countries and the European Union. The Council believes exports are vital to global economic development and to U.S. agriculture's profitability. Detailed information about the Council and its programs is online at www.grains.org.