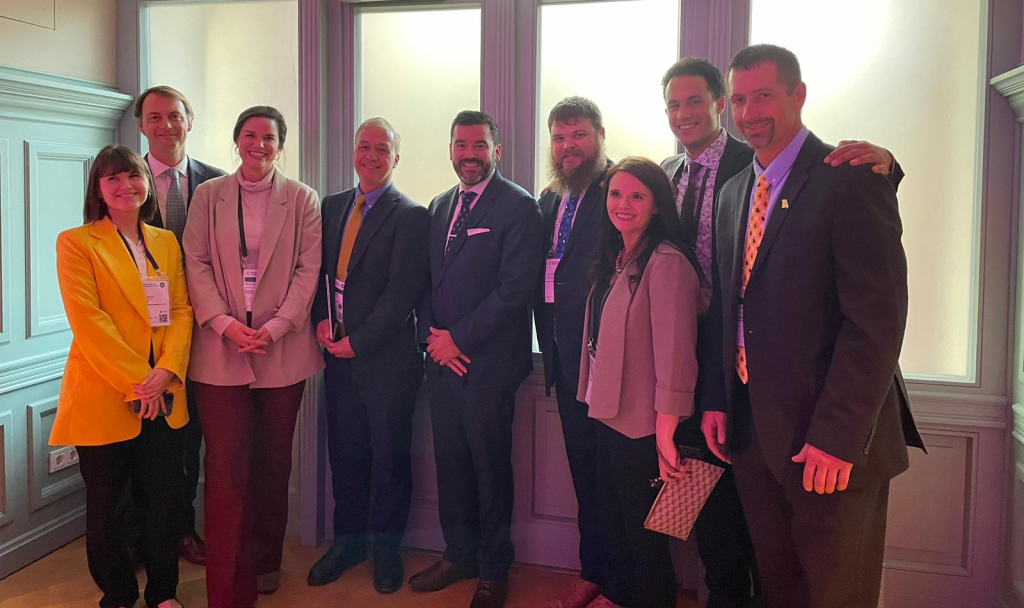 Last week, the Council's bioethanol team hosted a mission to Brussels, Belgium, and then traveled from there to Leipzig, Germany, for the International Transport Forum's (ITF) 2023 Summit, where the Council was a sponsor. Fueled by price competitiveness and increasing renewable energy targets, the European Union (EU) was the third-largest market for U.S. bioethanol in 2021/22, at nearly 140 million gallons, valued at over $350 million.
In Brussels, the delegation met with several government and industry officials, including the Belgian Minister of Economy and the Slovakian Energy Attaché to the EU, and Carbon Capture and Storage (CCS) Europe, an advocacy and communications body supported by technology providers, project developers, members of industry and environmental NGOs, who share a commitment to achieve significant reductions in CO2 emissions.
"While engagement with member states remains crucial to our efforts for EU bioethanol consumption, many of the opportunities or barriers to further policy demand remain within the European Commission. Time spent discussing, educating and exploring viable pathways for increased bioethanol use provides a well-rounded approach to our regional EU efforts," said Mackenzie Boubin, USGC director of global ethanol export development.
Once in Leipzig, the group hosted a special side panel, Bioethanol: Fueling Forward to Net-Zero, at ITF, welcoming global attendees who heard from U.S. industry representatives on the benefits of using ethanol in their own countries. Panel participants included Elizabeth Burns-Thompson, vice president of government and public affairs at Navigator CO2; Dr. BJ Johnson, CEO and co-founder of ClearFlame Engine Technologies; Matt Lambert, a producer representing the Missouri Corn Merchandising Council; and Josh Shields, senior vice president of government affairs and communications at POET.
"The high-level ITF Summit gathers government transport ministries and transportation stakeholders around the world to collaborate on decarbonization strategies. The Council knows that biofuels must be included in these discussions as a viable right-here, right-now GHG mitigation tool for the decarbonization of road transportation alongside electrification and energy efficiency and its important role in the net-zero economy," Boubin said.
"In the new age of sustainability and global decarbonization, bioethanol is a pivotal tool in the international transport agenda and key policymakers should strive to secure the right incentives to increase the uptake of bioethanol for the decarbonization of transport."
Outside the panel, the group had opportunities to network with those in the global transportation sector and listen in to a ministerial session on boosting sustainable economies through greening transport.
The Council looks forward to further programming in the EU as the longer-term goal is to utilize E10 across all member states and permit full access for bioethanol in its policy revisions based on its science-based carbon reduction benefits.
About The U.S. Grains Council
The U.S. Grains Council develops export markets for U.S. barley, corn, sorghum and related products including distiller's dried grains with solubles (DDGS) and ethanol. With full-time presence in 28 locations, the Council operates programs in more than 50 countries and the European Union. The Council believes exports are vital to global economic development and to U.S. agriculture's profitability. Detailed information about the Council and its programs is online at www.grains.org.