Twice a year, U.S. Grains Council (USGC) staff crisscross the globe to share information from the organization's two corn quality reports and answer questions from grain buyers and end-users. While these in-person events were not possible this spring following the outbreak of COVID-19, the Council is continuing its tradition of meeting customers where they are to discuss corn quality, 2020 corn production, logistics, contracts and more.
"We are going to continue to support our valued customers around the world digitally until we can get back in front of them," said Reece Cannady, USGC manager of global trade, who has participated in corn quality webinars and seminars for customers in South Asia, Southeast Asia, Northeast Asia, Mexico, Latin America and the Caribbean, Taiwan and the Middle East and Africa. "People really want to get back to seeing people in person, but everyone is staying strong and is ready for business to continue as usual."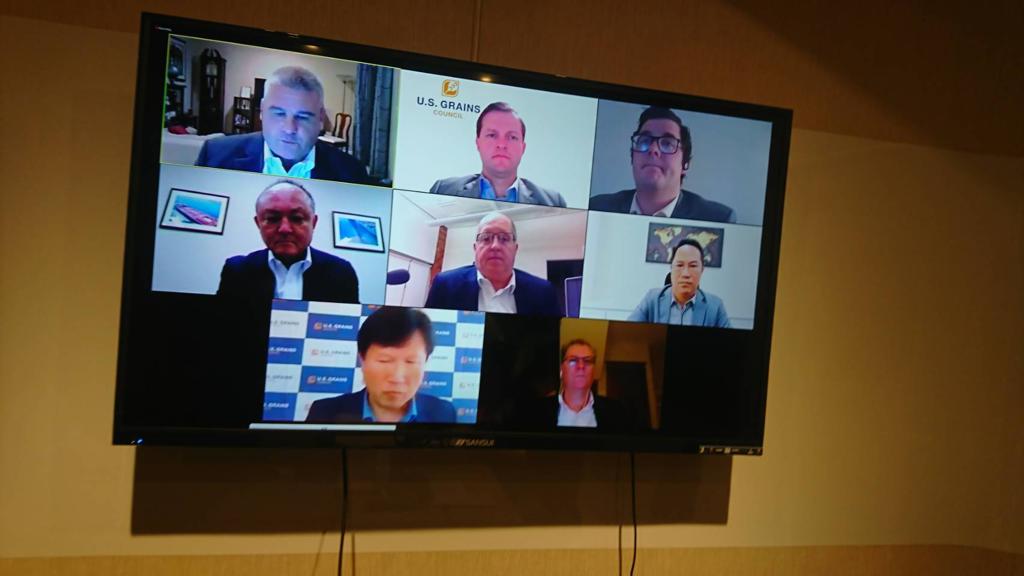 Northeast Asian Offices Combine Crop Quality Promotion Efforts
The Council's offices in Japan, South Korea, Taiwan and China jointly conducted a Northeast Asia webinar on May 29, with nearly 650 users from nine countries logging in for the presentation and discussion. The entire program was simultaneously translated into Japanese, Korean, Traditional Mandarin and Simplified Mandarin.
Tommy Hamamoto, USGC director for Japan, reported the webinar was well-organized, well-received and convenient for customers who are still under travel restrictions.
"The webinar gave us lots of real-time information about U.S. corn supply and quality," Hamamoto said. "Japanese customers were concerned about the impact of COVID-19 on the supply of corn, but the face of the farmer who participated and the speakers' comments gave them a lot of relief."
The program focused on the 2019/2020 Corn Export Quality Report, which was released in late April 2020. The report, now in its ninth edition, is based on 404 export cargo samples collected from corn shipments undergoing federal inspection and grading processes at export terminals. It also provides information on grading, handling and how U.S. corn is moved and controlled through export channels. The Northeast Asia webinar presented the specific results of this year's report, while also demonstrating how the U.S. grain export system continues meeting contract specifications each and every year.
"Customers gave the Council high marks for delivering great information about U.S. corn planting progress, export quality and global market perspectives," said Michael Lu, USGC director for Taiwan. "They appreciated that the Council can still timely share the market intelligence beneficial for their purchasing decisions in a virtual way during the pandemic. After learning from our U.S. corn farmers about the good crop progress and condition for the 2020 corn crop, these customers are looking forward to buying the new U.S. corn crop."
Daily Sessions, Animated Video And Farmer Presentation Augment Virtual Crop Quality Rollout Experience
In Latin America, Council staff augmented daily webinar sessions between May 18 and May 29 with an animated video summarizing the corn export cargo quality report and a video message from Iowa corn farmer Mark Mueller, who also leads the Council's Western Hemisphere Advisory Team. The webinars also covered grain handling, storage recommendations and mycotoxins.
"The program's purpose was to provide participants with information for better preserving the 2019/2020 U.S. corn crop, which was affected by high moisture conditions during planting and harvesting," said Ana Ballesteros, USGC marketing director for Latin America. "As a result, we complemented the presentation of the corn export quality report with information to help customers better handle this year's grain."
Overall 477 individuals from nine countries attended the sessions, far more than the Council could have reached through three weeks of extensive travel to conduct in-person rollout events in Colombia, Peru and numerous countries in Central America and the Caribbean.
"Doing what we did pre-COVID-19, we would have probably reached half the individuals and doing so would have required a great amount of traveling, time and resources," Ballesteros said. "Even though in-person events allow for more interaction and better control over the overall experience, we definitely were able to reach a larger audience this way. Moving forward, we think it is worth combining our in-person events with these virtual possibilities."
Web-Based Rollout Allows Mexico Office To Visit More Customers In Less Time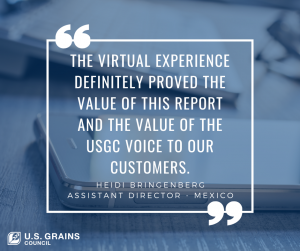 In Mexico – the largest export destination for U.S. coarse grains and co-products – the Council typically splits crop quality seminars into north and south regions to achieve broad coverage. This year, the Council organized a series of virtual presentations – 16 in total – to deliver that information. The technology made it possible for USGC staff to continue providing updated information on the quality of U.S. corn and address issues affecting grain trade, ethanol and distiller's dried grains with solubles (DDGS) production. In all, 167 representatives from 67 companies, associations and buying groups participated in the sessions.
"Within one week, we covered ground from Monterrey, Torreon, Obregon, Chihuahua, Guadalajara, Queretaro, Merida and Mexico City," said Heidi Bringenberg, USGC assistant director in Mexico. "The virtual experience definitely proved the value of this report and the value of the USGC voice to our customers. This is a report our customers look forward to every year, and the information is useful to their business."
This year's webinar series also demonstrated how this technology can play a role in the Council's programming in keeping customers informed even after travel restrictions are lifted, especially for customers in areas with little access or where traveling is prohibitively complicated or time-consuming.
"Due to the culture in Mexico, we've always done one-on-one seminars or smaller groups, meaning we've had to miss some folks in the past because visiting every buyer in Mexico in one week simply isn't feasible," Cannady said. "With Zoom, however, we are. We now know we can use Zoom to meet with the folks we normally wouldn't get to see due to time or travel restrictions, so we will continue to use web platforms in conjunction with in-person meetings to get full coverage."
The crop quality rollout series – no matter the format – will continue to allow Council staff to troubleshoot grain concerns and help end-users better assess the market variables affecting coarse grains and co-products to make more informed buying decisions.
The Council is translating the full report to Spanish and Mandarin Chinese in addition to uploading several of the webinar presentations conducted around the world to the Council's YouTube channel.
Learn more about the Council's work to offer crop quality information.
About The U.S. Grains Council
The U.S. Grains Council develops export markets for U.S. barley, corn, sorghum and related products including distiller's dried grains with solubles (DDGS) and ethanol. With full-time presence in 28 locations, the Council operates programs in more than 50 countries and the European Union. The Council believes exports are vital to global economic development and to U.S. agriculture's profitability. Detailed information about the Council and its programs is online at www.grains.org.