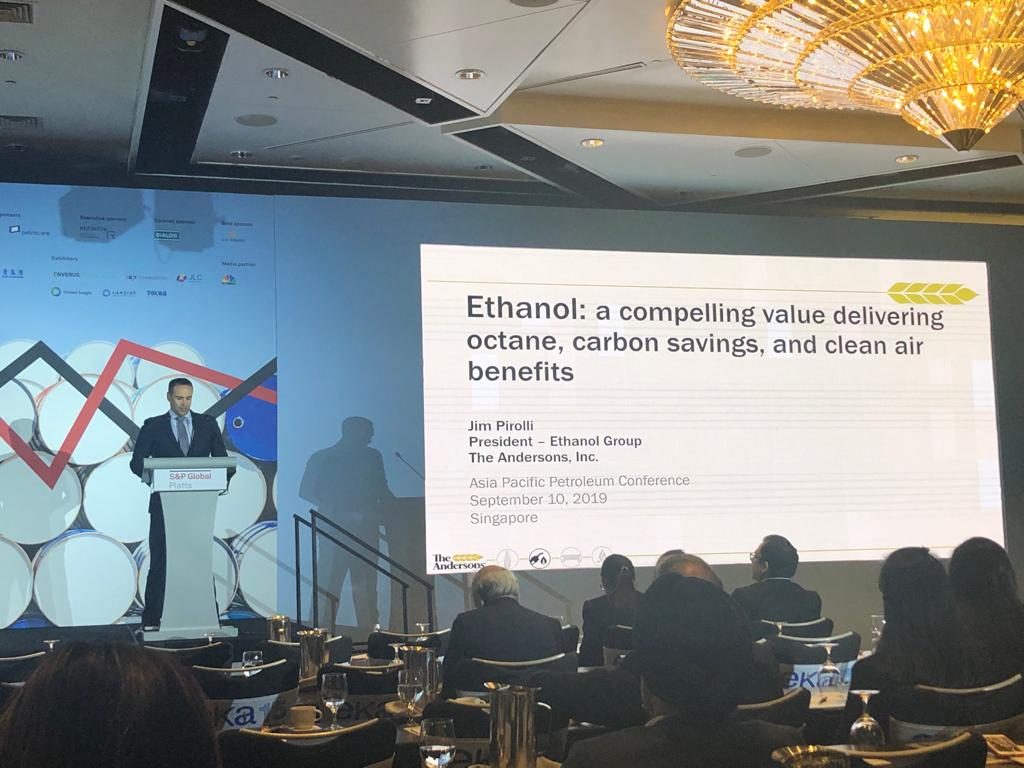 U.S. Grains Council (USGC) staff, consultants and members attending the Asia Pacific Petroleum Conference (APPEC) in Singapore this week found reason for enthusiasm for ethanol's future in the region.
"This is the first time the Council has participated in a regional petroleum conference in Asia," said Tim Tierney, USGC director of strategic marketing/ethanol – North Asia. "We delivered the message that ethanol is a compelling economic value as a source of low-carbon, high-octane transportation fuel to the regional refining industry audience."
The Council continues to step up efforts to promote the global use of ethanol in Asia, including by participating in the event with a booth, promotional materials and a featured speaker. The presence at APPEC is part of the Council's strategy to support increased ethanol use by expanding consultant staffing in emerging markets, deepening engagement in strategic current markets and developing innovative programs and materials that show the advantages of policies including a role for biofuels.
"The Council is broadening its engagement and dialogue with Asia's refining industry, including by hiring two Southeast Asia ethanol consultants with experience in fuels trading," Tierney said. "Our participation in this conference is another strong signal to the Asian fuels industry that we are committed to serving the growing demand for octane fuel components with low carbon and air quality benefits."
Conference speakers discussed global economic growth, current market uncertainty due to the trade dispute between the United States and China, the impact of Iranian oil sanctions and many other topics. Jim Pirolli, president of the ethanol group for The Andersons Inc., spoke on the production of U.S. ethanol, its economic, environmental and human health benefits and the important role of developing biofuels policies with a role for trade.
"Attendees at the conference conveyed positive messages on the importance of biofuels to meet the growing needs for transportation energy in Asia," Tierney said. "There was also greater recognition that industry and governments need to support the development of ethanol and renewable industries."
Asian countries are experiencing growth in demand for both new vehicles and fuel similar to the drastic increase in demand experienced throughout the 1970s in the United States. This macroeconomic factor is due largely to the rise in the middle class and an increased vehicle fleet as individuals with higher incomes take advantage of different transportation options – moving from a bicycle to a motor scooter or a motor scooter to a four-wheel vehicle.
Ethanol allows consumers to have access to the fuel they want now and will need in greater volumes in the future, all with significantly less impact on the country's greenhouse gas (GHG) emissions.
"U.S. ethanol is the most competitively priced source of octane for the Asian market," Tierney said. "As a result, Asian customers are positioned well to import more ethanol."
The Council and its partners – Growth Energy, the Renewable Fuels Association and USDA's Foreign Agricultural Service, as well as state corn organizations – will continue to work closely together with both Asian governments and industry to promote ethanol as a clean-burning source of fuel to buyers and end-users around the globe.
"We will leverage the experience at this conference to expand and deepen our relationships with potential and current ethanol customers in Asia," Tierney said. "These events are an important market development tool to effectively deliver our ethanol value proposition messages to key market players."
Learn more about the Council's work to promote ethanol in Asia. 
About The U.S. Grains Council
The U.S. Grains Council develops export markets for U.S. barley, corn, sorghum and related products including distiller's dried grains with solubles (DDGS) and ethanol. With full-time presence in 28 locations, the Council operates programs in more than 50 countries and the European Union. The Council believes exports are vital to global economic development and to U.S. agriculture's profitability. Detailed information about the Council and its programs is online at www.grains.org.