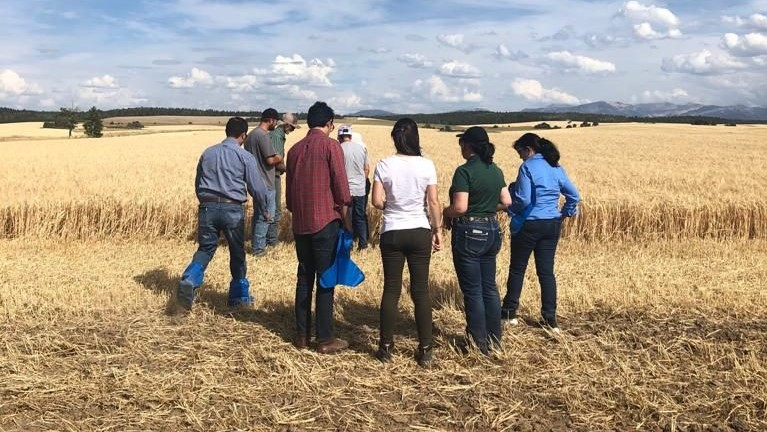 Mexico is now the world's largest beer exporter in terms of both value and volume – and that growth is good news for U.S. barley farmers and malt producers who supply their main ingredient.
To capture this demand growth, the U.S. Grains Council (USGC) is strengthening existing supply-chain relationships and introducing new buying strategies through focused trade servicing activities, including a trade team mission to Idaho last week.
Mexican breweries rely on U.S. barley producers to be their main suppliers for imported barley. Mexico imported 269,000 metric tons (12.4 million bushels) of U.S. malted barley in the 2017/2018 marketing year, representing the single largest market, and one that continues to grow. Total Mexican beer sales are now worth more than $20 billion annually, with value rising sharply year-over-year.
All of the major breweries are making substantial investments in new brewing, malting and bottle manufacturing plants. This growth and investment represents additional demand for malted barley as well as barley for malt.
"Although Mexico is expanding local barley production, the malting industry cannot keep up with the demand from brewing plants," said Javier Chavez, USGC marketing specialist in Mexico, who accompanied the team to Idaho. "With several new plants coming online in the next few years, the Council has the opportunity to promote U.S. malted barley for the brewing process through our established connections with the people responsible for procuring both barley for malt and malted barley."
Because Mexican barley production cannot fully meet growing demand, the Council is keeping companies well-informed on production, supply and demand, research on new barley varieties and options for contracting production. The trade team visited barley research trials at the University of Idaho, malting facilities and U.S. barley farms.
The altitude, weather and agronomic conditions in Idaho are ideal to ensure high yields with good quality. Coupled with significant expansion in malting capacity and several promising varieties in the pipeline, current market conditions are making U.S. barley even more attractive for Mexican buyers.
"The Council continues to actively engage the industry through trade servicing activities – like last week's trade team – to ensure Mexican buyers have the most accurate information about the U.S. barley crop," Chavez said. "Firsthand exposure to crop production conditions as well as direct meetings between Mexican buyers and U.S. sellers are two important components of the Council's work to promote malted barley and barley for malt."
In contrast to competing European suppliers who typically sell through brokers, Mexican buyers can purchase directly from U.S. malt producers, saving on cost and improving on malt quality.
Trade policy changes, however, are threatening this competitive advantage. Under an old tariff rate quota system, craft breweries were largely unable to import malt from Europe as larger breweries controlled the quota. Competing malt supplies from Europe now have duty-free access to the Mexican market, changing market dynamics and increasing competition for U.S. malt and barley, particularly in the craft brewing sector.
While the United States still dominates market share, malted barley imports from France, Belgium, Russia and Ukraine are now entering the Mexican market – making the duty-free access provided by North American Free Trade Agreement (NAFTA) and preserved in the pending United States-Mexico-Canada Agreement (USMCA) more important than ever.
"Thanks to this market access and resulting integrated logistical networks built since NAFTA went into effect, the Council has developed programs to ensure future growth in Mexican beer production is supplied by U.S. barley growers and malt producers," Chavez said. "NAFTA is the most critical free trade agreement on the books for U.S. barley farmers, providing open access to our top export market."
Learn more about the Council's work to promote U.S. barley to the Mexican brewing industry. 
About The U.S. Grains Council
The U.S. Grains Council develops export markets for U.S. barley, corn, sorghum and related products including distiller's dried grains with solubles (DDGS) and ethanol. With full-time presence in 28 locations, the Council operates programs in more than 50 countries and the European Union. The Council believes exports are vital to global economic development and to U.S. agriculture's profitability. Detailed information about the Council and its programs is online at www.grains.org.