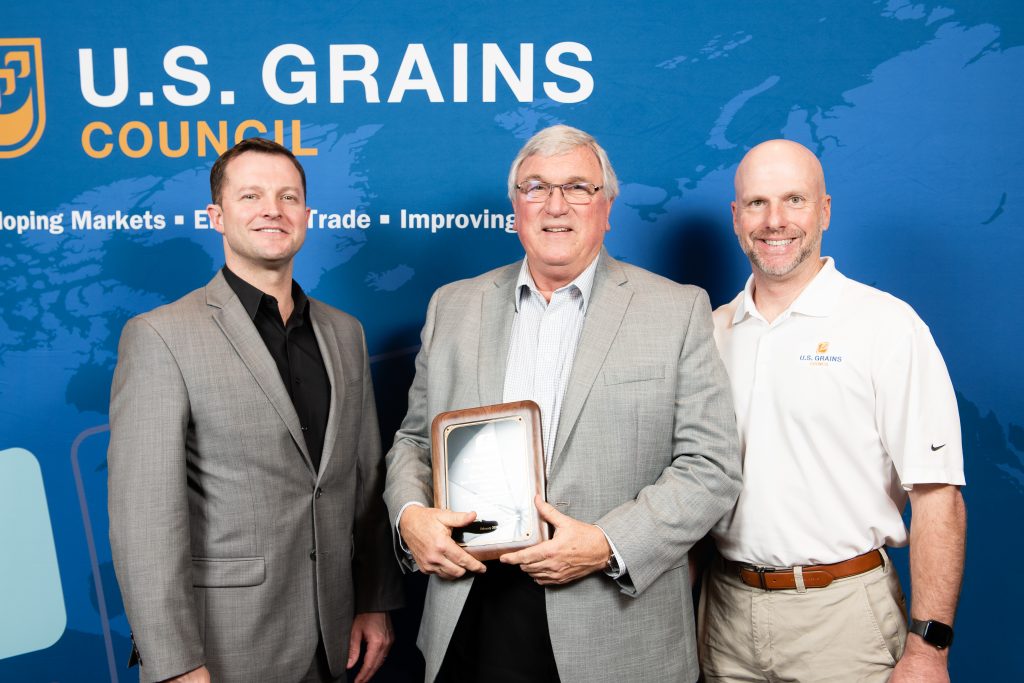 Iowa corn farmer Bob Bowman said he believes the best way to ascend to leadership is to spend time working in the trenches of an organization and building people's trust. He has applied that philosophy over his entire farming career, especially as he has remained engaged with organizations like the U.S. Grains Council (USGC).
Bowman farms with his son in eastern Iowa, in the part of the state that sticks out into Illinois, in his description. He has been farming full-time since 1974 but has been active on the farm his whole life except for his time away at Iowa State University.
Bowman has also been active in farm organizations nearly all of that time, starting with county-level involvement with Iowa Farm Bureau. While serving on the state-wide Iowa Farm Bureau board, he was approached by someone about running for the Iowa Corn Promotion Board. In Iowa, checkoff board members cannot run unopposed, so Bowman was intended to be the second name on the ballot against an incumbent. Fate had other plans.
"I had a lot of contacts from the Farm Bureau farmers in about a 10-county area, which was my district," Bowman said. "I went to all the county meetings and asked those individuals if they would vote for me."
It worked. Bowman began his decades-long involvement with corn organizations at the state and national level. He says he has had three different "corn lives" since that first election: nine years with the Iowa Corn Promotion Board, nine years with the Iowa Corn Growers Association; and now a second set of terms with the Iowa Corn Growers Association, including a few breaks in between.
From his very first term with the Iowa Corn Promotion Board, Bowman started attending Council meetings – although it was the U.S. Feed Grains Council at that time. He also became active on the executive committee of the U.S. Meat Export Federation (USMEF), adding even more knowledge of U.S. grain exports.
"It was a real eye-opener for me to be involved with exports and market development," Bowman said. "I gained a lot of exposure with overseas markets along with the Council and USMEF."
The Council recognized Bowman for 15 years working with the organization during its 17th International Marketing Conference and 60th Annual Membership Meeting in February in Tampa, Florida. Over those years of involvement, he has witnessed more than a name change from the U.S. Feed Grains Council to the U.S. Grains Council. He noted how growers are now more hands-on during Advisory Team (A-Team) meetings as committee structures have changed over time.
Bowman started out serving on the Asia A-Team, then volunteered to move to the Western Hemisphere A-Team when it was created. He has served on the Western Hemisphere A-Team since, working with Mark Mueller, the A-Team's leader and son of Bowman's mentor, U.S. Feed Grains Council Past Chairman Howard Mueller.
Through his work with the A-Team – including a particular interest in Canada – Bowman has promoted the U.S. corn industry with the Council, the National Corn Growers Association and Iowa-based organizations. Bowman recalled representing U.S. corn farmers during a corn quality roll-out seminar series in Colombia and Peru, including spending a few extra days in Colombia doing one-on-one visits with customers. It's this continued engagement by farmers in organizations like the Council that he says truly move the needle in international markets.
"What I tell my neighbors today is it's all about customer service, market development and relationship-building – that's what those missions are," Bowman said. "We are a credible source. Our customers really respect and listen to the producer. That's an advantage the Council has in their market development, and that's really important to me."
About The U.S. Grains Council
The U.S. Grains Council develops export markets for U.S. barley, corn, sorghum and related products including distiller's dried grains with solubles (DDGS) and ethanol. With full-time presence in 28 locations, the Council operates programs in more than 50 countries and the European Union. The Council believes exports are vital to global economic development and to U.S. agriculture's profitability. Detailed information about the Council and its programs is online at www.grains.org.