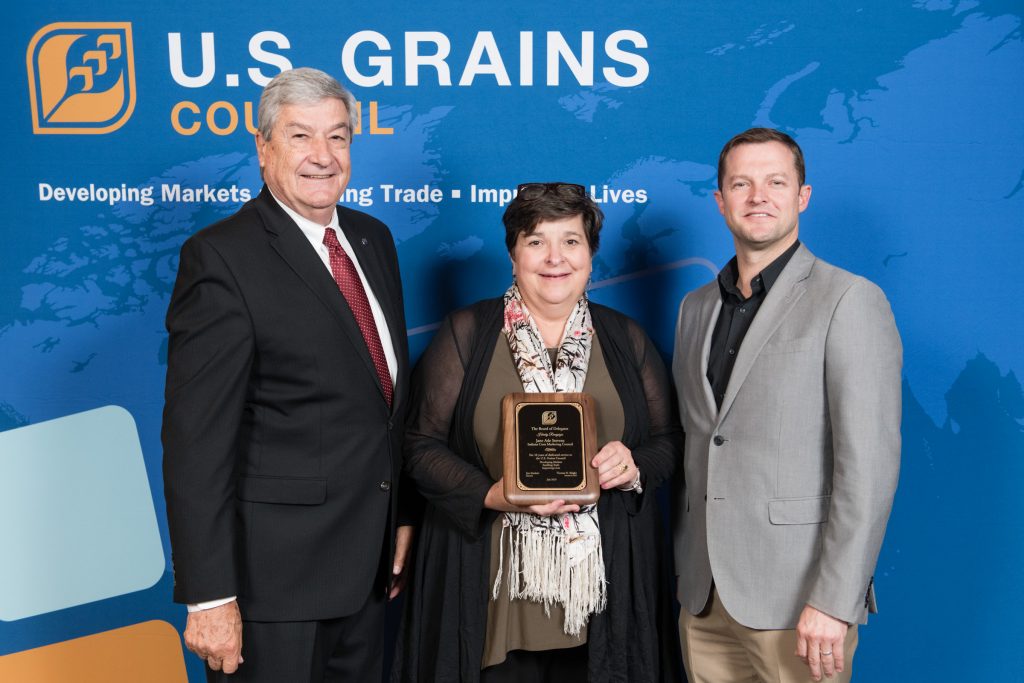 Jane Ade Stevens is a respected leader for women in agriculture and an experienced advocate for international trade serving as the chief executive officer for the Indiana Soybean Alliance, the Indiana Corn Marketing Council and the Indiana Corn Growers Association.
The U.S. Grains Council (USGC) recognized Stevens for 10 years of service to the organization during its 59th Annual Board of Delegates Meeting this week in Cincinnati, Ohio, honoring her ahead of her planned retirement in January 2020.
Stevens' experience with the Council extends beyond the last decade. She followed the Council's work overseas during her international travel and work with the soybean industry. When she transitioned into the CEO role for the Indiana Corn Marketing Council, and as Indiana adopted a state-wide checkoff for corn, she began to take a more active role with the Council.
While many farmers do not have direct experience with overseas markets, Stevens said it is not hard to get them hooked on trade topics. As they get more involved in specific trade issues, she enjoys the intense discussions on the opportunities of how to build markets and move corn overseas.
"It doesn't matter where you farm in the world, you get two farmers in the same room together and the number one thing they're going to talk about is the weather and then the second thing they're going to talk about is price and markets," Stevens said. "I don't care if it's a farmer from Africa and a farmer from Indiana or wherever, it's always fascinated me that common language that all farmers around the world have.
"When you get farmers and business people together to do business, we can find ways to do that. It's our governments that get in the way sometimes."
Stevens said these interactions between farmers and their customers overseas will only grow in importance as U.S. farmers continue to do what they do best – grow more.
"I've seen the growth of the Council and I'm very proud of how they've grown their expertise and their success over the years and really made a significant difference," she said. " It's important because as farmers, they want to grow more. That means we have more to sell, so if we're going to continue to do that, then we have to continue to find these markets. And we have to go outside our borders. That's absolutely critical."
Stevens also emphasized that these discussions need to be not only ongoing, but introspective, providing a continual check to ensure the Council remains a good steward of farmer checkoff funds – which the organization has done throughout its long history.
"I think it's important for our farmers to be involved in groups like the Council so they can get into the weeds to see how this really works," Stevens said. "It's important for farmers to always ask tough questions about how we're spending the money and the payback we're getting from it. They're not easy questions and they're not easy answers."
Stevens plans to continue working with agricultural associations and promoting women in agriculture. She also plans to spend more time with her granddaughter in the Virgin Islands.
"I am thankful to the Council for working with Indiana and supporting us for many years," Stevens said. "I encourage everyone to continue to do the good work and make sure that we're always asking the tough questions about are we getting what we want accomplished because that's what farmers expect us to do with their money."
Please join the Council in thanking Stevens for 10 years of service!
About The U.S. Grains Council
The U.S. Grains Council develops export markets for U.S. barley, corn, sorghum and related products including distiller's dried grains with solubles (DDGS) and ethanol. With full-time presence in 28 locations, the Council operates programs in more than 50 countries and the European Union. The Council believes exports are vital to global economic development and to U.S. agriculture's profitability. Detailed information about the Council and its programs is online at www.grains.org.