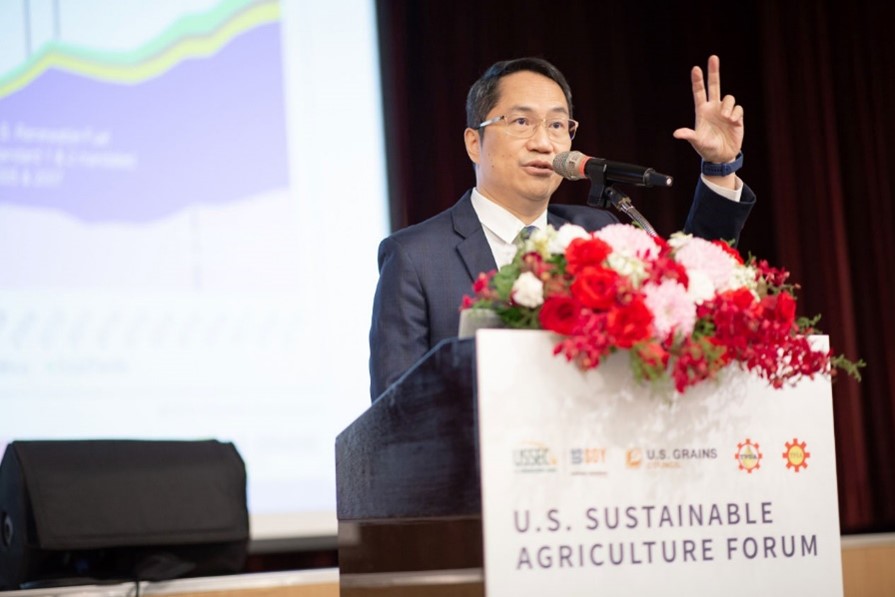 To advocate for sustainability, the U.S. Grains Council's (USGC's) Taiwan office jointly hosted the U.S. Sustainable Agriculture Forum in Taipei on Dec. 14, 2022. Co-hosts included the U.S. Soybean Export Council (USSEC), Taiwan Feed Industry Association (TFIA) and Taiwan Vegetable Oil Manufacturing Association (TVOMA).
The event delivered a concrete message that U.S. farmers are committed to continuous improvement in the production of corn, touting its benefits as a versatile crop providing abundant high-quality food and feed; acting as a renewable energy source; and being a building block for bio-based products. The event successfully engaged Taiwan's ag-food industries and government officials in discussions on the importance of sustainability and how the U.S. is providing raw material to assist Taiwanese producers in manufacturing more sustainable products.
"Sustainable agriculture has become an extremely important agricultural policy in advanced countries. Its goal is to continue the long-term demand for food of the producing people in response to the impact of insufficient arable land, the dwindling of various natural resources and the deterioration of the agricultural production environment," said Michael Lu, USGC director in Taiwan. "The event helped participants better understand the responsibility we have to create a more environmentally and economically sustainable world for future generations."
Representatives from the Council, including Lu and Cary Sifferath, USGC vice president, took part in the programming, highlighting corn's role in creating a sustainable future. Ethanol was a topic of discussion as Lu explained how the fuel can replace methyl tert-butyl ether (MTBE), reduce air pollution and decrease carbon emissions.
Debbie Borg, a producer from Nebraska and member of the Council's Innovation and Sustainability Advisory Team (A-team), also joined the event, sharing the sustainable practices used on her farm and farms across the U.S.
"Corn farmers can and do practice sustainability in our operations everyday. We work to reduce soil erosion, improve water quality and water use while managing resources and nutrients to the best of our ability," Borg said during her presentation.
The event was just another example of the Council's work to showcase the sustainable practices being used by its producers. Highlighting the value of sustainable farming practices in the U.S., the Council plans to release its new Corn Sustainability Assurance Protocol in 2023.
About The U.S. Grains Council
The U.S. Grains Council develops export markets for U.S. barley, corn, sorghum and related products including distiller's dried grains with solubles (DDGS) and ethanol. With full-time presence in 28 locations, the Council operates programs in more than 50 countries and the European Union. The Council believes exports are vital to global economic development and to U.S. agriculture's profitability. Detailed information about the Council and its programs is online at www.grains.org.