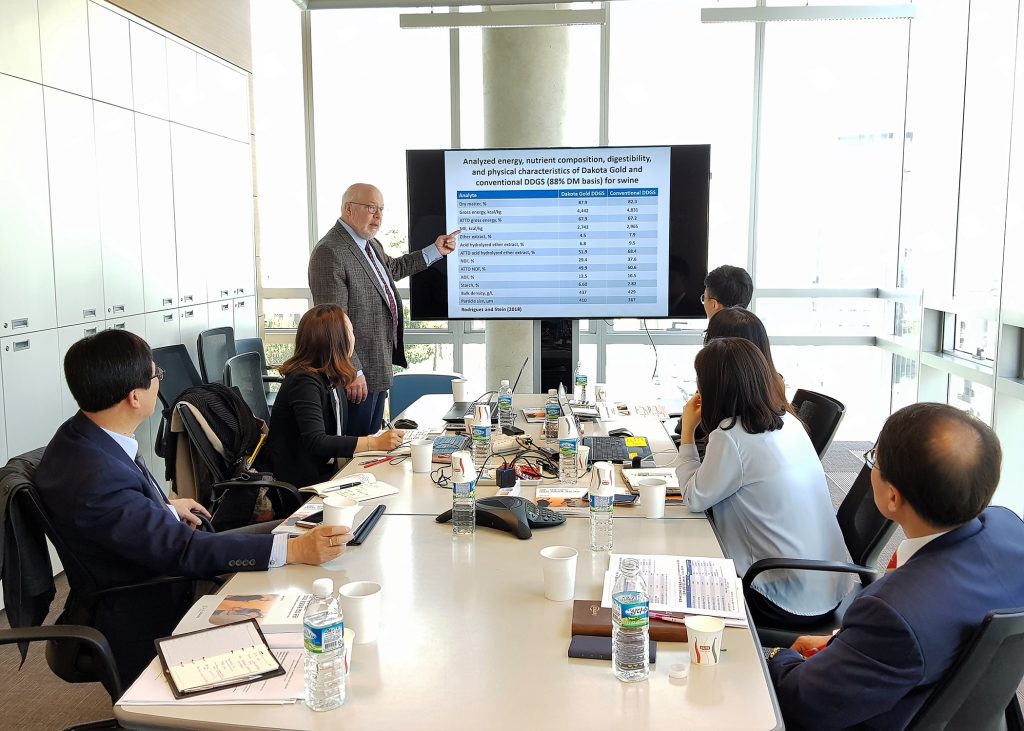 The U.S. Grains Council (USGC) hosted Dr. Jerry Shurson, swine nutritionist with the University of Minnesota, in South Korea last month to provide expert consultation on the economic and nutritional benefits of U.S. distiller's dried grains with solubles (DDGS) in animal feeds to feed formulators and nutritionists in one of the world's largest and most competitive feed markets.
"The regional seminars and one-on-one company consultations were useful for providing a broad overview and creating awareness of DDGS in swine and poultry diets for diverse audiences consisting of nutritionists, researchers, traders and feed formulators," said Haksoo Kim, USGC director in South Korea, who also participated in the consultations along with Youngjin Lee, USGC administrative manager.
Following significant work by the Council to introduce and advocate for it in South Korea, DDGS is now considered an established and superior feed ingredient there, with 96 percent of local feed producers using it in their rations. Growth in the South Korean livestock and corn processing industries has meant the country's demand for coarse grains and co-products has increased continuously and is expected to grow steadily in the future.
South Korea currently ranks as the second largest market for U.S. DDGS in the current marketing year (September 2017-March 2018), purchasing 639,000 tons, a 6 percent increase year-over-year. South Korea was the third largest market for U.S. DDGS in 2016/2017, setting a new record for the fifth year in a row at 979,000 tons.
April's DDGS promotion and educational activities targeted both major users and potential users in South Korea. Eighty participants attended a DDGS seminar in Seoul in addition to 20 attendees at a subsequent seminar in the Yeongnam region. Amid these larger meetings, Shurson and the Council's staff conducted individual consultations with some of the country's largest feed manufacturers and users of U.S. DDGS.
Shurson answered technical questions about the use of U.S. DDGS, including how to accurately determine digestible amino acid content and the maximum recommended inclusion rates in diets for each species and stage of production.
The success of efforts like these is the result of identifying leading companies in the market, learning the unique concerns and barriers to greater DDGS use, extensive technical preparation and effective communication with existing and potential customers.
The Council will continue working to increase U.S. DDGS exports to South Korea through additional educational programs aimed at protecting existing market share, increasing the inclusion rates in animal diets and expanding business opportunities between U.S. suppliers and South Korean buyers.
"The Council's Korea office has set a target of increasing U.S. DDGS exports to 1.2 million tons by 2022," Kim said. "We will continue to expand the specialized and customized on-site consultation programs for feed companies to use the U.S. DDGS at the recommended levels to achieve that goal."
Learn more about the Council's work in South Korea here.
About The U.S. Grains Council
The U.S. Grains Council develops export markets for U.S. barley, corn, sorghum and related products including distiller's dried grains with solubles (DDGS) and ethanol. With full-time presence in 28 locations, the Council operates programs in more than 50 countries and the European Union. The Council believes exports are vital to global economic development and to U.S. agriculture's profitability. Detailed information about the Council and its programs is online at www.grains.org.