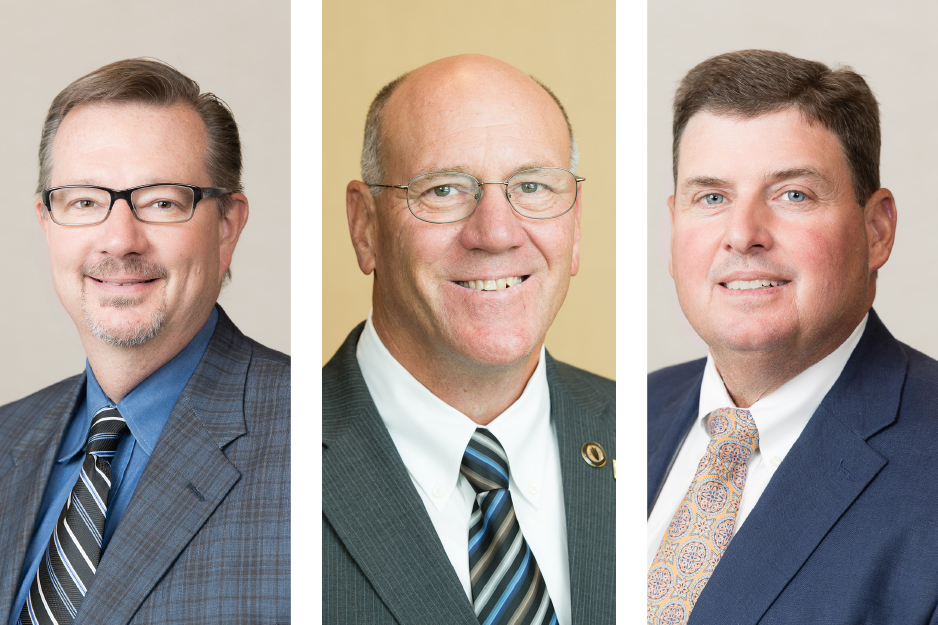 The U.S. Grains Council (USGC) recognized three members of the Council's Board of Directors who departed the board following the 58th Annual Board of Delegates Meeting in Denver, Colorado – Craig Floss, Jim Stuever and Phil McCoun.
"These members leave the board after distinguished tenures," said Tom Sleight, UGSC president and chief executive officer. "Their extensive experience representing corn farmers has exemplified the Council's mission throughout times of opportunities and difficulties."
Craig Floss, chief executive officer for Iowa Corn, served as the state checkoff sector director since July 2014. Floss has worked with the Council for 20 years, since he first joined Iowa Corn as its CEO. He has had a front row seat for the Council's pivots from emphasis on raw corn to corn gluten to polylactic acid (PLA) to distiller's dried grains with solubes (DDGS) and now ethanol.
He has also traveled overseas to talk with customers in their home markets as well as hosted international buyers on farms in Iowa to showcase how corn is grown and ethanol produced.
Jim Stuever, a corn and cotton farmer from Dexter, Missouri, served as an at-large director on the Council's Board of Directors since 2016. In addition to his work with the Council, he serves as an ex-officio member of the Missouri Corn Growers Association and Missouri Corn Merchandising Council.
Stuever represented corn farmers on a variety of the Council's Advisory Teams (A-Teams), presented the corn export quality report in Mexico and participated in the corn mission to Morocco, Egypt and Jordan.
Phil McCoun is a Kentucky farmer and former chairman of the Kentucky Corn Promotion Council. He served in a one-year term as an at-large director, elected in 2017.
McCoun began his work with the Council serving on the the ROW (Rest of World) A-Team. When the Middle East/Africa A-Team was created in 2013, McCoun served as the A-Team's first leader, kicking off the Council's focus on long-term growth opportunities in the Middle East, North Africa and sub-Saharan Africa and exploring the biotech constraints limiting exports during an overseas mission to South Africa. He later served as the board liaison on the Asia A-Team in 2018.
"Thank you again to Craig, Jim and Phil for your work to develop markets, enable trade and improve lives," Sleight said. "In your individual ways, your presence, contributions and counsel have made the Council stronger. Strong member involvement from throughout the organization is important at all levels of leadership. Thank you for your gracious service."
About The U.S. Grains Council
The U.S. Grains Council develops export markets for U.S. barley, corn, sorghum and related products including distiller's dried grains with solubles (DDGS) and ethanol. With full-time presence in 28 locations, the Council operates programs in more than 50 countries and the European Union. The Council believes exports are vital to global economic development and to U.S. agriculture's profitability. Detailed information about the Council and its programs is online at www.grains.org.