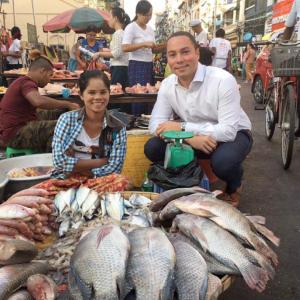 The Council recently conducted an on-the-ground assessment of the growth potential for Myanmar's animal and feed manufacturing sectors – and how that growth could translate into increased exports of U.S. feed grains and co-products.
"Myanmar is advantageously positioned to experience double digit growth in its livestock sector over the next five years," said Caleb Wurth, USGC assistant director of Southeast Asia. "The effect of Myanmar re-entering the international community after years of political and economic isolation will be a driving force in the increased economic growth of the country."
Myanmar has a population of more than 60 million, and industry experts peg its growth rate as higher than neighboring countries Vietnam and Thailand. These dynamics create the potential for strong growth in livestock production, particularly poultry and swine, over the next few years.
Leading regional feed millers are already rapidly investing in feed mills and milling capacity in Myanmar. While on the ground, Council staff visited multiple feed mills, each projecting 20 to 30 percent growth expectations for both poultry and swine in the next year. Substantial port and infrastructure investments are also in progress.
Myanmar is currently a net corn exporting country, sending grain primarily to to China. However, growth in the feed sector still presents import opportunities. U.S. farmers and agribusinesses are already seeing Myanmar's economic growth translate into imports of U.S. distiller's dried grains with solubles (DDGS). Myanmar imported 35,700 metric tons of U.S. DDGS in 2016/2017, a 154 percent increase year-over-year. Thus far in 2017/2018 (September-November 2017), Myanmar has purchased 10,600 tons of U.S. DDGS, a 22 percent increase from the same time the year prior.
While in country, representatives from the Council met with participants in the feed manufacturing and livestock sectors and those working in future growth markets like aquaculture. These partnerships will prove valuable as the Council works to establish additional market share for U.S. exporters in this growing economy.
These efforts complement work by the Council to meet new phytosanitary requirements related to pest risks, resulting in the re-opening of the corn market for U.S. exports, as of Dec. 1, 2017.
"It is important for us to take a hands-on approach in the development stages of new emerging markets," Wurth said. "This input helps us be proactive as opposed to reactive when it comes to sensitive topics and building overall name recognition of U.S. feed grains and co products."
Read more about the Council's work in Southeast Asia here.
About The U.S. Grains Council
The U.S. Grains Council develops export markets for U.S. barley, corn, sorghum and related products including distiller's dried grains with solubles (DDGS) and ethanol. With full-time presence in 28 locations, the Council operates programs in more than 50 countries and the European Union. The Council believes exports are vital to global economic development and to U.S. agriculture's profitability. Detailed information about the Council and its programs is online at www.grains.org.