The Council recently recognized four farmer members from Iowa for five years as a delegate to the organization: Greg Alber, Bruce Rohwer, Dennis Friest and Brandon Strutzenberg.
Alber was voted onto the Iowa Corn Promotion Board in 2013 and is a past chair of the Iowa Corn Export Committee in addition to serving as the current president of the Iowa Corn Promotion Board. He served four years on the Council's Asia Advisory Team (A-Team) and currently serves on the Trade Policy A-Team. He has also participated in corn quality report rollout events in Japan, Taiwan and South Korea.
When asked about his time serving the Council, Alber recalled a favorite memory, which took place at the 2018 Japan Corn Outlook Conference.
"In Japan, we met with the energy minister on getting U.S. ethanol on equal footing with Brazilian sugarcane ethanol. We presented our case for a better greenhouse scoring for corn-based ethanol," Alber said. "A few days later, we got the news that corn ethanol did indeed get a much higher scoring, which meant U.S. ethanol could be included in Japan's fuel!"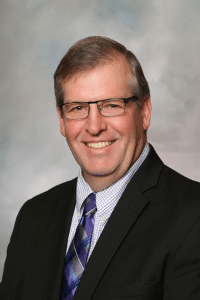 Rohwer also began his journey with the Council in 2013. He is a former director and past president of the Iowa Corn Growers Association and a non-board member of the Iowa Corn Joint Exports and Grain Trade Committee. He began attending Council meetings when he became a member of the Iowa Corn Growers Association's executive committee.
Rohwer has participated in several USGC advisory teams, including the Rest of the World (ROW) team, which was later divided into the Western Hemisphere and Middle/East and North Africa teams. He has also participated in trade missions and hosted farm tours.
"I was asked to go to Japan to help promote the use of DDGS [distiller's dried grains with solubles] in livestock feed, relating my experiences feeding DDGS in my own swine rations," Rohwer said. "Our family has had the privilege of hosting a couple of crop tours from Japan since then. It is always such an honor to be asked to be an ambassador for the U.S. corn crop and corn farmers with our foreign customers."
During his time with the Council, Rohwer has come to know the Council's work directly with grain exporters and purchasers.
"The customer service department for U.S. grain exports – aka, the U.S. Grains Council – is so much more important to U.S. exports than about anything other than the actual trade agreements, and thereby farm income," he said.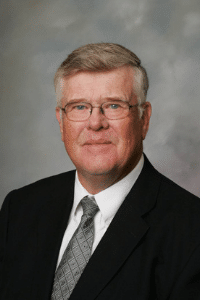 Friest, like Alber and Rohwer, also has participated in a variety of Council activities in recent years: on the Value-Added A-Team and, currently, the Asia A-Team, as well as being part of the Iowa producers mission to Taiwan and Korea in 2014.
With his extensive experience with the Council, Friest highlighted the fun in working with customers across the globe.
"Working with people in different parts of the world is interesting and eye opening. Seeing how they live on a daily basis gives me an appreciation of how the work comes together to do business," Friest said. "I also enjoy hosting visitors at my farm. Often they might ask to drive my machinery with me or even my pickup truck. Those interactions are important, and without the Council, they wouldn't be possible."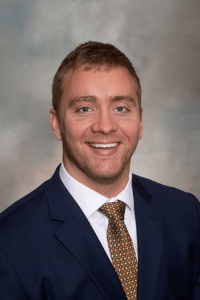 In Brandon Strutzenberg's five years with the Council, he has served on the Middle East/Africa A-Team and currently is a member on the Value-Added A-Team. He also joined the Council in 2018 for the corn quality report rollout mission in Mexico.
The Council is pleased to be able to honor farmers, agribusiness members, staff members and others who have contributed their talents to the work of developing overseas export markets during regular member meetings each February and July. More about these recognitions is here.
Please join us in congratulating these farmer leaders on their five years as delegates!
About The U.S. Grains Council
The U.S. Grains Council develops export markets for U.S. barley, corn, sorghum and related products including distiller's dried grains with solubles (DDGS) and ethanol. With full-time presence in 28 locations, the Council operates programs in more than 50 countries and the European Union. The Council believes exports are vital to global economic development and to U.S. agriculture's profitability. Detailed information about the Council and its programs is online at www.grains.org.