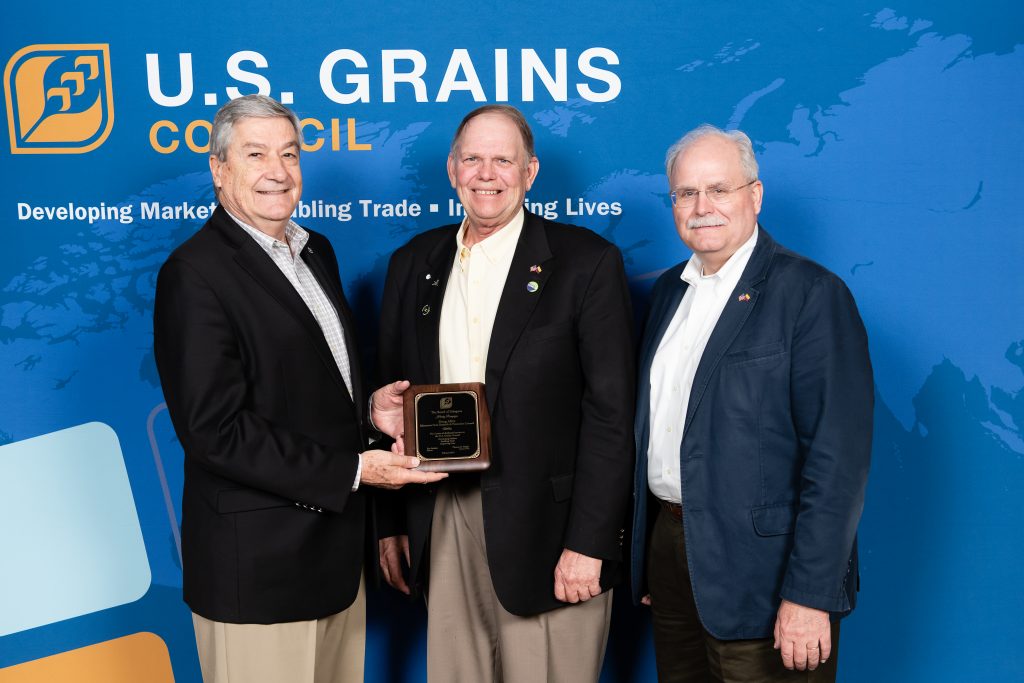 When Doug Albin was growing up in Minnesota, most people knew a farmer or were related to a farmer. Decades later, Albin finds fewer people have connections to agriculture, making building relationships crucial. That effort parallels the work of the U.S. Grains Council (USGC) to establish open conversations between U.S. producers and exporters and their international customers.
"With the Council, it is that personal relationship you make and build up throughout the years – whether it's with staff, grower leaders, buyers or consumers," Albin said. "Those relationships are very similar to the relationships that we need to take up and build with the consumers of the United States so that they can trust that what we are doing is in their best interest."
The Council recognized Albin for five years of service during the organization's 16th International Marketing Conference and 59th Annual Membership Meeting earlier this year. As part of his representation of the Minnesota Corn Research and Promotion Council, Albin has served on the Asia Advisory Team and participated in the Council's 2017 corn quality rollout mission in Taiwan. Albin praised the Council for its meaningful work to promote U.S. corn and co-products.
"I will say that the Council is very organized when they put together a program," Albin said. "The Council sets up an agenda that is very focus-driven, whether it's a trade mission or it's a corn quality rollout."
Albin also highlighted the Council's promotion of U.S. DDGS, an initiative he emphasized was important to Minnesota Corn. Today, importers and end-users in a diverse set of markets are buying U.S. DDGS, thanks to the 15 years of groundwork done to educate importers and nutritionists about the value of the feed ingredient. Albin highlighted that ability to match technical expertise with the needs of individual markets as a huge benefit of being involved with the Council.
"If Minnesota Corn finds an issue overseas that needs assistance, the Council has access to a nutritionist or a feed specialist who will go and visit with buyers to understand what their needs are and how we can help," Albin said.
Whether promoting DDGS during an A-team meeting or corn quality on an overseas mission, Albin has seen the importance of building connections and relationships on a universal level.
"One thing that sticks out to me is how important personal relationships are and the continuation of reinforcing those relationships with buyers," Albin said. "The value of the Council is that we have somebody there – fresh faces that genuinely show interest to the buyers who are interested in how they use our products. We need to keep the relationships going."
About The U.S. Grains Council
The U.S. Grains Council develops export markets for U.S. barley, corn, sorghum and related products including distiller's dried grains with solubles (DDGS) and ethanol. With full-time presence in 28 locations, the Council operates programs in more than 50 countries and the European Union. The Council believes exports are vital to global economic development and to U.S. agriculture's profitability. Detailed information about the Council and its programs is online at www.grains.org.