The U.S. Grains Council (USGC) checked in with its grower members around the country to get a read on the collective progress of the U.S. corn crop at this point in the 2022 growing season.
In March, the U.S. Department of Agriculture (USDA) released its Prospective Plantings report for 2022, a survey of farmers from across the country that helps determine how many acres of each crop farmers anticipate planting. Total estimated acres for corn of all uses is 89.5 million, with an expected decrease of four percent compared to the prior year.
As of July 17, according to the USDA's National Agricultural Statistics Service (NASS), with 18 states reporting, silking has reached 37 percent. Those same states reported 64 percent of corn nationally is in good or excellent condition, compared to 65 percent at this time last year. The 18 states – Colorado, Illinois, Indiana, Iowa, Kansas, Kentucky, Michigan, Minnesota, Missouri, Nebraska, North Carolina, North Dakota, Ohio, Pennsylvania, South Dakota, Tennessee, Texas and Wisconsin – made up 92 percent of the 2021 corn acreage.
Through its network of staff overseas and via social media, the Council will be sharing regular updates throughout the growing season with global customers.
Below is a round-up of corn planting progress so far this growing season from Council Advisory Team (A-Team) leaders Gail Lierer and Jennie Schmidt. Check out more via the Council's Facebook, Instagram and Twitter feeds or by using the hashtag #plant22.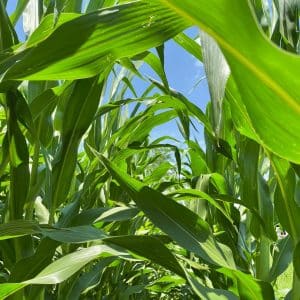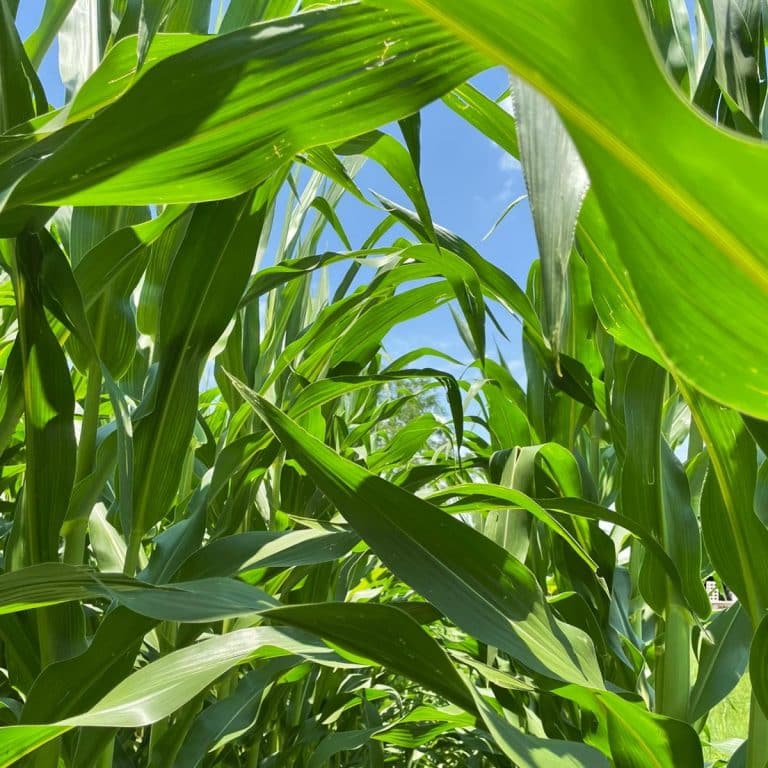 In Ohio, 3.35 million acres of corn were planted in the state, compared to last year's 3.55 million acres. Lierer, Asia A-Team leader and Ohio grower, expressed her gratefulness for a recent rain shower in the state as her crop will soon enter its next stage.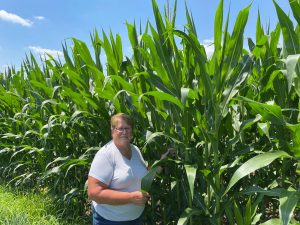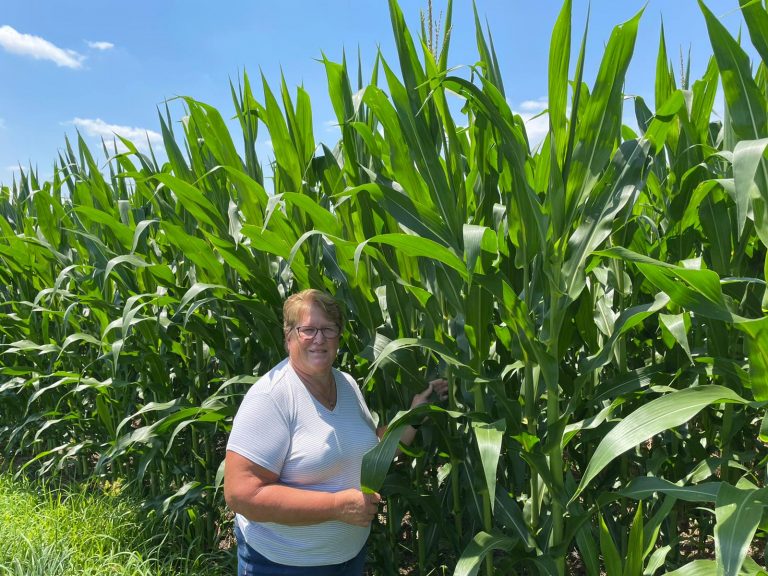 "Since these photos were taken last week, our corn has tasseled and we are very pleased with the rain we received on July 17, around 1.3 inches. This will help so much," Lierer said. "The corn will be in the pollination stage this week, so the rain was very welcomed."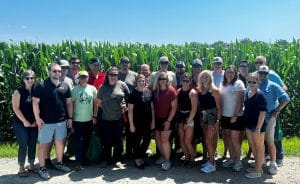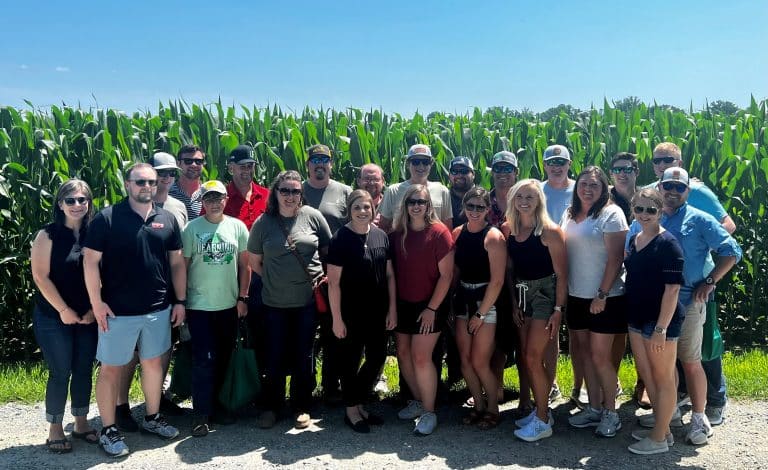 Maryland farmer Schmidt, who also leads the Council's Middle East/Africa/South Asia A-Team, shared an update on her crop after planting later than normal.
"Our corn is just coming into tassel, as we had a cool, wet spring and everything went in a few weeks later than usual."
Pictured in front of Schmidt's corn crop, a group from Iowa, Nebraska, Michigan and Missouri visited her farm last week to discuss nutrient management and conservation.
About The U.S. Grains Council
The U.S. Grains Council develops export markets for U.S. barley, corn, sorghum and related products including distiller's dried grains with solubles (DDGS) and ethanol. With full-time presence in 28 locations, the Council operates programs in more than 50 countries and the European Union. The Council believes exports are vital to global economic development and to U.S. agriculture's profitability. Detailed information about the Council and its programs is online at www.grains.org.