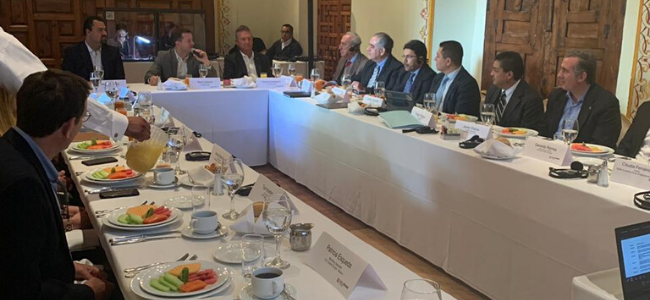 Mexico is the top market for U.S. grains in all forms (GIAF), dominating U.S. corn, barley/barley products and dried distiller's grains with solubles (DDGS) exports in addition to ranking as a top buyer of U.S. sorghum and a growing market for U.S. ethanol.
In recognition of the importance of this trade relationship, the U.S. Grains Council (USGC) joined more than 100 U.S. industry and government representatives on a U.S. Department of Agriculture (USDA) agricultural trade mission to Mexico last week to show appreciation for long-time partnerships within the Mexican livestock industry and new collaborations in the Mexican fuel sector.
"The North American Free Trade Agreement (NAFTA) has had an enormous positive impact on the agricultural industry in the United States and the same can be said for the livestock industry in Mexico," said Ryan LeGrand, USGC president and chief executive officer, who participated in the mission. "Access to affordable grains and reliable shipments from the United States has really helped these industries grow since the signing of NAFTA."
As Mexican swine, poultry and beef industries have grown, so have exports of U.S. corn, sorghum and co-products like DDGS. Exports of grains in all forms (GIAF) increased 2 percent in 2018/2019 to set a new record high of 25.6 million metric tons (equivalent to one billion bushels), valued at $7.24 billion.
Overall, GIAF exports have increased 309 percent to Mexico since NAFTA went into effect in 1994, driven by a nearly 11-fold increase in U.S. corn exports, nearly 11-fold increase in U.S. DDGS exports and the opening of new markets, including for ethanol.
The pending United States–Mexico–Canada Agreement (USMCA) will be critical to continue this shared success through agricultural trade. USMCA maintains duty-free access for U.S. coarse grains, co-products and ethanol, provides the highest enforceable sanitary and phytosanitary standards in any trade agreement to date, and serves as a model for future trade agreements the United States needs to continue expanding export demand – among other mutually beneficial terms.
"We need the certainty. We need to know that we've got a deal signed and ratified with our two largest trading partners," LeGrand said. "And once we get this ratified, it sends a signal to the rest of the world that the United States is open to negotiating and implementing positive, mutually-beneficial trade pacts."
The Council continues to conduct robust market development work in Mexico. In-country staff keep in touch with trading partners to ensure they have the information they need to continue to access global markets, including buying U.S. products.
"We stay in close contact with our trading partners," LeGrand said. "We have great allies north of our border and south of our border. We have the same goals of growth in our businesses and our sector. USMCA creates that certainty to keep the borders open for grain flow."
Listen to an audio interview with USGC President and CEO Ryan LeGrand on the importance of the Mexican market. (See Below)
Learn more about the Council's work in Mexico. 
About The U.S. Grains Council
The U.S. Grains Council develops export markets for U.S. barley, corn, sorghum and related products including distiller's dried grains with solubles (DDGS) and ethanol. With full-time presence in 28 locations, the Council operates programs in more than 50 countries and the European Union. The Council believes exports are vital to global economic development and to U.S. agriculture's profitability. Detailed information about the Council and its programs is online at www.grains.org.