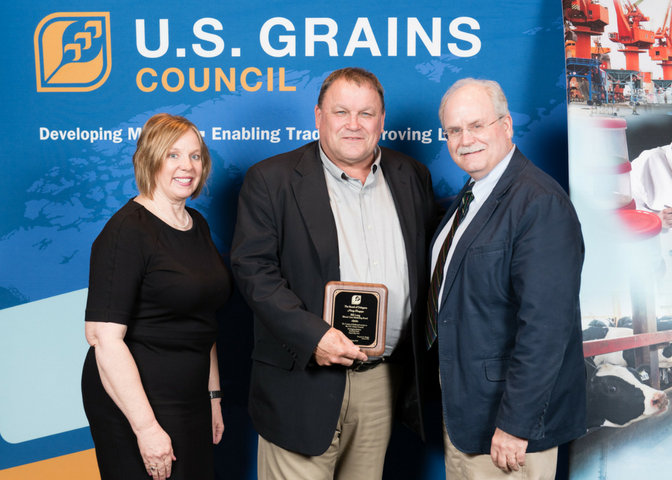 Never underestimate a good ball cap. Illinois corn farmer Bill Long calls his official blue U.S. Grains Council (USGC) hat his conversation starter, opening opportunities to share his insights on the value of export market development.
"I just ask, well, are you aware of what the Council is," Long said. "That is the biggest part – letting people know that there are people out there working for us, trying to move our grains, make connections, educate and inform."
Long himself was unfamiliar with the Council's work when he started raising corn and beans in central Illinois in 1980. While farming, he also coached men's basketball at the junior high, high school and collegiate levels as his older sons played.
After coaching, he started looking for other ways to contribute to his community, and an advertisement for a director position from his district to the Illinois Corn Marketing Board sparked his interest. He ran and was elected in 2011, which introduced him to the Council's work.
For the first two years, Long floated between the Council's advisory teams (A-Teams) during meetings, trying to hear and learn everything he could. He later served on the Biotechnology A-Team (as it was called at the time) for two years, then the Western Hemisphere A-team for two years, and is now a member of the Asia A-Team.
"It has all been interesting and eye-opening," Long said. "That is why I like being on different committees, getting an idea of what is going on in different regions."
Throughout his experience with the Council, Long has traveled to both Europe and South America to gain even more insight into how global markets operate.
"The Council broadened my horizons and got me off the farm and out of central Illinois," Long said. "The Council has opened my eyes and ears to more of the world situation and what is going on."
The Council recognized Long for five years of service during the organization's 15th International Marketing Conference and 58th Annual Membership Meeting in Houston, Texas.
"I farm, but I am like a lot of people. I was not really trying to be involved in anything bigger than Illinois," Long said. "It has been an educational experience for me being on those different committees and helping educate and spread the word of the Council and all the states that work together."
And that blue ball cap is Long's gateway to initiating an educational dialogue with the folks he encounters.
"It is important for people in my community to be aware of the kind of work the Council does and support that work," Long said. "That is what I try to do – bring it back and make people aware of how trade works."
About The U.S. Grains Council
The U.S. Grains Council develops export markets for U.S. barley, corn, sorghum and related products including distiller's dried grains with solubles (DDGS) and ethanol. With full-time presence in 28 locations, the Council operates programs in more than 50 countries and the European Union. The Council believes exports are vital to global economic development and to U.S. agriculture's profitability. Detailed information about the Council and its programs is online at www.grains.org.