The U.S. Grains Council (USGC) remembers the life of James (Jim) Raben who passed away last week. A grower-leader in Ridgway, Illinois, Raben served as USGC chairman in 2021. Raben's chairman's theme, "Building Relationships; Building Trade," not only highlighted his desire to share U.S. agriculture with the world but also his passion for getting to know the people he came in contact with throughout his life.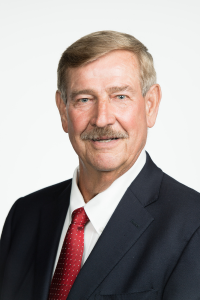 While his chairman year was greatly affected by the COVID-19 pandemic, Raben was able to take part in several Council missions throughout his time on the board, traveling to places including Tunisia and Myanmar for joint officers missions; South Korea to learn more about the market and meet with USGC staff; and Panama for his first international visit as Council chairman, leaving his mark on each person he met along the way.
"Jim truly valued his service to the U.S. Grains Council and was a great representative for the American farmer in the overseas markets he visited to promote exports," said USGC President and CEO Ryan LeGrand. "His focus on relationship building with customers around the world is an example we can all follow as we work every day toward the Council's mission. He will be missed by all of us here at USGC."
In addition to his dedication to the Council, Raben also served as chairman of the Illinois Corn Marketing Board and was named a 2022 Prairie Farmer Master Farmer. He was greatly involved in his community, serving on the school board, assisting with the "Ag in the Classroom" program and being involved with the Gallatin County Farm Bureau. Additionally, Raben was involved with the USA Poultry and Egg Export Council (USAPEEC), Shimkus Ag Advisory Committee, Illinois Soybean Association, FFA alumni, the Executive Board for Gallatin County and the 4th degree Knights of Columbus.
Raben is survived by his wife, Marilyn; his two sons, Matthew (Sarah) Raben and Joseph Raben; his two daughters, Christina (Jeff) Scates and Jordan (Adam) Robinson; and his grandchildren: Drew and Wyatt Scates; Shelbi, Olivia, Eliana, Gryffin, Theron, Jaxston, Dominque Raben; Troy and Trevor Robinson.
Please join the Council in celebrating the life and accomplishments of Jim Raben.
About The U.S. Grains Council
The U.S. Grains Council develops export markets for U.S. barley, corn, sorghum and related products including distiller's dried grains with solubles (DDGS) and ethanol. With full-time presence in 28 locations, the Council operates programs in more than 50 countries and the European Union. The Council believes exports are vital to global economic development and to U.S. agriculture's profitability. Detailed information about the Council and its programs is online at www.grains.org.