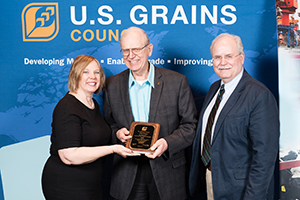 Ed Breitmeyer taught school for 30 years before he switched to farming full time, but he never really left the classroom behind. Instead, he has used his educational expertise to bolster Michigan's involvement in the U.S. Grains Council (USGC) over a decade as a USGC delegate for the Corn Marketing Program of Michigan.
The Council recently recognized Breitmeyer for 10 years of service during the organization's 15th International Marketing Conference and 58th Annual Membership Meeting in Houston, Texas.
Breitmeyer started his farm from scratch, moving to the country and starting a small vegetable business while he was still teaching in Kingsley, Michigan. He said he and his wife kept expanding their operation until he retired from teaching.
"I had the best of both worlds," he said. "I loved working with the kids, and I also was able to come work on the farm."
Once he was no longer teaching, Breitmeyer remembered it did not take long for a good friend to get him involved in the Michigan Corn Growers Association. Breitmeyer finished his friend's term and then completed his own, serving for a total of 13 years. From there, that same friend got Breitmeyer involved in the marketing board for a subsequent six years.
"That's how it all evolved," he said. "Once I dive into something, I do not just go halfway. I do not just go to show up to meetings, I get involved and I stick with it."
At the time, the ethanol industry was emerging, causing many in Michigan and other states to wonder if there was a need for the Council's work promoting exports. Breitmeyer started asking questions about the Council's value and then attended his first Council meeting, in Alaska. He said he knew right away he wanted to serve on an advisory team (A-team) so he joined the Membership-Communications A-Team, a natural fit for an educator.
"I learned a ton about the Council's activities, and I even went on and mentored a few people," he said. "And I came back and spent a lot of time with our Michigan group."
Breitmeyer continued to share that insight with his fellow farmers in Michigan, pushing for additional contributions and for more farmers to come to meetings and join advisory teams. Whereas Breitmeyer was the only delegate from Michigan for a while, now the state is represented on several different A-teams.
"I see the value of the Council and how important it really is," he said. "Most of them just did not understand how the Council works and the activities they had overseas – finding consultants, conducting feeding trials, getting buyers and sellers together. They had no idea."
As a member of a communications-focused A-team, Breitmeyer worked to fill that knowledge gap – working on surveying stakeholders, branding and even the Council's website. He said his location more than 100 miles from the nearest ethanol plant and out of the way for any potential exports further demonstrated the need for him to share this work with his neighbors as they often did not see a direct connection between the Council's work and their bottomline.
"Farmers do not always see the work of the Council because they do not see the last part of the market," Breitmeyer said. "What we use domestically here at home is great, but if that is all we did, we would be selling corn for even less."
"You have to talk about it – this is what the market would be without the Council. And that's hard to get across. You just have to keep hammering it – this is what the Council is doing, this is why it is important."
Later, Breitmeyer joined the Value-Added A-Team, where he said he watched as the Council shifted from promoting corn to distiller's dried grains with solubles (DDGS) and now ethanol. He said he has also learned more about the logistics of the U.S. grain marketing system and the growth in demand from the world's rising middle class.
"We see countries, especially in Asia, that are developing so quickly," he said. "And they want to eat meat, they want a better standard of living, which is a big encouragement to us because they want to buy grain."
However, Breitmeyer recognizes the work needed to overcome barriers to trade in order to make those sales happen.
"There are so many issues that have to constantly be worked on in order to keep the grain moving, "he said. "The experience has been awesome, just learning about all the things we have to overcome to make trade happen. The more you think you know, the more you realize you do not know at all."
Breitmeyer received some of this education firsthand, traveling to China in 2012 as part of a team of industry experts who visited the country's top seven corn production provinces.
But his roadshow did not stop when he crossed the Chinese border. Breitmeyer returned home, put together a video from the trip and took it on a roadshow across Michigan to tell what China was like and how the Council worked.
"If I did anything at all, you can say education was one of my main issues," he said. "I came back and just kept talking about what I did."
"I still feel that way; I come back from meetings and try to educate. I try to pass it on."
About The U.S. Grains Council
The U.S. Grains Council develops export markets for U.S. barley, corn, sorghum and related products including distiller's dried grains with solubles (DDGS) and ethanol. With full-time presence in 28 locations, the Council operates programs in more than 50 countries and the European Union. The Council believes exports are vital to global economic development and to U.S. agriculture's profitability. Detailed information about the Council and its programs is online at www.grains.org.