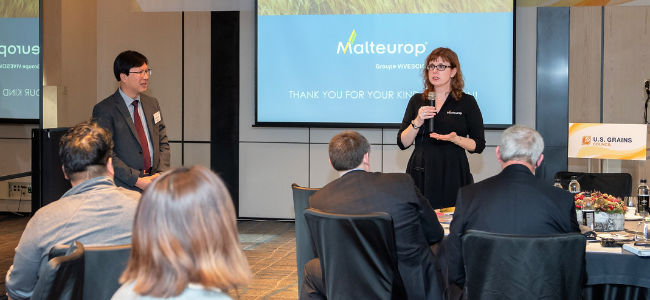 In 2018, South Korea imported 4,330 metric tons of U.S. barley valued at $1.4 million, an increase of 94.7 percent compared to the previous year's total of 2,200 tons, valued at $600,000. This export increase has been due to the Council's continued efforts to promote the characteristics of U.S. barley using Market Access Program (MAP) funds.
Although the United States-Korea Free Trade Agreement (KORUS) created an opportunity to export U.S. food barley under a tariff rate quota (TRQ), imports were limited because of its small market size and weak price competitiveness compared to Australian barley. The demand for barley as a rice substitute has also decreased due to the increase in domestic barley production and the expansion of the super grain trend focused on millet, buckwheat, quinoa, amaranth and others.
To overcome the limited price competitiveness of the KORUS TRQ and to expand U.S. barley exports, the Council promoted U.S. barley as a healthy grain and an ingredient for health food. Since 2017, the Council has invited barley exporters and suppliers to promote U.S. barley at a series of seminars and corresponding one-on-one consultations. Through the program, food barley and malting barley suppliers responded by increasing their import volumes in 2018.
The Council invested $88,000 of MAP funds to promote the nutritional benefits of U.S. barley and increased U.S. barley export by $800,000 in 2018, creating a return on investment (ROI) of $9.10 for every $1 of MAP invested.
About The U.S. Grains Council
The U.S. Grains Council develops export markets for U.S. barley, corn, sorghum and related products including distiller's dried grains with solubles (DDGS) and ethanol. With full-time presence in 28 locations, the Council operates programs in more than 50 countries and the European Union. The Council believes exports are vital to global economic development and to U.S. agriculture's profitability. Detailed information about the Council and its programs is online at www.grains.org.