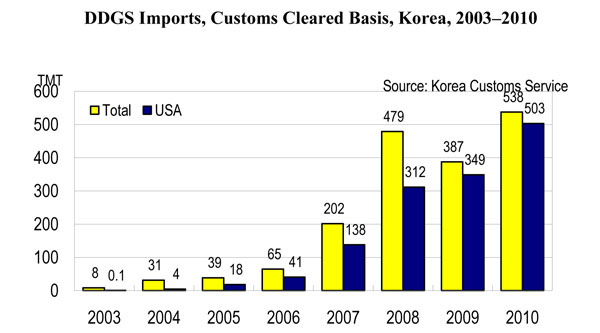 Since the beginning of these promotion efforts in 2004, the U.S. Grains Council has facilitated export promotion trips to and from South Korea, sponsored a number of feed trials and helped facilitate contact between U.S. growers and producers with their end-user counterparts in Korea. The outcome of these efforts has been to drastically increase the utilization of U.S. DDGS in the South Korean market.
As the use of U.S. DDGS in Korea has increased—from 4,000 metric tons in 2004 to 503,000 tons in 2010- the financial returns for U.S. farmers and producers have also skyrocketed. DDGS exports to Korea in 2004 accounted for a mere $86,000, but have grown to a stunning $102 million in 2010. Exports of DDGS have remained strong this year as well, valued at $23 million through May.
All told, the Council believes Korea has the capacity to import more than 2 million tons a year at the currently accepted inclusion rate and is optimistic for increased Korean imports of U.S. DDGS in the near future.
About The U.S. Grains Council
The U.S. Grains Council develops export markets for U.S. barley, corn, sorghum and related products including distiller's dried grains with solubles (DDGS) and ethanol. With full-time presence in 28 locations, the Council operates programs in more than 50 countries and the European Union. The Council believes exports are vital to global economic development and to U.S. agriculture's profitability. Detailed information about the Council and its programs is online at www.grains.org.