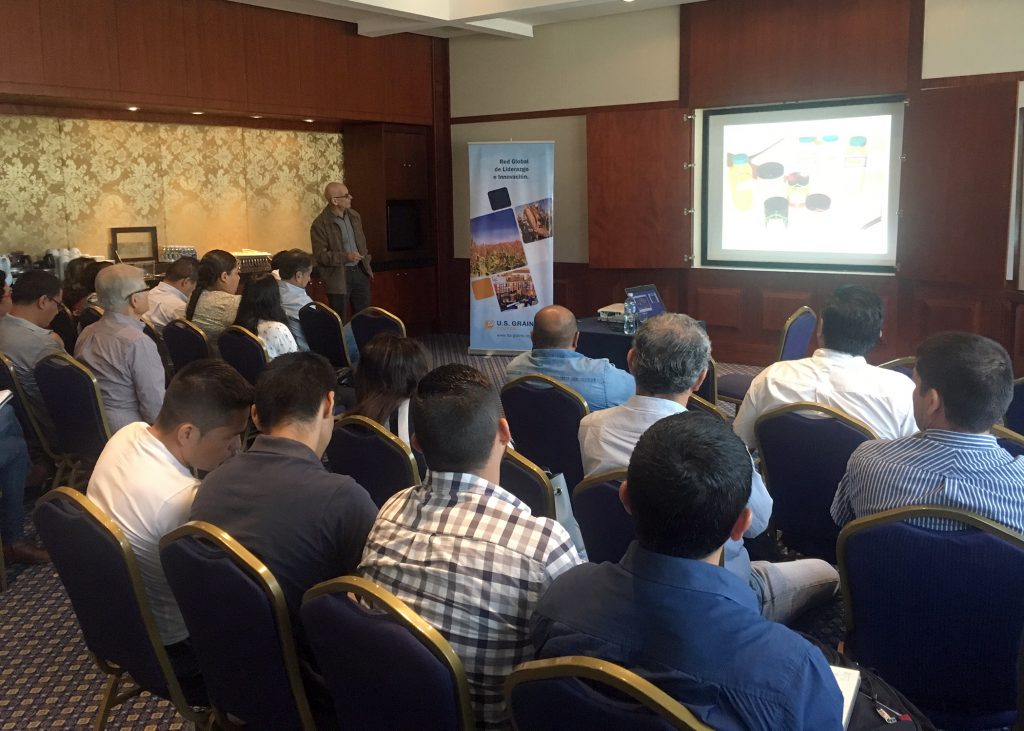 The largest commercial feed producer in Ecuador imported 6,650 metric tons of U.S. dried distiller's grains with solubles (DDGS) valued at $1.3 million in the first half of 2019 following an ongoing targeted marketing program by the U.S. Grains Council (USGC). The last time the company purchased U.S. DDGS was a decade ago.
Currently, Ecuador only imports 19,300 tons of U.S. DDGS, however the long-term potential is easily 50,000 tons per year. The Council's programs are focused on highlighting this market opportunity for Ecuadorian end-users.
Market Access Program (MAP) funds were used to conduct in-country seminars that focused on DDGS utilization in poultry and swine diets. Seminars in Quito and Guayaquil were conducted and Ecuadorian producers also participated in the second regional nutrition conference held in Medellin.
The company itself produces poultry and swine integrations and runs other ag businesses. The company produces 600,000 metric tons of feed per year and has more than 50 percent of the feed market share in the country. However, their previous experience with DDGS was not positive. After their participation in the Council's 2014 Export Exchange, one-on-one consultations in 2016 and 2017, and the regional nutrition conference in 2017, the company began feeding trials using DDGS in 2017. Being the largest feed miller in the country, if this company begins regularly using U.S. DDGS, the rest of the industry would likely follow.
In total, the Council invested $86,474 in MAP funds since 2016 to support the marketing programs in which this company and other potential DDGS users participated. As a result, imports of 6,650 tons of DDGS valued at $1.3 million, generated a return on investment (ROI) of $15.74 per $1 of MAP funds invested.
Learn more about the Council's work to promote DDGS in Latin America.
About The U.S. Grains Council
The U.S. Grains Council develops export markets for U.S. barley, corn, sorghum and related products including distiller's dried grains with solubles (DDGS) and ethanol. With full-time presence in 28 locations, the Council operates programs in more than 50 countries and the European Union. The Council believes exports are vital to global economic development and to U.S. agriculture's profitability. Detailed information about the Council and its programs is online at www.grains.org.