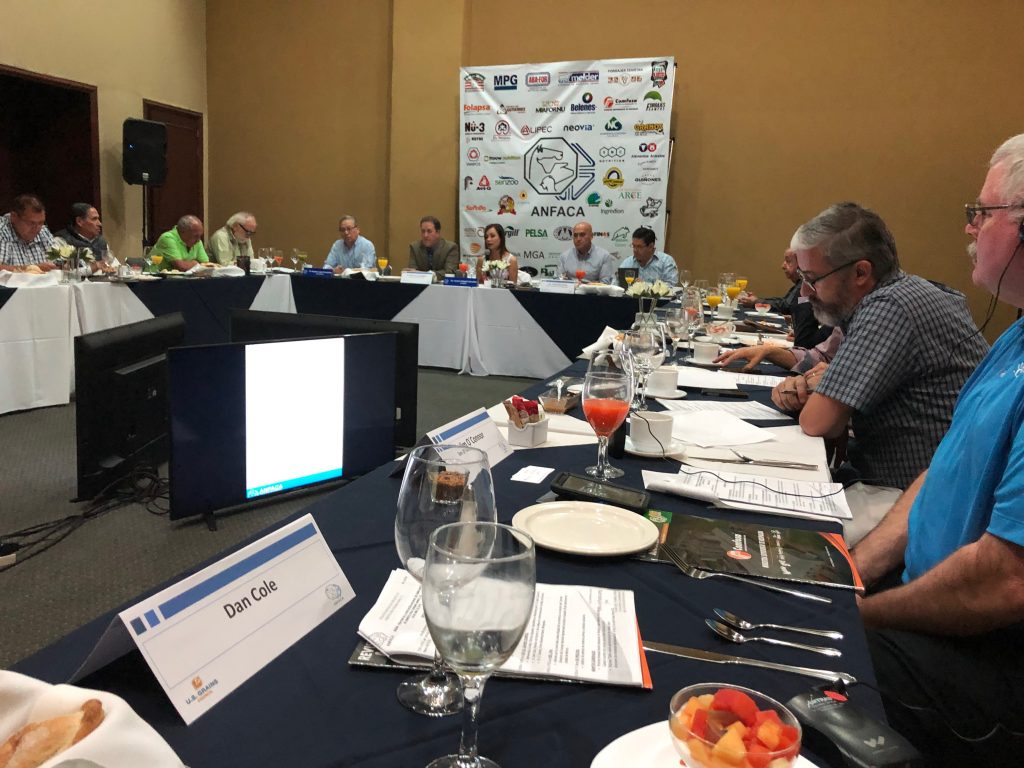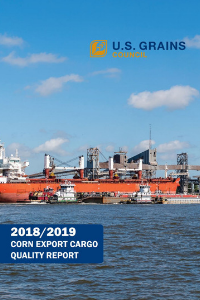 The U.S. Grains Council (USGC) started rolling out new research on the quality of corn found in export channels during a series of seminars in Mexico last week.
The seminars, which will continue in additional markets across the globe in the coming months, highlight the Council's 2018/2019 Corn Export Cargo Quality Report and help establish clear expectations with buyers and end-users regarding the quality of corn this marketing year.
"Corn quality information is important to foreign buyers and other industry stakeholders as they make decisions about purchase contracts and processing needs for corn for feed, food or industrial use," said USGC Chairman Jim Stitzlein. "This report – along with its companion, the Corn Harvest Quality Report – has consistently created value for all stakeholders due to the familiarity of the information and the ability to evaluate year-to-year changes in the U.S. corn crop."
The report is based on 436 export cargo samples collected from corn shipments undergoing federal inspection and grading processes at export terminals. It also provides information on grading, handling and how U.S. corn is moved and controlled through export channels.
To share this information, two U.S. corn farmers joined Council staff in Mexico last week – Jim O´Connor with Minnesota Corn and Dan Cole with the Illinois Corn Marketing Board. The delegation traveled to three cities in Mexico – Querétaro, Guadalajara and Mérida – to present the recently-related report and provide perspectives from their respective operations, including how they make planting decisions and where they market their grain.
"Mexico is a very strong export market as they purchase close to 100 percent of their corn imports from the United States," O'Connor said. "Why? Because we are the most reliable supplier and they trust us. We are in food production, and relationships matter! People buy from people."
The group met with representatives of the poultry and dairy industries, who expressed the desire for more consistent quality in cargoes received via unit trains and explained the importance of monitoring shipments for mycotoxins.
In Guadalajara, the team toured a feed mill owned by the president of ANFACA, the national association of feed millers. The farmer-leaders also viewed the area's diverse agriculture sector, including production of corn, sorghum, berries and blue agave.
Jalisco is one of the most important states in Mexico in terms of livestock production, topping production for eggs, milk and swine as well as ranking second in beef production and fifth in chicken production. To feed those animals, Jalisco has 140 feed mills that produce 8.5 million metric tons of animal feed annually, consuming 5.7 million tons of corn, 1.7 million tons of soybean meal and 1.2 million tons of DDGS.
"Most of the grain imported through the Port of Progreso is from U.S. origin," said Patricia Esqueda, USGC marketing specialist in Mexico, who led the mission. "These participants mentioned they consider the United States their most reliable supplier of corn and DDGS and appreciate all the efforts U.S. farmers do to supply Mexico with good quality grain."
The export cargo quality report is a companion to the 2018/2019 Corn Harvest Quality Report that provides information about the quality of the most recent U.S. corn crop at harvest as it enters the international merchandising channels.
Together, the reports provide reliable information on U.S. corn quality from the farm to the customer based on transparent and consistent methodology. They each give an early view of grading factors established by the U.S. Department of Agriculture (USDA), moisture content and other characteristics not reported elsewhere. Since they are done year after year, both reports identify any noticeable changes occurring between these two time periods.
"The Council's mission is one of developing markets, enabling trade and improving lives," Stitzlein said. "To help fulfill this mission, the Council offers this report as a service to our partners. We hope it continues in its role of providing information about the quality of the U.S. corn crop to our valued trade partners."
Read both 2018/2019 corn quality reports on the Council's website. 
About The U.S. Grains Council
The U.S. Grains Council develops export markets for U.S. barley, corn, sorghum and related products including distiller's dried grains with solubles (DDGS) and ethanol. With full-time presence in 28 locations, the Council operates programs in more than 50 countries and the European Union. The Council believes exports are vital to global economic development and to U.S. agriculture's profitability. Detailed information about the Council and its programs is online at www.grains.org.