Editor's Note: This is the first in a U.S. Grains Council (USGC) series exploring modes of transportation within the U.S. grain supply chain that provide a reliable supply of U.S. coarse grains, co-products and ethanol to the world's market.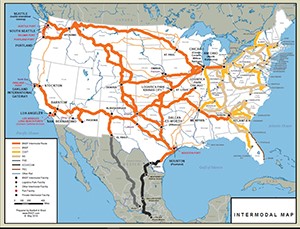 The U.S. freight railway system continues to stay on track despite challenges posed by COVID-19 – meaning U.S. corn and sorghum will keep moving south to one of the most important U.S. export markets, Mexico.
"Rail is the primary mode of transportation for many Mexican buyers to receive corn," said Reece Cannady, U.S. Grains Council (USGC) manager of global trade. "Logistics are moving smoothly. There are no problems currently with the rail system as it is part of essential enterprise."
The corn and sorghum destined for Mexico travel via the southern rail system, which pulls from grain originating in southern Illinois, southern and central Iowa, southern Nebraska, central and eastern Kansas and parts of Missouri. This area is defined as the Southern Rail catchment area in the Council's corn quality reports.
Farmers in these areas may have multiple delivery options, including choices between a convenient country elevator that may be located closer to their fields during harvest or a nearby shuttle-loading facility. These shuttle trains are a dedicated set of 75 to 110 covered hopper cars that move as a single unit from origin in the United States to Mexico – a highly efficient part of the U.S. grain supply chain.
Because shuttle-loading facilities fill full trains directly, they maximize the use of the rail system by minimizing the stops a train would need to make to add individual railcars to make a full load. Another huge advantage to this system is the ability to inspect grain at the point of origin and seal cars until they cross the border. Having these sealed cars also means that grain is only handled once or twice in transport, helping preserve quality.
"At this point, we have traded so much with Mexico that exporting grain via rail is like tying your shoes," Cannady said. "Mexico is an essential trading partner and they have rail transport down pat."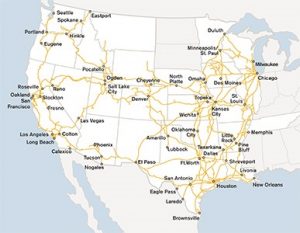 Three main railways transport these trains to Mexico – BNSF Railway, Union Pacific and Kansas City Southern Railway. Once a train arrives at the border, each railcar is fumigated and all seals are double-checked. After clearing customs, the train is forwarded onto Mexican rail lines and delivered to a diverse and widely dispersed set of end-users. This process is more consistent than other modes of transportation, meaning end-users know grain will travel from a corn state to the border in just four to five days – depending on the state in which the grain originated.
"They know the exact timings grain will hit the border and arrive at their operation," Cannady said. "Unless there is some sort of unanticipated interruption, they can get grain in a reasonable amount of time."
The U.S.-Mexico rail network developed to fill the needs of the market. Duty-free access for U.S. coarse grains and co-products was outlined in the North American Free Trade Agreement (NAFTA) and preserved in the United States–Mexico–Canada Agreement (USMCA). Zero tariffs opened the door to trade and robust market development work by groups like the Council and its members helped develop these highly efficient supply chains that maximize natural geographic proximity.
Trade has flourished based on these positive logistical factors and increased ties between customers and suppliers on both sides of each border. Mexico now dominates nearly every category of U.S. grains in all forms – setting a record high in the 2018/2019 marketing year at 25.6 million metric tons, equivalent to one billion bushels. By category, Mexico was the top buyer of U.S. corn, distiller's dried grains with solubles (DDGS), and barley/barley products in addition to ranking as the third largest market for U.S. sorghum and the 10th largest market for U.S. ethanol.
The rail system is a vital part of transporting those goods into Mexico. And with trains continuing to chug down the track, trade continues, as does the market support for U.S. farmers and agribusiness and their Mexican customers.
Follow updates on operating status and COVID-19 response by Union Pacific, BNSF Railway and Kansas City Southern.
About The U.S. Grains Council
The U.S. Grains Council develops export markets for U.S. barley, corn, sorghum and related products including distiller's dried grains with solubles (DDGS) and ethanol. With full-time presence in 28 locations, the Council operates programs in more than 50 countries and the European Union. The Council believes exports are vital to global economic development and to U.S. agriculture's profitability. Detailed information about the Council and its programs is online at www.grains.org.