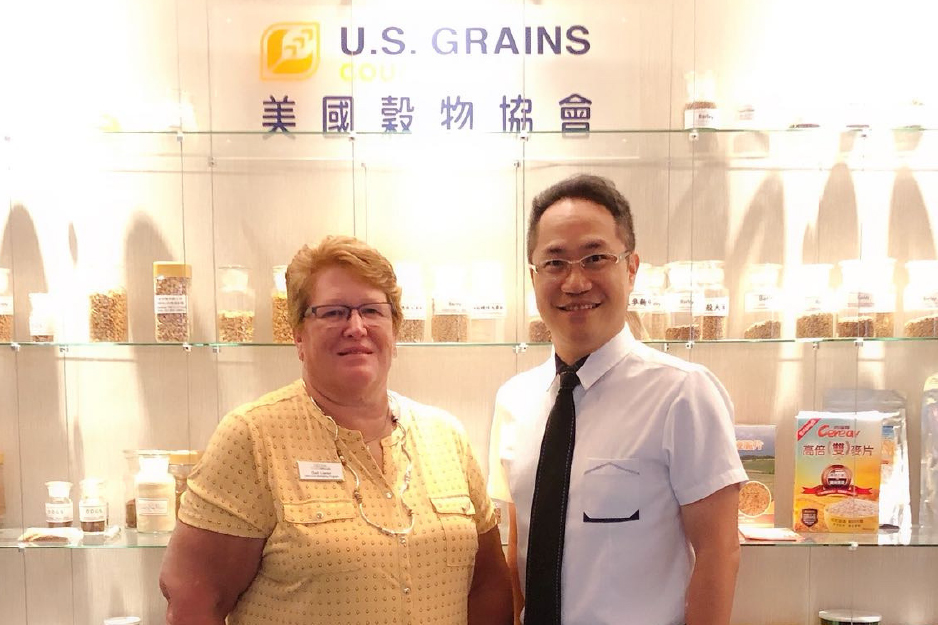 Before rushing home and into the field for corn harvest, Ohio farmer and U.S. Grains Council (USGC) delegate Gail Lierer traversed a 12-hour time difference to express appreciation to U.S. corn buyers in Taiwan and share her firsthand perspective on the 2018 U.S. corn crop.
"I thought this was a great way to see how another country farmed," Lierer said. "And customers were very appreciative in knowing our 2018 corn crop is plentiful and of good quality."
Lierer farms with her husband Dave in Okeana, Ohio, in addition to selling crop insurance. She also serves as the vice-chair of the Ohio Corn Checkoff board and on the Council's Ethanol Advisory Team (A-Team).
During the late September mission, Lierer gained familiarity with the results and impacts of programs the Council has undertaken over the last 45 years to enable trade to Taiwan, market U.S. coarse grains and related products to customers there and help the Taiwanese industry develop trade-supportive policy.
Thanks to a great working relationship with Taiwanese traders and buyers, USGC Taiwan Director Michael Lu was able to introduce Lierer to many individuals responsible for trading grain and making deals.
As the sixth largest buyer of U.S. corn, Taiwan imported nearly 2.41 million metric tons (94.9 million bushels) in the 2017/2018 marketing year in addition to nearly 221,000 tons of U.S. dried distiller's grains with solubles (DDGS). The Council works to defend U.S. market share in Taiwan against competition from Brazil and other origins as well as to continue demand growth for U.S. DDGS through higher inclusion rates and attracting new customers.
Taiwan is also a buyer and user of U.S. sorghum, barley and corn-based polylactic acid (PLA), a corn co-product used as an environmentally-friendly bio-material in packaging materials like egg containers, salad boxes and disposable cups.
Similar to its other programs around the world, the Council is also working to introduce the benefits of U.S. ethanol to Taiwanese users. This work is focused on educating Taiwanese policy makers about ethanol's advantages to air quality, for increasing bio-energy supplies and in meeting the country's commitments to reducing greenhouse gas emissions. While there, Lierer met with Taiwanese officials who participated in the May 2018 Ethanol Summit of the Asia-Pacific for follow-up discussions about ethanol use.
On her journey, Lierer was able to explore the agricultural sector in Taiwan by meeting with animal science students, presenting during a swine production workshop and viewing rice, sugarcane, vegetable fields and duck and poultry houses as she traveled the country via high speed rail.
"I appreciate the opportunity to go and see this market for myself," Lierer said. "You cannot even imagine it until you see it firsthand."
Throughout her mission, Lierer said meetings included good conversations about her farm and operation and mutual appreciation for long-term business that has benefited the agricultural industries in both countries.
Learn more about the Council's work in Taiwan here.
About the U.S. Grains Council
The U.S. Grains Council develops export markets for U.S. barley, corn, sorghum and related products including distiller's dried grains with solubles (DDGS) and ethanol. With full-time presence in 13 key markets and representatives in an additional 15 locations, the Council operates programs in more than 50 countries and the European Union. The Council believes exports are vital to global economic development and to U.S. agriculture's profitability. Detailed information about the Council and its programs is online at www.grains.org.