2016 In Review

Sharing information, providing networking opportunities and collaborating with partners are all examples of how the U.S. Grains Council (USGC) works across the globe. This year's theme – Expanding Trade, Expanding Opportunities – highlights the Council's outreach aimed at creating new markets, developing long-term relationships and enabling trade.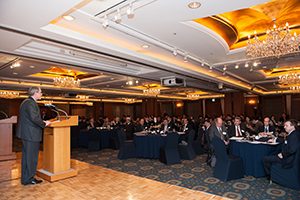 The 2015/2016 marketing year realized substantial exports, with 100 million metric tons of U.S. feed grains in all forms sold across the world. That boom is continuing into the 2016/2017 marketing year, which started in September 2016. In the first month of the new marketing year alone, 10.7 million tons of U.S. feed grains in one form or another were exported. U.S. corn exports in September 2016 increased 89 percent to 6.3 million tons (248 million bushels) year-over-year; and shipments to Japan, South Korea, Peru and Taiwan more than doubled.
These welcomed increases come as the United States once again has a large, high-quality crop available for export. The Council's global presence through staff and representatives operating out of 10 overseas offices is the heart of its market development efforts, aided by programs like Export Exchange, trade teams, missions and information-sharing conferences.
The Council welcomes you to explore the 2016 Annual Report and supporting materials available on this website, including market profiles, highlights of our work in these global markets and video updates on our key successes. Please also download the PDF version and keep it handy for reference.
We depend on your continued support to promote U.S. barley, corn, sorghum, ethanol and DDGS across the globe. Thank you to all USGC members and partners, and we look forward to another successful year working with you!