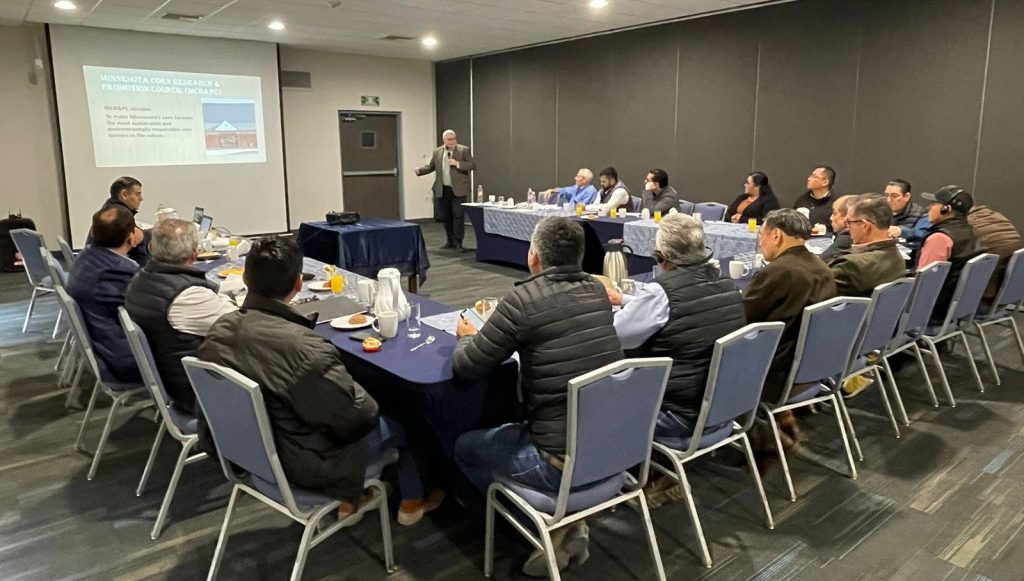 Making stops in northern and southern Mexico, the U.S. Grains Council's (USGC's) Mexico City team recently rounded out the organization's corn harvest quality report (CQR) presentations.
The events covered topics including corn and co-product supply and demand and U.S. crop harvest and quality, in which two U.S. growers, Curt Mether, USGC at-large board member, and Jim O'Connor, USGC Western Hemisphere Advisory Team leader, shared their experiences with the most recent crop and looked ahead to the next growing season.
"Having farmers with us during the corn quality rollout is always enriching for our presentations. Our end users love to hear from the source how the crop went, but most importantly what their plans and new challenges are in 2023," said Javier Chavez, USGC marketing specialist in Mexico. "Additionally having farmers on our rollouts help us show them firsthand what our market is about and allows them to meet with the users of their grain."
By providing procurement managers and representatives of buying groups with updated and reliable information on the quality of the most recent yellow corn crop, the Council expects sales to Mexico to increase. These events have proven over time to be helpful in creating a bond between Mexican grain consumers and U.S. producers and have also helped reassure the Council's position as a reliable source of information.
"Our CQR gives us the chance to visit our end users, follow up on our projects and find new opportunities where we can build new programs," Chavez said.
The 2022/2023 Corn Harvest Quality Report provides information about the quality of the current U.S. crop at harvest as it enters international merchandising channels. A second Council report, the 2022/2023 Corn Export Cargo Quality Report, will measure corn quality at export terminals at the point of loading and will be available in the coming weeks.
About The U.S. Grains Council
The U.S. Grains Council develops export markets for U.S. barley, corn, sorghum and related products including distiller's dried grains with solubles (DDGS) and ethanol. With full-time presence in 28 locations, the Council operates programs in more than 50 countries and the European Union. The Council believes exports are vital to global economic development and to U.S. agriculture's profitability. Detailed information about the Council and its programs is online at www.grains.org.