For the first time in more than two years, U.S. Grains Council (USGC) leaders visited Tokyo to meet with the organization's staff there. Through programming and maintaining customer relationships in Japan, the Council's in-country staff have continued to show their dedication to promoting the quality and benefits of U.S. feed grains in all forms in Japan.
"It was great to be in Japan meeting with our staff there face-to-face," said USGC President and CEO Ryan LeGrand. "They are vital in maintaining and building new relationships with buyers of U.S. grains and co-products in that important market."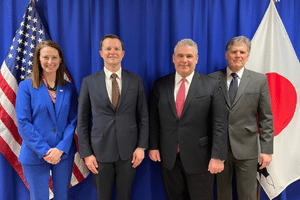 While in Japan, LeGrand and Cary Sifferath, USGC senior director of global programs, had the opportunity to meet with government and industry representatives, discussing the five commodities represented by the Council and the country's continued support of their uses.
Ethanol was a major topic of discussion, as the group met with several organizations and country leaders, including Ambassador Rahm Emanuel, on the potential for its expanded use in Japan.
Imports of ethanol to Japan are in the form of ethyl tert-butyl ether (ETBE), and the U.S. has market share following a change in Japan's policy in 2018. The Council estimates U.S. ethanol totaled about 90 million gallons included in ETBE exports to the Japanese market during the 2020/2021 marketing year.
Commodities including corn, sorghum and barley were also discussed in meetings with the Agricultural Trade Office (ATO) and the Ministry of Agriculture, Forestry and Fisheries.
By maintaining partnerships with governments and organizations around the world, the Council can continue building on its mission of developing markets, enabling trade and improving lives.
Japan ranks as the fourth-largest export market for U.S. coarse grains, co-products, ethanol and meat products so far in the 2021/2022 marketing year, purchasing 4,502,874 metric tons.
About The U.S. Grains Council
The U.S. Grains Council develops export markets for U.S. barley, corn, sorghum and related products including distiller's dried grains with solubles (DDGS) and ethanol. With full-time presence in 28 locations, the Council operates programs in more than 50 countries and the European Union. The Council believes exports are vital to global economic development and to U.S. agriculture's profitability. Detailed information about the Council and its programs is online at www.grains.org.