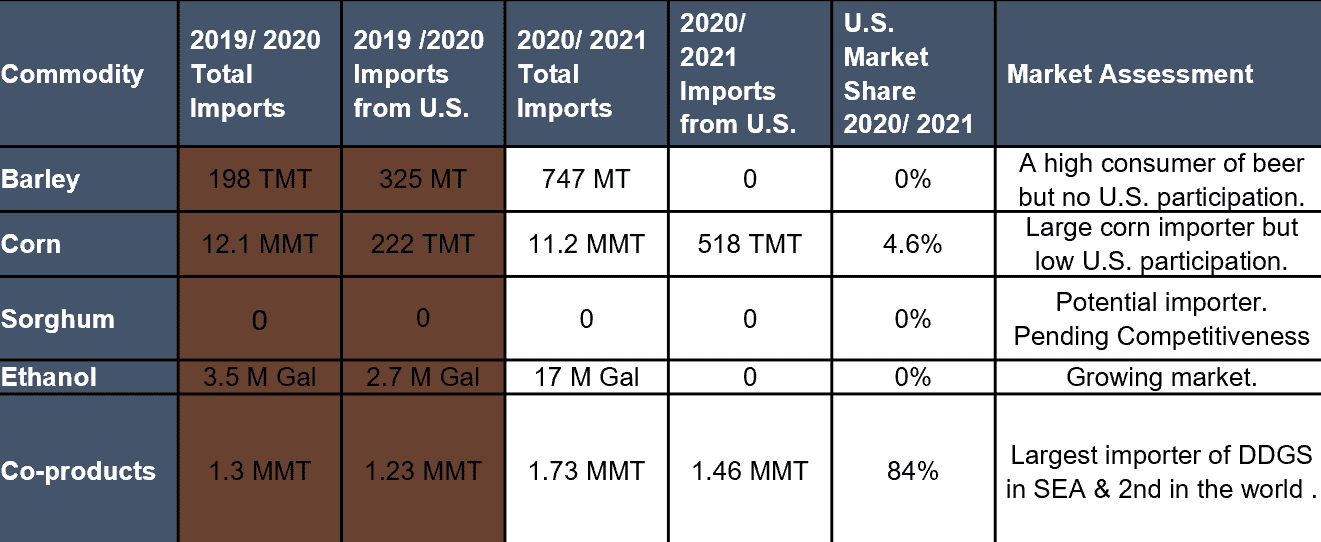 >
Supply/Demand Basics
Largest animal feed market in Southeast Asia, over 30.1 MMT in 2021.
Largest corn importer in Southeast Asia, over 11 MMT in 2021.
Utilizes 5 MMT of rice bran annually – for feed usage.
2nd largest importer of DDGS in the world in 2021 at 1.44 MMT.
Tremendous growth in commercial feed market, expected to eclipse 35 MMT.
ASF is transforming the swine industry from back yard operations to large modern commercial farms.
Country Overview

Median age of 31.9 years old.
Vietnam's GDP growth in 2021 is expected to expand by only 2.3% due to the impact of the latest Covid-19 waves.
New destination for global manufacturing sector as China's wages increase.
2020 marked the 25th anniversary since the U.S. normalized relations.
Trade and Market Share Overview
Low market share due to exporters preferred S.A. trade lane and high moisture levels in U.S. corn.
Relatively low buyer sophistication with high counterparty credit risk.
Large unofficial cross border trade with China on all sectors.
Insect issue has the potential to threaten U.S. DDGS exports.
More outstanding GM events were approved in 2020.
NRT 190 and CFS regulations have been eliminated in 2020.
Detections of Canadian Thistle has threatened a market closure of soybeans and wheat.
Policy Overview
2% corn tariff, recently reduced from 5%.
0% tariff on CGM/DDGS.
100% phosphine gas fumigation at origin necessary for DDGS.
Vietnam is one of the few GMO cultivating countries in Asia.