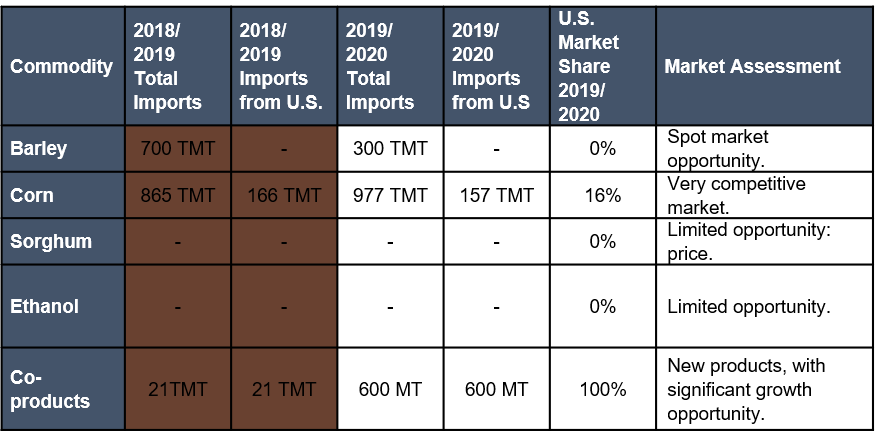 >
Supply/Demand Basics
977 TMT corn imports and 300 TMT barley imports in MY 2019/2020.
15 TMT of DDGS imports in 2019 from the U.S. but no imports in 2020.
Tunisia aquaculture industry has started importing U.S. corn gluten meal.
Price sensitive market with less emphasis on quality.
Country Overview

Tunisia's progress since the revolution in 2011 makes it an important partner in the region.
In 2020, the Covid-19 pandemic continues to impact the economic environment.
The Tunisian Dinar has stabilized against the U.S. dollar.
Inflation rate in Tunisia dropped to 5.7% in 2020 versus 6.7% in 2019 and 7.5% in 2018.
Trade and Market Share Overview
USGC office for the MEA region is currently located in Tunisia.
The feed grains supply dropped by 10% compared to the previous year mainly due to the COVID-19 outbreak, the lack of tourists and the fall of poultry meat demand by 20%.
In 2020, barley imports were cut in half due to good rains in the previous year. The Black Sea and France are the main exporters of barley to Tunisia.
In 2020, corn imports were from the Black Sea 54%, the U.S. 16%, Argentina 15%, Brazil 7%, and Romania 5%.
In 2020, compound feed prices were steady despite the pandemic outbreak. Since October, prices began to rise dramatically due to the high level of imported feed grains.
Policy Overview
There is no import duty on all feed grains except a 2.5% duty on corn, sorghum and SBM.
The US Senate adopted, on February 27, a resolution which plans to establish a dialogue between the United States of America and Tunisia to conclude a free trade agreement. No further progress has been made to date.