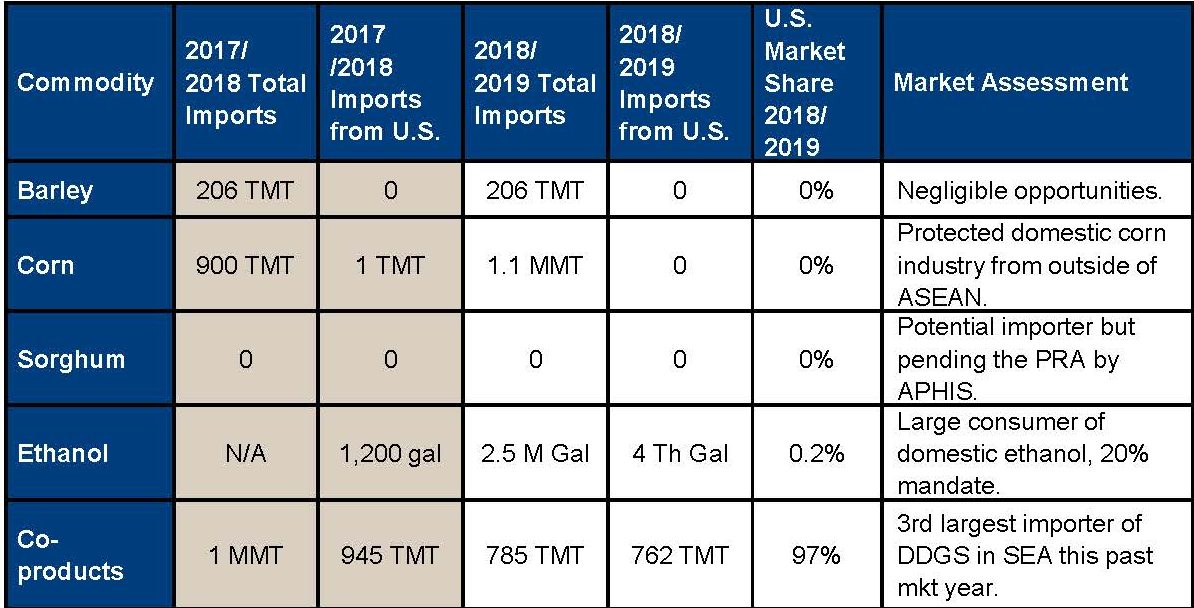 Supply/Demand Basics
#8 U.S. agricultural product market ($3.9 billion in CY 2018).
#5 U.S. corn market (3.1 MMT in CY 2018).
#7 U.S. barley market (5.5 TMT in CY 2018).
#13 U.S. DDGS market (241 TMT in CY 2018).
Imported grains meet about 98% of local demand.
Feed sector uses about 95% of imported corn.
Swine and poultry (including duck) are major coarse grain users.
Two wet milling plants producing HFCS, using about five percent of imported corn.
Total coarse grain imports maintain at about 4.5 MMT annually.
Country Overview
Population / growth: 23.5 million / 0.15%
Urban / growth: 78.6%
GDP PPP: $1.390 trillion/ 2.4%
GDP per capita: $20,474
Thailand has one of the lowest unemployment rate in the world – reported as 1%.
Heavy export dependent economy, with exports accounting for 2/3 of GDP.
Strong growth in tourism and exports of manufacturing goods are expected to continue in 2019.
Trade and Market Share Overview
Major U.S. DDGS importer (5th largest market in 2019).
New fumigation protocol for U.S. DDGS is slightly hindering demand.
High domestic corn prices are driving the increase in co-product demand.
Reliance on EU poultry exports gives buyers concern over antibiotic residue.
Feed industry dominated by large, sophisticated buyers.
Home to one of the world's leading feed producers, Charoen Pokphand.
Imports between 3-4 million MT of wheat for food and feed usage.
Policy Overview
Trade distorting import tariff differential between DDGS (9%) and SBM (2%).
54,700 MT corn TRQ with 20% in quota tariff and 73% out of quota tariffs.
No duty on imported wheat incentivises imported feed wheat in feed rations.
We are currently pending for APHIS Bangkok to present the PRC to the Thai MOA to clear the pathway for U.S. Sorghum imports into the Country. Additionally, we are also pending the final resolution on the U.S. DDGS fumigation protocol between MOA & APHIS.