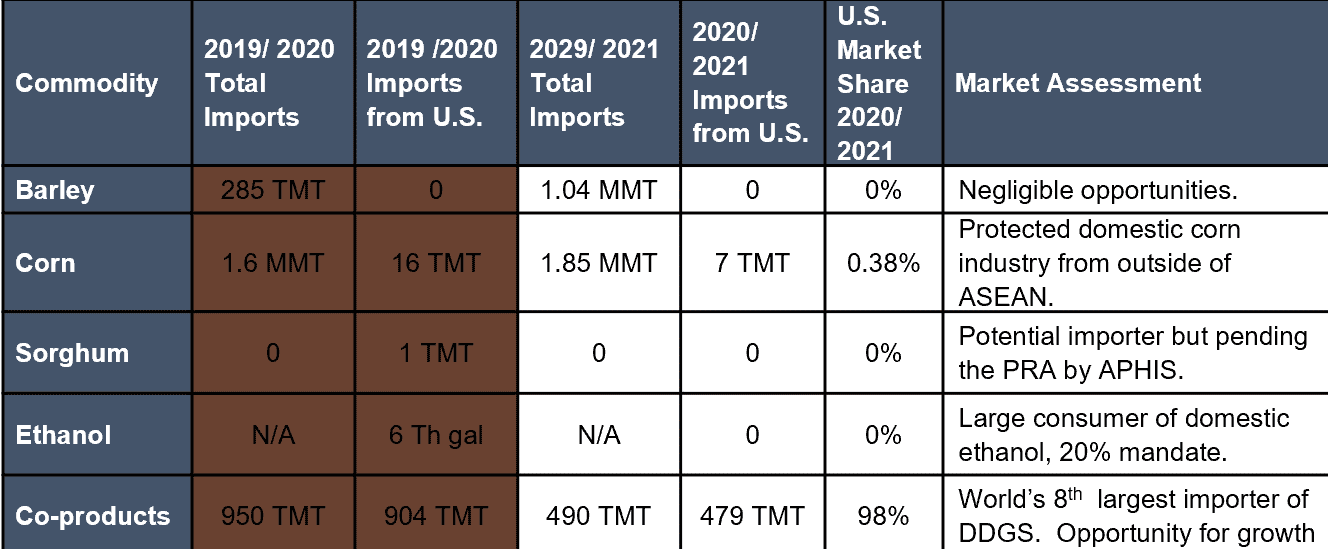 Supply/Demand Basics
Feed mill production capacity of 20 MMT, with utilization of around 90%.
Poultry and swine feed are the major segments in the Thailand compound feed market, accounting for around 80% of the market in 2020.
Demand for aquafeed is expected to remain high due to increased modernization in aquaculture and an increased demand for seafood.
SEA's 3rd largest producer of corn (5.3 MMT).
Thai feed policy has been volatile; putting pressure on imports and price supports on locally grown commodities.
Country Overview

Thailand has been hit hard by COVID-19 due to its dependence on tourism but it is expected to rebound in 2022.
Thailand's unemployment rate jumped to 2.25% in Q3 2021.
Heavy export dependent economy, with exports accounting for 2/3 of GDP.
2021 GDP is expected to grow at 1.2% year on year.
Trade and Market Share Overview
Major U.S. DDGS importer (8th largest market in 2021).
New fumigation protocol for U.S. DDGS is hindering demand.
High domestic corn prices are driving the increase in co-product demand.
Reliance on EU poultry exports gives buyers concern over antibiotic residue.
Feed industry dominated by large, sophisticated buyers.
Home to one of the world's leading feed producers, Charoen Pokphand.
Imports between 3-4 million MT of wheat for food and feed usage.
Policy Overview
Trade distorting import tariff differential between DDGS (9%) and SBM (2%).
54,700 MT corn TRQ with 20% in quota tariff and 73% out of quota tariffs.
Import quota placed on feed wheat imports. A function of local purchasing.
Pending APHIS Bangkok PRC for Sorghum for Thai MOA to clear the pathway for U.S. sorghum imports into the country.
Additionally, we are pending the final resolution on the U.S. DDGS fumigation protocol between MOA & APHIS.
Phosphine was accepted by Thailand DOA in April 2021 as an approved fumigation treatment for U.S DDGS but will be closely monitored.