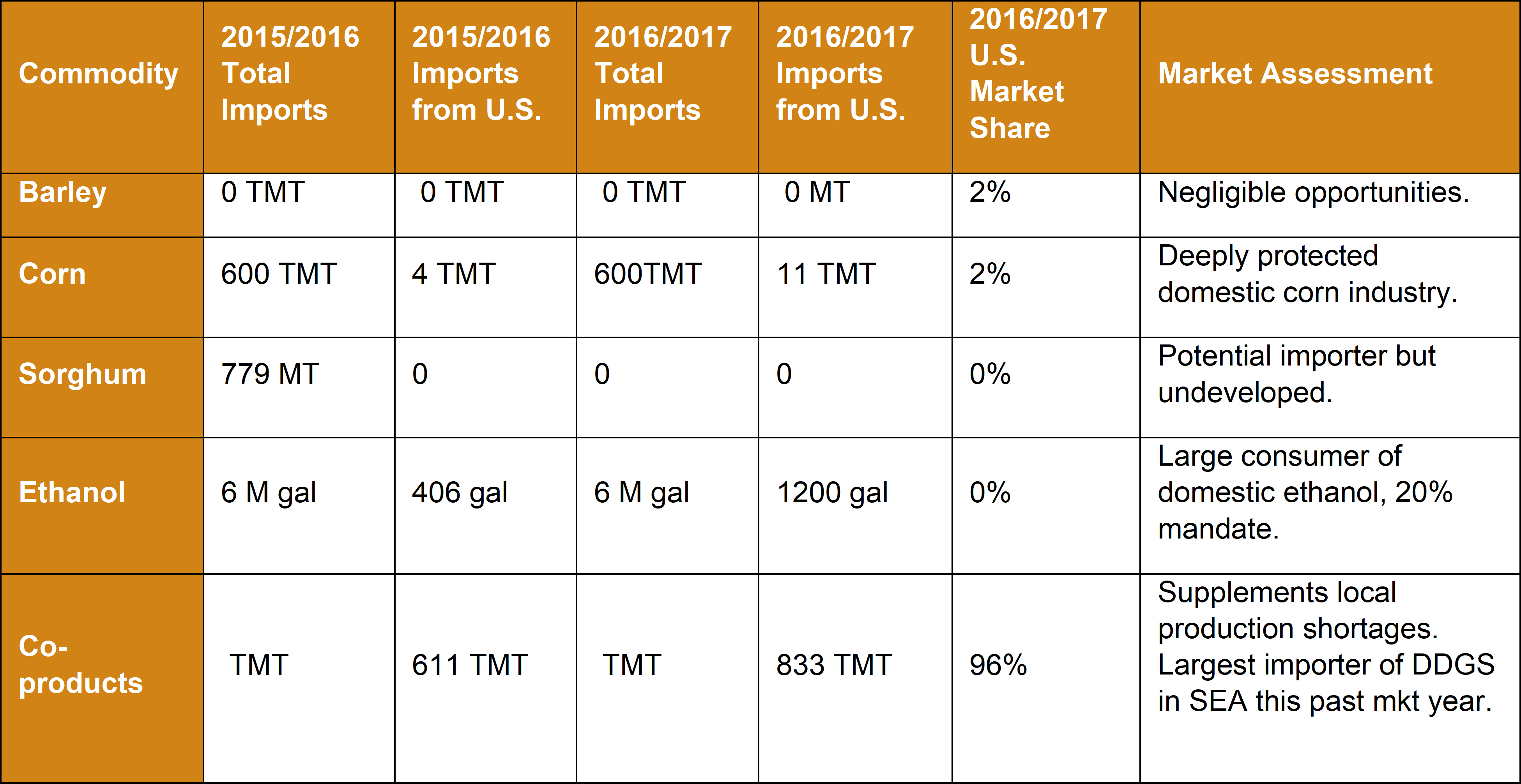 Supply/Demand Basics
18 MMT total feed production.
Thai farmers shifting out of corn and opting instead for cassava.
Steady recovery in shrimp production seen after Early Mortality Syndrome outbreak.
Flattening feed production growth outlook.
Feed production breakdown: broiler = 40%, swine = 30%, layer = 20%.
Country Overview
Population / growth: 69 million / 3.5%
Urban / growth: 52% / 1.6%
GDP PPP: $1.229 trillion
GDP per capita: $17,800
Less than 1% unemployment rate due to large portion in subsistence farming.
Heavily export dependent economy, with exports accounting for 2/3 of GDP.
Tepid economic growth following a recession after the military coup.
Trade and Market Share Issues
Marked improvement in DDGS exports due to high energy ingredient prices.
Increased imports of feed wheat puts focus on mycotoxins in DDGS.
Reliance on EU poultry exports gives buyers concern over antibiotic residue.
Feed industry dominated by large, sophisticated buyers.
Home to one of the world's leading feed producers, Charoen Pokphand.
Imports around 1 MMT of feed wheat, mostly from Ukraine.
Policy Issues
Trade distorting import tariff differential between DDGS (9%) and SBM (2%).
54,700 MT corn TRQ with 20% in quota tariff and 73% out of quota tariffs.
Military junta still controls the country after coup d'état. 2018 is marked to end the military rule and re-instate a new government.
No duty on imported wheat incentives imported feed wheat in feed rations.