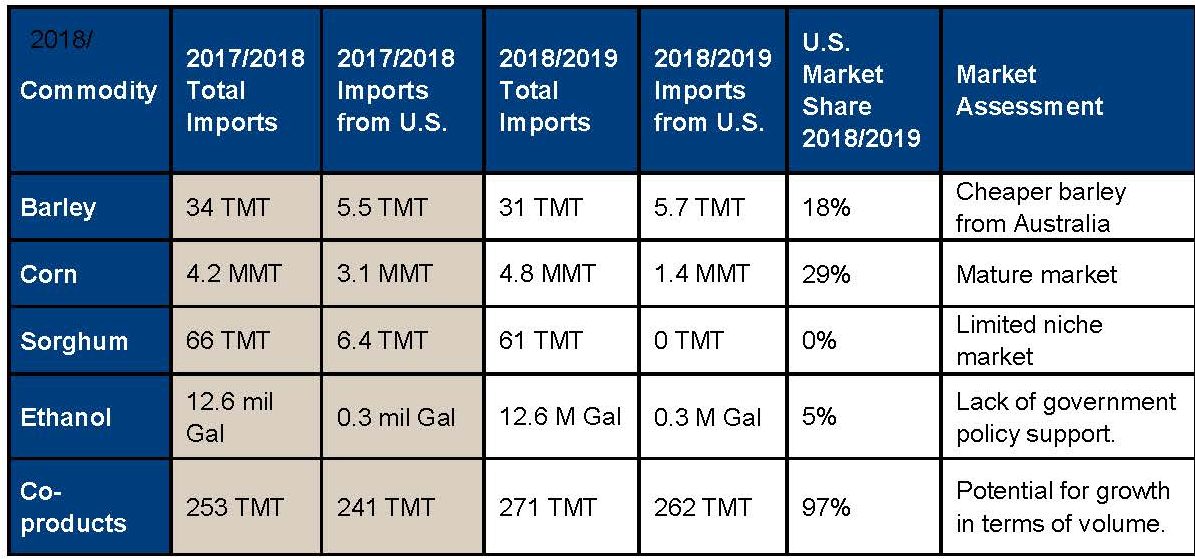 Supply/Demand Basics
#8 U.S. agricultural product market ($3.9 billion in CY 2018).
#5 U.S. corn market (3.1 MMT in CY 2018).
#7 U.S. barley market (5.5 TMT in CY 2018).
#13 U.S. DDGS market (241 TMT in CY 2018).
Imported grains meet about 98% of local demand.
Feed sector uses about 95% of imported corn.
Swine and poultry (including duck) are major coarse grain users.
Two wet milling plants producing HFCS, using about five percent of imported corn.
Total coarse grain imports maintain at about 4.5 MMT annually.
Country Overview
Population / growth: 23.5 million / 0.15%
Urban %: 76.8%
GDP / growth: $189 trillion / 2.6%
GDP per capita: $50,500
Diplomatic isolation, limited land space, aging population, small agricultural sector and dependent on imported raw materials and fuels.
Trade and Market Share Overview
U.S. share of grain imports fell from 97% in 2006 to 14% in 2013 and then rebounded to 75% in CY 2018.
Brazilian & Argentine corn (both accounted for 71% of corn imports) are more competitive than U.S. corn (accounted for 29% of corn imports) in CY 2019.
Almost all the large feed mills in Taiwan are using DDGS already. However, they tend to use low inclusion rates in animal feeds due to their concerns on mycotoxins.
Some local feed mills are experiencing poor pellet quality and slow through-put speed while the inclusion rates of DDGS are higher than 10% in pellet feeds.
The people 65-years-old and over account for 13.9% of Taiwan's population in 2018. Aging population with low growth rate of population mean limited growth in food demand and grain imports.
Policy Overview
Implemented chemical residues test by the government for grains import.
Some Legislators and NGOs' activists are trying to revise the threshold level of GM labeling from 3 percent to 0.9 percent.
There is no supportive policy of using fuel ethanol in Taiwan yet.