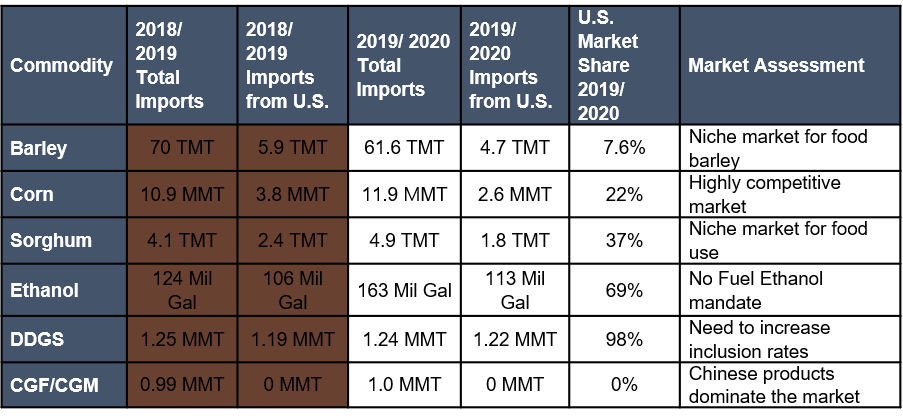 Supply/Demand Basics
Coarse grains demand of 13 MMT/ year – 98.0% imported: 78% for feed, 16% corn milling, 6% alcohol and others.
#4 import market of U.S. corn in MY 2019/2020.
#3 import market of U.S. DDGS in MY 2019/2020.
#4 import market of U.S. ethanol in MY 2019/2020.
Livestock industry and compound feed market growing marginally.
Country Overview

Asia's 4th and world's 10th largest economy.
No progress in North Korea's denuclearization nor inter-Korean economic cooperation.
Facing sluggish domestic demand, low youth unemployment, falling birth rates and aging population.
Trade and Market Share Overview
Sophisticated price buyer; U.S. share is very volatile depending on the prices.
Corn quality (higher BCFM) has been a chronic issue.
U.S. DDGS imports set the new record for 7th consecutive year in MY 2019/20 despite COVID-19.
The surge in demand for hand sanitizer products has greatly increased U.S. ethanol imports.
U.S. barley import has decreased due to the weak price competitiveness.
Policy Overview
MOTIE includes pilot project review for ethanol RFS in mid-term energy master plan in 2020.
Import tolerance registration of temporarily registered MRLs is required by December 31, 2021.
The regulatory direction for New Breeding Technology has not yet been determined by the government.
The Korean government has declared that it will achieve carbon neutrality by 2050.