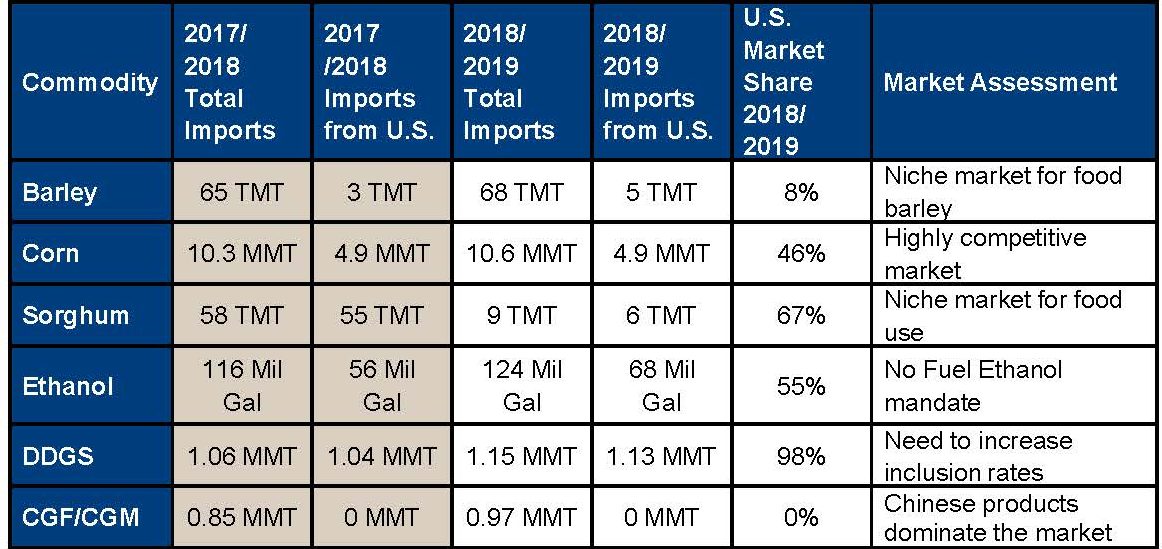 Supply/Demand Basics
Coarse grains demand of 12 MMT/ year.
#4 import market of U.S. corn in MY 2018/2019.
#3 import market of U.S. DDGS in MY 2018/2019.
#5 import market of U.S. ethanol in MY 2018/2019.
Very limited barley and sorghum imports despite KORUS FTA.
Livestock industry and compound feed market growing slowly.
Country Overview
Population / growth: 51.8 million / 0.02%
Urban % / growth: 81.5% / 0.3%
GDP / growth: $2 trillion / 2.9%
GDP per capita: $33,346
Asia's 4th and world's 10th largest economy.
Since there is no progress on denuclearization of North Korea, economic cooperation between the two Koreas has not resumed.
Facing sluggish domestic demand, increased household debt, low youth unemployment, falling birth rates and aging population.
Trade and Market Share Overview
Sophisticated price buyer; U.S. share is very volatile.  Corn quality (higher BCFM) has been a chronic issue.
U.S. DDGS imports 6th consecutive new record.
U.S. barley imports have been limited due to lack of price competitiveness.
Industrial ethanol consumption, an eco-friendly raw material, is increasing.
Policy Overview
Only 3% biodiesel RFS has been introduced and no bioethanol RFS.
Improvement of air pollution is a priority, but the government is focusing on the regulation of diesel vehicles.
Implemented new MRLs (PLS) for grains for food since Jan. 1, 2019
The government's regulatory direction for New Breeding Technology has not yet been determined.
GMO has become political issue: NGOs' request to strengthen GMO labeling regulation.