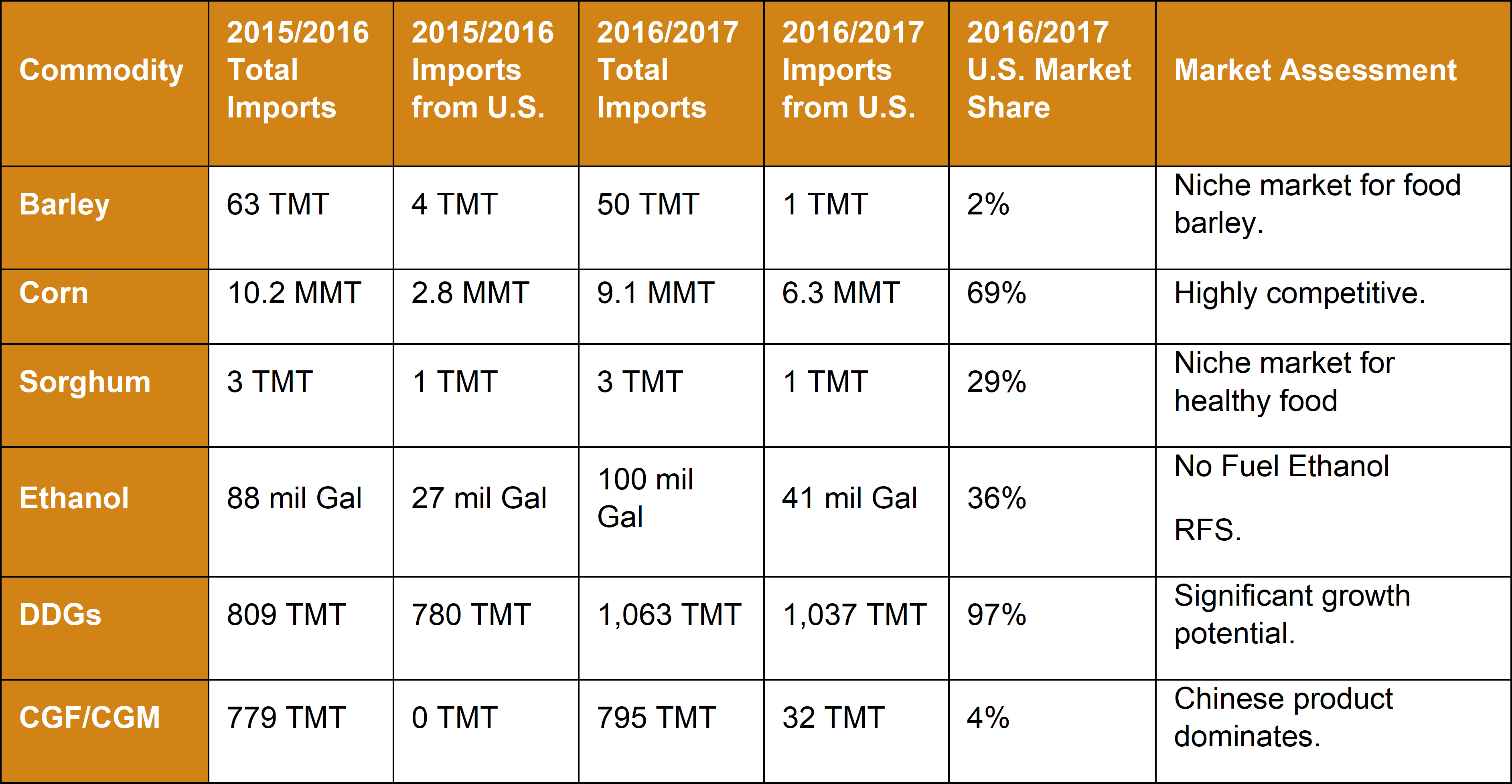 Supply/Demand Basics
Coarse grains demand of 12 MMT/ year – 2% imported: 78% for feed, 16% corn milling, 6% beverage alcohol and others.
#3 import market of U.S. corn in 2016/2017.
#3 import market of U.S. DDGS in 2014/2015.
Very limited barley and sorghum imports despite KORUS FTA.
Livestock industry and compound feed market growing marginally.
Country Overview
Population / growth: 7 million / 0.5%
Urban % / growth: 7% / 0.55%
GDP / growth: $2 trillion / 0%
GDP per capita: $39,400
Asia's 4th and world's 11th largest economy.
Asia's 4th and world's 11th largest economy.
Facing sluggish domestic demand, increased household debt, low youth unemployment, falling birth rates and aging population.
Trade and Market Share Issues
Sophisticated price buyer; U.S. share is very volatile depending on price competitiveness.
Corn quality (Higher BCFM) has been a chronical issue that creates a slight premium on SAM origin.
U.S. DDGS imports continue to increase since 2013 due to the increasing inclusion rate.
Old crop rice supply for animal feed is increasing: 520,000 MT (2017) → 720,000 MT (2018)
Barley demand for rice substitute has been decreased due to reduction of rice consumption.
Policy Issues
MRLs change to PLS (Positive List System) from 2019: Korea feed & food grain industries concern of the chemical treatment on the exporting grains.
Biotech approval system is slow and unpredictable: 30% of biotech review committee members are replaced biennially.
GMO has become political issue: Anti-GMO sentiment continues to be widespread.
Currently, no fuel ethanol RFS, a possibility to adopt fuel ethanol RFS after 2020.