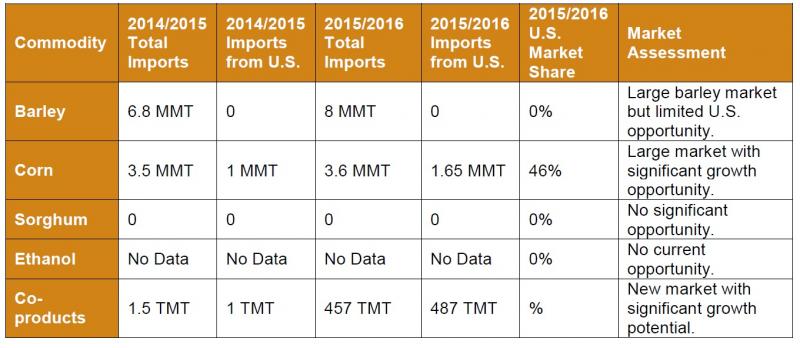 Supply/Demand Basics
Corn market size estimated at 3.6 MMT. Insignificant local crop.
#1 barley importer in the world with 8 MMT.
487  TMT import of corn co-products.
Quality market but also sensitive to price.
Country Overview
Population: 32.1 million
Population growth: 1.96%
Urban %: 78.9%
Urban growth: 2.5%
GDP: $1.68 trillion
GDP growth: 3.6%
GDP per capita: $52,183
Oil-based economy with strong government controls over major economic activities. The petroleum sector accounts for 80% of budget revenues.
Declining oil prices and budget deficit pushed the government to reduce fuel subsidy.
Saudi Arabia hosts 6 million foreign workers supporting all sectors of the sluggish econ omy.
Trade and Market Share Issues
The U.S. is the lead corn supplier with 46% market share with over 1.65 MMT. Both Brazil and Argentine come second with equal shares of 28% each.
Russia, Ukraine, Germany and Romania supplied 6.4 MMT of barley in 2015. No barley exports from the U.S.
Poultry and dairy are the main consumers of imported corn. Corn is sold at market prices, but barley is sold to Bedouins at subsidized price.
Policy Issues
Water scarcity and global price volatility prompted Saudi Arabia to stop local production of green fodder by 2019.
KSA is seeking offshore feed agriculture and livestock export ventures.
Removal of barley and other feed ingredients from subsidy lists, by government, could decrease demand.