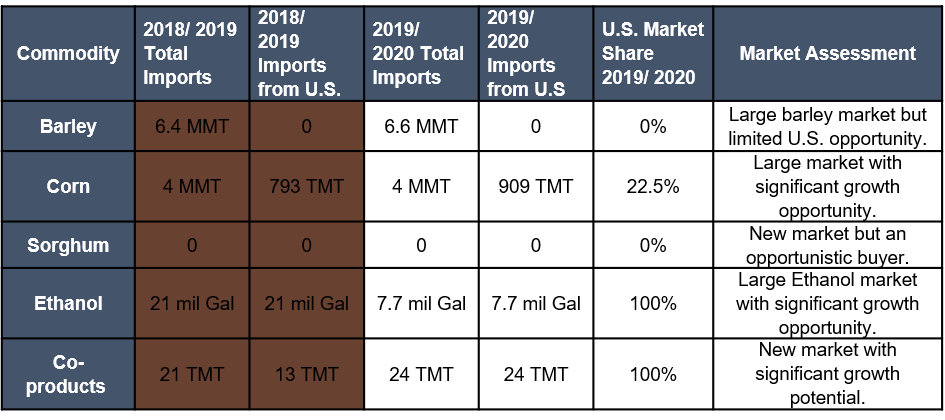 Supply/Demand Basics
For the second consecutive year, Saudi Arabia imported 4 MMT of corn, with 900 TMT sourced from the U.S.
The world's largest barley importer with 6.6 MMT in 2020. Barley subsidies are being removed, resulting in an opportunity for corn imports go grow significantly in upcoming years.
24 TMT of U.S. DDGS was imported up from 13 TMT in the previous year.
Country Overview
Oil-based economy which accounts 87% of the Saudi budget revenues, 90% of export earnings, and 42% of GDP.
COVID-19 along with lower oil production levels and lower prices are weighing heavily on the economy and fiscal position.
Oil production continued to decline in year-on-year terms and has pushed the government to reduce fuel subsidies.
Trade and Market Share Overview
Argentina is the leading corn supplier at 52%, followed by the U.S. with 23% market share, and Brazil with 21%.
The Black Sea (Russia and Ukraine) and the E.U. supplied 80% of barley imports in 2020,while Argentina supplied 9%. No barley exports from the U.S.
Poultry and dairy are the main consumers of imported corn. Corn is sold at market prices, but barley is sold to Bedouins at subsidized price.
Policy Overview
Water scarcity and global price volatility prompted Saudi Arabia to stop local production of green fodder in 2019.
On January 1, 2020, the Saudi government stopped paying animal feed import subsidies and implemented a new animal feed subsidy regime that provides direct monthly financial subsides to livestock and poultry farmers based on production.
On November 17, 2020, Saudi Arabia gave the green light to the private sector to import and trade barley locally.