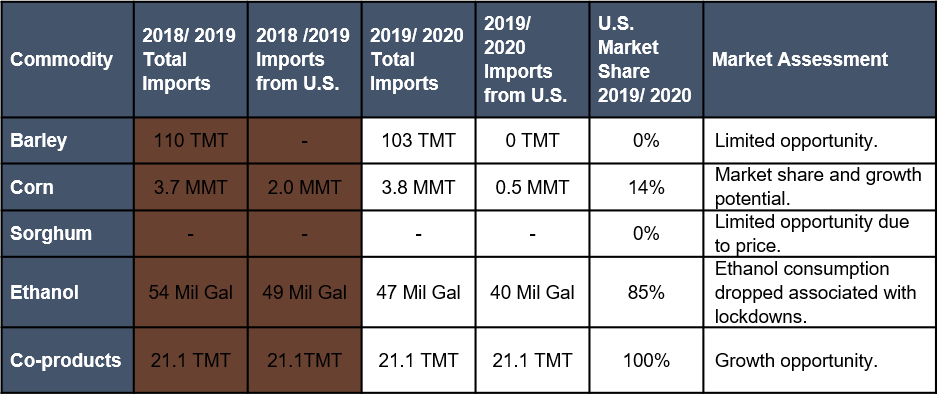 Supply/Demand Basics
#12 export market for U.S. corn in MY 2019/2020. Total corn demand is around 5 MMT, of which 3.5 MMT is imported. During much of 2020, Argentina was more competitively priced.
70% of yellow corn goes toward chicken feed to supply its 1,000 plus poultry farms.
Ethanol and gasoline consumption dropped due to lockdowns measures under the COVID-19 pandemic.
Country Overview

Peru has been severely affected by the COVID-19 pandemic. The national institute of statistics recorded a Jan-Oct GDP drop of 13.6% and expectations are for a yearly reduction of 12% with a rebound in 2021 between 7 to 9%.
The agricultural sector has been able to grow during the year with a modest positive contribution of 1% growth
Trade and Market Share Overview
2020 was the first year after the corn TRQ phased out. All U.S. corn can now be imported into the market tariff free. However, Argentinian corn was priced more competitively than the U.S. origin for most of 2020.
Poultry is the primary protein source. Per-capita consumption is close to 110 pounds per person per year. One of the largest in the hemisphere.
Fuel ethanol imports are mainly from the U.S. due to price competitiveness. The domestic industry diverted most of its sales to the E.U. market.
Policy Overview
Political unrest continued during 2020. President Vizcarrawas impeached by the Congress in late 2020. Presidential elections are scheduled for April 2021.
The CVD case against U.S. ethanol was ruled on in November 2018, imposing a $0.14/gallon CVD to U.S. ethanol, currently operating. The U.S. appealed the decision and is waiting for the appeal decision.