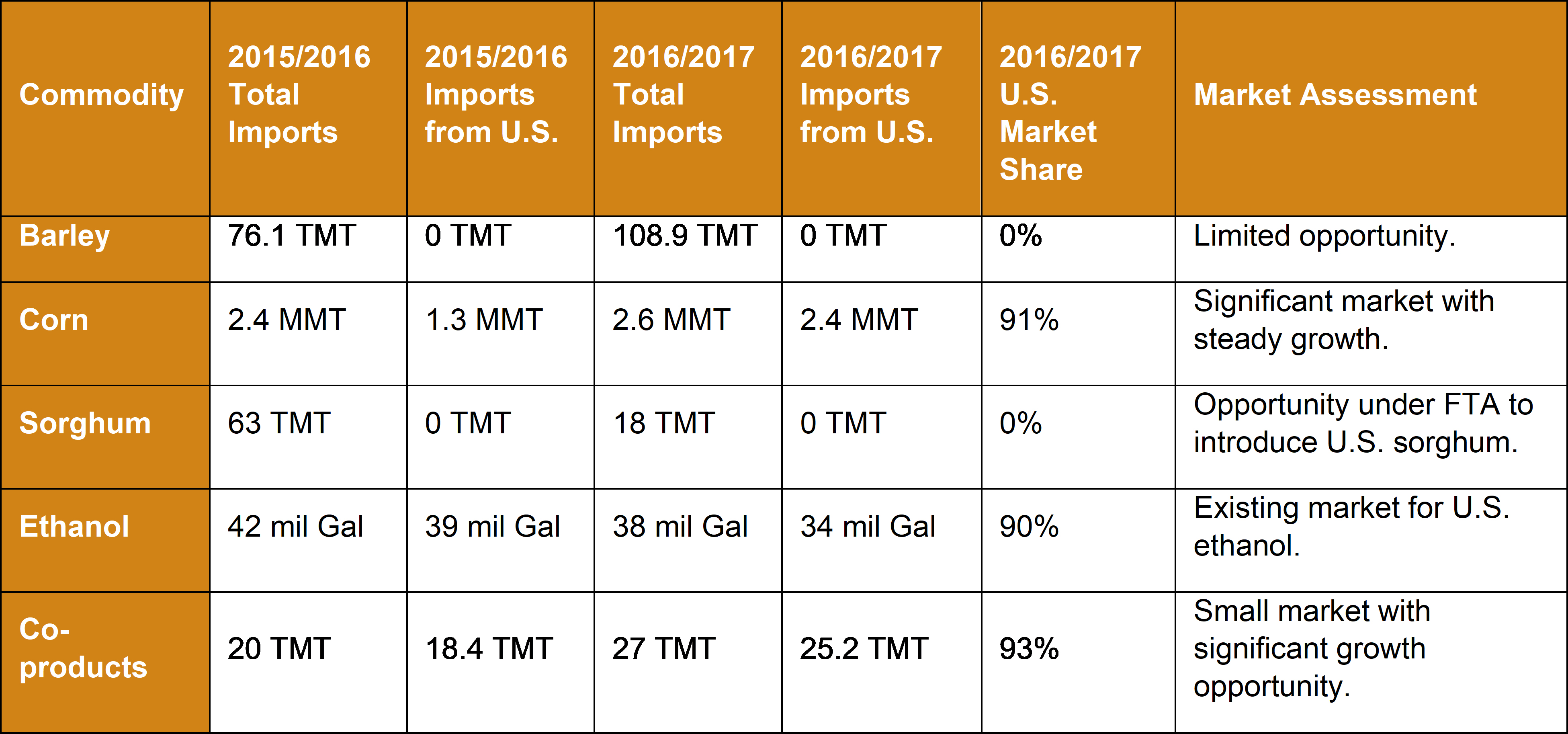 Supply/Demand Basics
#5 import market for US corn in 2016/2017.
Total corn demand is around 4.6 MMT, of which 3 MMT is imported.
70% of YC goes toward chicken feed to supply its 1,000 plus poultry farms.
Peru currently produces 55 million broilers/month.
DDGS imports continue to grow with dairy as the main user. One broiler company imported DDGS for the first time in 2017.
US ethanol sales remain the same. Public transportation is turning into gas reducing the demand for E7.8 gasoline.
Country Overview
Population / growth: 31 million / 0.96 %
Urban % / growth: 2% / 1.6%
GDP / growth: $424.6 billion / 3.9%
GDP per capita: $13,300
Over the past decade, Peru has been one of the region's fastest-growing economies, with an average growth rate 5.9 percent in a context of low inflation (averaging 2.9%).
Dependence on minerals and metals exports and imported foodstuffs makes the economy vulnerable to fluctuations in world prices.
Trade and Market Share Issues
U.S.- Peru are currently in 10th year of FTA.
U.S. corn will receive duty free TRQ for 845,000 MT in 2018. TRQ increases 5% per year until phased out in 2020.
Poultry is primary protein source. Consumption more than doubled in past 10 yrs. five-year growth averaged 6.2% per year.
Poultry and swine sectors have the biggest growth potential for feed grains.
U.S. ethanol imports are duty free due to the FTA. Ethanol imports are mainly from the U.S. due to price competitiveness.
Policy Issues
President Pedro Pablo Kuczynski, elected in June 2016, narrowly survived an impeachment vote in December 2017. His pardoning of former president Fujimori has left Kuczynski with very low approval ratings and with difficulties for implementing needed changes in the country.
Political stability and corruption are major challenges in Peru.
Peru initiated in 2017 a Countervailing Duty (CVD) case against U.S. ethanol. The U.S is still providing evidence. The case is expected to be ruled on by the second half of 2018.