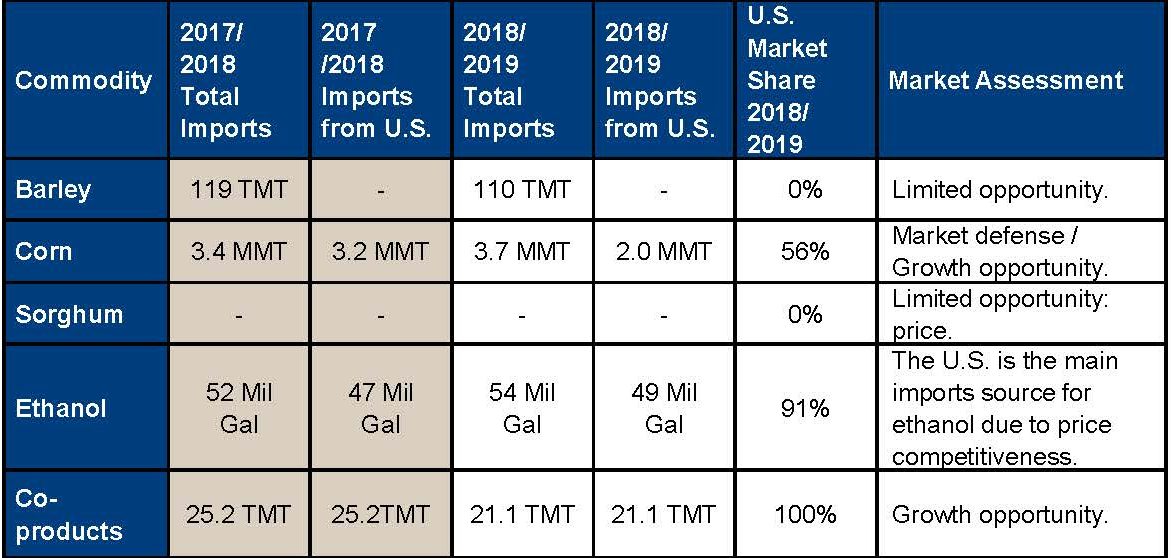 Supply/Demand Basics
#6 import market for U.S. corn in MY 2018/2019.
Total corn demand is around 5 MMT, of which 3.5 MMT is imported.
70% of YC goes toward chicken feed to supply its 1,000 plus poultry farms.
Poultry production represents around 25% of ag GDP.
Public transportation is turning to natural gas limiting the demand for E7.8 gasoline.
Country Overview
Population / growth: 31.8 million / 0.94%
Urban % / growth: 78.1% / 1.44%
GDP / growth: $406 billion / 4%
GDP per capita: $12,772
Between 2002 and 2013, Peru was one of the fastest-growing countries in Latin America, with an average GDP growth rate of 6.1 percent annually. Between 2014 and 2018, GDP growth slowed to an annual average rate of 3.2%, mainly owing to lower international commodity prices, including copper, the leading Peruvian export commodity.
Trade and Market Share Overview
U.S.- Peru are currently in 12th year of FTA.
The corn TRQ phased out. In 2020, all U.S. corn is tariff free.
Poultry is primary protein source. Per-capita consumption is close to 110 pounds per person per year. One of the largest in the hemisphere.
Fuel ethanol imports are mainly from the U.S. due to price competitiveness. The domestic industry diverted most of its sales to the E.U. market.
Policy Overview
Political unrest continued during 2019. President Vizcarradissolved the Congress in September and called new legislative elections for 2020.
The Countervailing Duty (CVD) case against U.S. corn was ruled on in January 9, 2020, with a welcoming development for our U.S. corn farmers and traders, and our valued customers in Peru. The Peruvian National Institute for the Defense of Free Competition and the Protection of Intellectual Property (INDECOPI)  determined that the Peruvian corn industry was not injured by U.S. corn, and that additional countervailing duties on U.S. corn were therefore not warranted.
The CVD case against U.S. ethanol was ruled on in November 2018, imposing a $0.14/gallon CVD to U.S. ethanol, currently operating. The U.S. appealed the decision and is waiting for a decision.