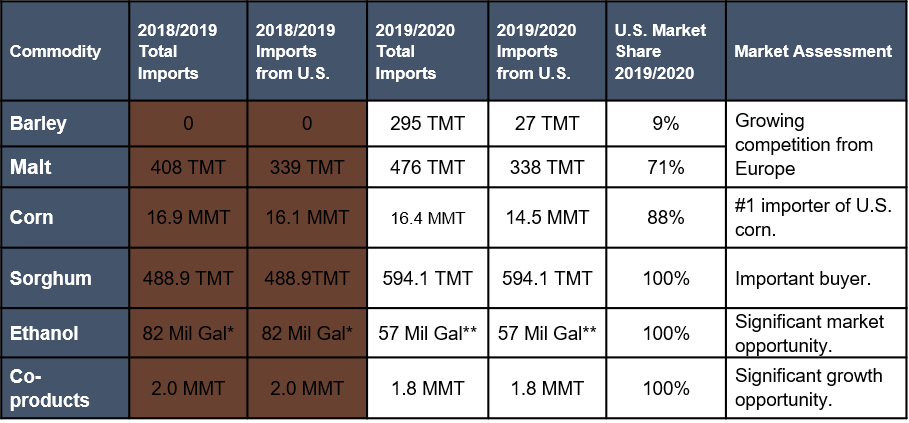 Supply/Demand Basics
#1 importer of U.S. corn (white and yellow 16.4 MMT).
#1 DDGS market with imports of 1.8 MMT.
#1 importer of U.S. barley and barley malt with imports of 227 TMT.
U.S. sorghum imports up significantly, from 489 to 594 TMT.
Feed industry growth is the main demand driver for grains and co-products.
Country Overview

Mexico is a free market economy, with recent reforms made to allow non-governmental investment in petroleum, gas, electricity and basic infrastructure.
Mexico must continue to address income and distribution gaps and security issues.
The COVID-19 crisis accelerated Mexico's contracting economy, resulting in the largest contraction since the Great Depression of 1929. The forecast for GDP growth this year is -9.0% annually.
Trade and Market Share Overview
U.S. market share for corn is 88%.
Mexico exported 929 TMT of white corn, mostly to Venezuela (558 TMT); Kenya (84 TMT); El Salvador (79 TMT); and Guatemala (74 TMT).
Mexico signed sorghum protocol with China in October 2020 and exported 31 TMT of sorghum to Japan in January 2021.
The world's 6th largest compound feed industry running at 90 percent capacity and expanding at 3.6% annually.
Significant opportunity for ethanol exports if regulations can be put in place. Ethanol prices went up and gasoline consumption reduced by 30% during the COVID-19 pandemic.
Policy Overview
US – Mexico – Canada (USMCA) ratified and into action July 1, 2020
Energy sector reform opened opportunity for ethanol imports yet challenges in the courts prohibit blending outside Mexico City, Monterrey and Guadalajara.
Administration is implementing policy to favor PEMEX and inhibit outside investment which violates the spirit of recently signed USMCA.
On December 31, 2020 Lopez Obrador signed a decree eliminating the use of glyphosate and GE corn for human consumption by 2024. Purposefully vague language and against spirit and provisions of USMCA.