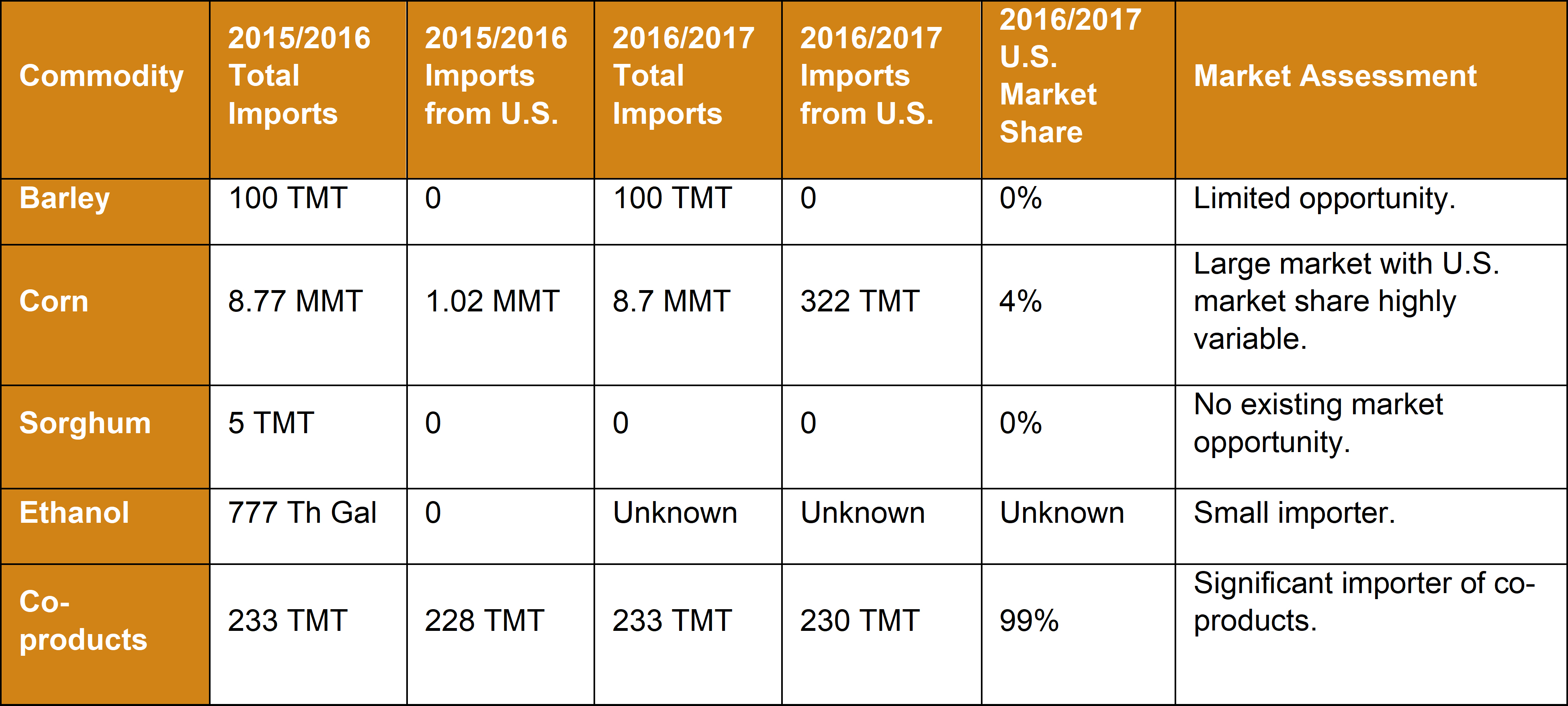 Supply/Demand Basics
Largest corn market in the region, 7 MMT imports in 2017.
Nearly 6 MMT of local corn crop, mostly white corn.
#1 import market for U.S. CGM importing 65,000 MT in 2016/2017; U.S. DDGS imports of 149,000 MT in 2016/2017.
Price-sensitive market; quality less important than price.
U.S. freight disadvantage to Black Sea export markets.
Country Overview
Population / growth: 375 million / 1.87%
Urban % / growth: 8% / 1.72%
GDP / growth (PPP): $336.3 billion / 4.29%
GDP per capita (PPP): $10,319
Large government debt and stagnant economy magnified by both local and regional instability.
Government is cutting consumer subsidies gradually since 2014. Saudi Arabia and UAE continue to support Egypt economy. Mega infrastructure projects contribute to economic stimulation.
Trade and Market Share Issues
U.S. corn market share with 322,000 MT at fourth place in 2017 behind Ukraine, Brazil and Argentina.
Poultry sector leads corn demand by nearly 60% to 70% consumption followed by dairy, red meat, water buffalo and corn milling/crushing.
The Regional Center for Food & Feed (RCFF) mirrors FGIS inspection system. RCFF operates as a training center for other countries in the region.
Political instability, stagnant economy and higher inflation rate (21.9%) decreases demand.
Policy Issues
All feed grains and co products have zero duty except for a 5% import duty on sorghum.
The average total annual consumption of corn in Egypt, with all its types, reached around 16 MMT. 50% of the consumed amount is locally produced and the other 50% is provided through importation.