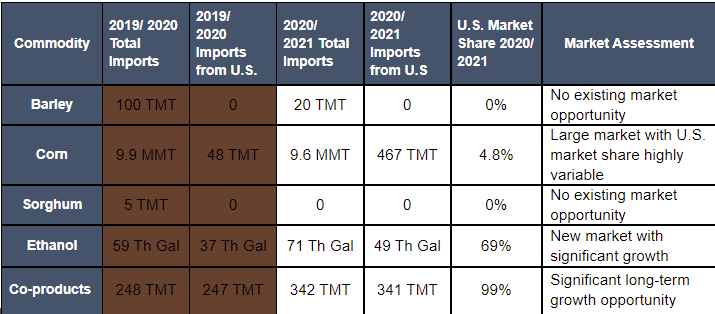 Supply/Demand Basics
Largest corn market in the region, with 9.6 MMT of imports in MY 2020/2021.

​

Approximately 6.4 MMT of corn was produced domestically in MY 2020/2021, equal to the 

previous year.

Egypt imported 113 TMT of U.S. CGM for the poultry and aquaculture sectors in MY 2020/2021 

and 228 TMT of U.S. DDGS.

A price-sensitive market where quality is not as important as price.
U.S. freight is at a disadvantage to Black Sea exports.
Country Overview
Egypt's macroeconomic environment has shown resilience in the face of COVID-19, yet 

longstanding challenges persist.

Transit fees for the Suez Canal increased by 6.0% in 2021, boosting foreign currency reserves.

​

After the COVID-19 pandemic, economic activity has resumed, but job creation, especially in the 

formal sector, remains a challenge.
Trade and Market Share Overview
South American corn imports led the way with 6.4 MMT, followed by Black Sea imports with 2.7 

MMT while the U.S. only exported 467 TMT of corn to Egypt in MY 2020/21. 

The poultry sector leads corn demand by nearly 60-70% consumption.

​

The aquaculture industry in Egypt has been expanding rapidly – production increased from 800 

TMT in 2013 to 1.6 MMT in 2021.

The Egyptian fish feed sector is dominated by medium scale (42.6%) and small scale (33.3%) 

milling businesses.
Policy Overview
Corn and soybeans have zero duty, while soybean meal, DDGS and CGM are subject to a 5% 

import duty.

Egyptian customs introduced a new electronic system for the pre-registration of shipment 

information: the "Advanced Cargo Information (ACI)," which is mandatory for all shipments 

arriving at Egyptian seaports starting October 1, 2021.

​