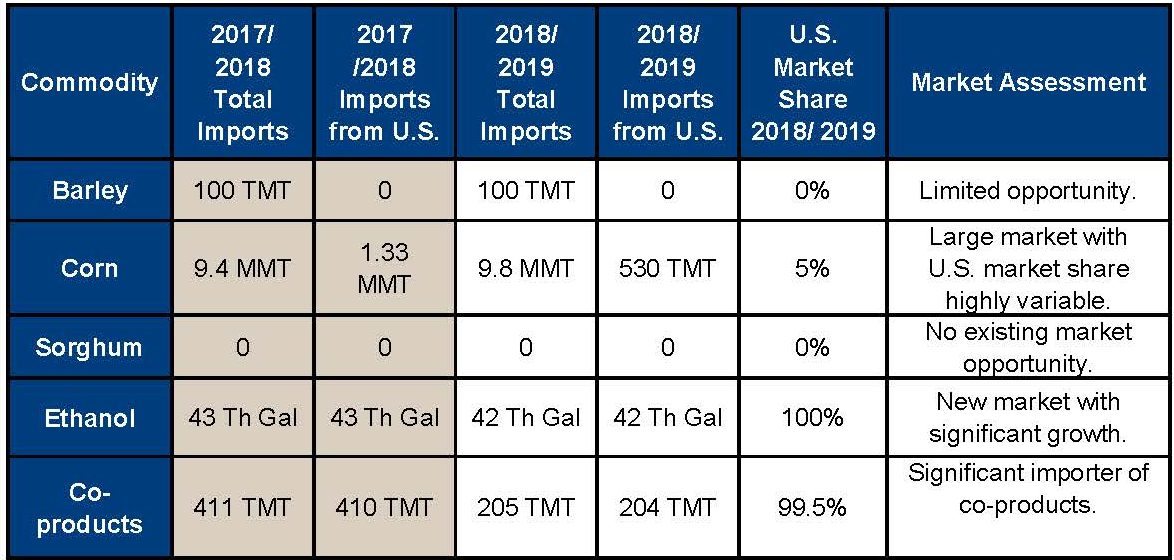 Supply/Demand Basics
Largest corn market in the region, with 9.8 MMT of imports in 2019.
Nearly 6.4 MMT of corn produced domestically in 2018—mostly white corn.
#1 import market for U.S. CGM with 109 TMT of imports in the 2018/2019 marketing year; U.S. DDGS were 80 TMT and U.S. CGF was 15 TMT.
Price-sensitive market; quality is less important than price.
U.S. freight at a disadvantage to Black Sea export markets.
Country Overview
Population / growth: 101.2 million / 1.8%
Urban % / growth: 47.2% / 1.86%
GDP / growth (PPP): $236.5 billion / 4.2%
GDP per capita (PPP): $12,700
Real GDP grew by 5.4% in 2018, compared to 4.2% in the previous year. The increase was driven by public and private investments and private consumption.
Economic activity is still primarily driven by state-led projects.
Exports of goods and services have contributed positively to economic activity, as oil and non-oil merchandise exports, the Suez Canal and tourism continue to rebound.
Trade and Market Share Overview
U.S. corn market share is 5%–4th place in 2019 behind Argentina, Ukraine and Brazil.
Poultry sector leads corn demand by nearly 60-70% consumption followed by dairy, red meat, water buffalo, corn milling/crushing and aquaculture.
Egypt is ranked in the top 10 in terms of global aquaculture production. Already a global leader in Tilapia farming, the country's aquaculture production in 2018 was roughly 1.44 MMT.
Policy Overview
Corn and soybeans have zero duty, while soybean meal, DDGS and CGM are subject to a 5% import duty.
The average total annual consumption of corn (in all forms) in Egypt, reached nearly 16 MMT. Approximately 40% of consumed corn is locally produced and the other 60% is imported.