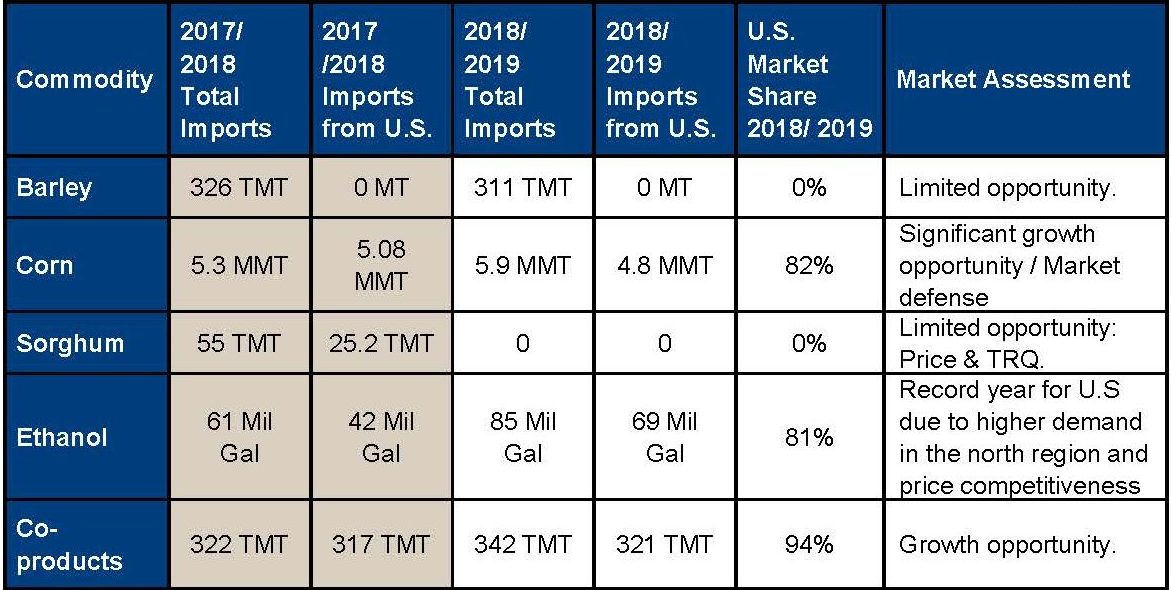 Supply/Demand Basics
#3 export market for U.S. corn in MY2018/19. 82 percent U.S. market share.
#15 export market for DDGS. 100 percent U.S. market share.
#7 export market for CGM/CGF. CGM widely used in poultry diets.
Three companies dominate feed market with vertically integrated operations.
7 sugar millers produce 490 million liters of ethanol per year for E10 blend mandate.
Country Overview
Population 48.2 million
Urban % / growth: 81% / 1.08%
GDP / growth: $657 billion / 2.1%
GDP per capita: $13,508
Colombia depends heavily on energy and mining exports, making it vulnerable to fluctuations in commodities prices.
President Duque had a challenging 2019 with a disapproval rate of 69%, social protests in major cities, and difficulty getting approval of his reforms in Congress.
The Colombian economy is expected to grow 3.6% in 2020, powered by infrastructure projects and Venezuelan migration, which supports growing domestic consumption.
Trade and Market Share Overview
9th year of U.S.-Colombia FTA. U.S. corn, sorghum TRQs will phase out in 2023
Steady growth in protein consumption as result of urbanization, strong consumption-oriented campaigns by poultry and swine industry associations.
Corn imports projected to continue to grow; USGC projects 8 MMT by 2030. During 2019 South American corn, subject to the Andean Price Band System, was more competitive than the U.S. for the second semester shipments.
U.S. ethanol exports reached a record 69 million gallons in MY 2018/2019 driven by price competitiveness and higher demand in the northern region.
Policy Overview
Permanent pressure from Colombian sugar millers to reduce U.S. imports, including a countervailing duty (CVD) case against U.S. ethanol, a draft regulation on price-setting for imported ethanol, stringent quality standards and a maximum footprint limit associated with the GHG inventory for ethanol.
The Colombian cereals growers' federation (FENALCE) actively sought different initiatives that seek to affect U.S. corn trade. None have affected trade.