Supply/Demand Basics
#5 export market destination for U.S. corn, importing 2.42 MMT in MY18/19, a nearly one million ton increase from previous year.
#7 export destination market for U.S. DDGS, importing 667 TMT in MY18/19; a small increase over the previous year.
#2 export destination import market for U.S. ethanol, importing 331 million gallons in MY18/19.
Country Overview
Population / growth: 35.9 million / 0.72 %
Urban % / growth: 81.4% / 0.97%
GDP / growth: $1.77 trillion / 3%
GDP per capita: $48,400
Canada resembles the U.S. in its market-oriented economic system, pattern of production, and high living standards.
The livestock sector in Canada is large and well-developed, especially in terms of beef cattle – Canada was the 12th largest beef producer in the world in 2017.
The dairy sector has a presence in all of the provinces and is one of the top 2 agricultural commodities in seven of the 10 provinces.
Trade and Market Share Overview
Canada is a top market for U.S. ethanol, corn and DDGS. It is the #4 export market for U.S. feed grains in all forms at 8 MMT with a value of $3.2 billion.
The U.S. has had a consistent 100% – or close to it – market share for DDGS, CGF and CGM. Turkey, India, Romania, Russia and China have had some presence in the Canadian corn market, but the U.S. is the dominant exporter.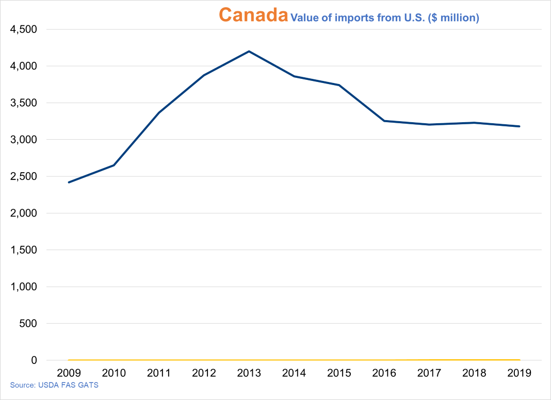 Policy Overview
The Canadian Parliament rushed through ratification of USMCA in early March before taking a three week break to address the COVID-19 pandemic. They were the last country to ratify the agreement.
Agricultural exporters in Canada are closely monitoring the impacts of the Phase 1 deal between the U.S. and China. Canadian exporters, especially of wheat, benefitted from the demand gap in China caused by trade tensions with the United States.
In 2017, Environment and Climate Change Canada announced new federal Regulatory Framework on the Clean Fuel Standard to reduce its GHG emissions through increased use of lower carbon fuels and technologies.
In 2020, Ontario increased its blend mandate to 10% and Quebec has announced a 10% mandate in 2021, with both intending to move to 15% by 2025. The two provinces make up nearly 55% of fuel consumption.