Supply/Demand Basics
#6 export market destination for U.S. corn, importing nearly 1.77 MMT in MY 2020/2021.

#6 export destination market for U.S. DDGS, importing 532 TMT in MY 2020/2021.

​

#1 export destination import market for U.S. ethanol, importing 349 million gallons in MY 

2020/2021. 
Country Overview

Canada resembles the U.S. in its market-oriented economic system, pattern of production and 

high living standards. 

The livestock sector in Canada is large and well-developed. Around 2.3 MMT of pork were 

produced in Canada in 2020 and approximately 1.54 MMT of pork were exported that year.

In 2020, Canada produced around 1.28 MMT of beef and exported  527 TMT. The U.S. 

accounted for the largest export market for beef, with an export value of approximately 2.33 

billion CAD. 
Trade and Market Share Overview
In 2020, Canada was the second largest export market for U.S. agricultural exports, totaling over 

US $22 billion, accounting for nearly 15% of total U.S. agricultural exports.

Canada is a top market for U.S. ethanol, corn and DDGS. It is the #4 export market for U.S. feed 

grains in all forms at 7.75 MMT with a value of $3.6 billion.

In 2020, the United States imported US $25.3 billion worth of agricultural products from Canada.

​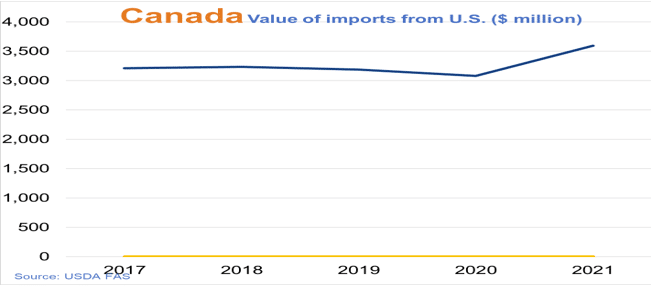 Policy Overview
The first dispute settlement panel under the USMCA was brought against Canada, which was 

found guilty of violating the agreement by reserving most of its dairy tariff-rate quota for the 

exclusive use of Canadian processors. This decision sets the stage for regulation of the newly-

revised trade agreement.

In December 2021, Environment and Climate Change Canada published the final draft regulation 

for the Clean Fuel Standard (CFS) to reduce its GHG emissions through increased use of lower 

carbon fuels and technologies. The regulation would go into effect in spring 2022.  

In December 2021, Quebec finalized its legislation to require 15% blending by 2030, increasing 

demand in Canada's largest province.