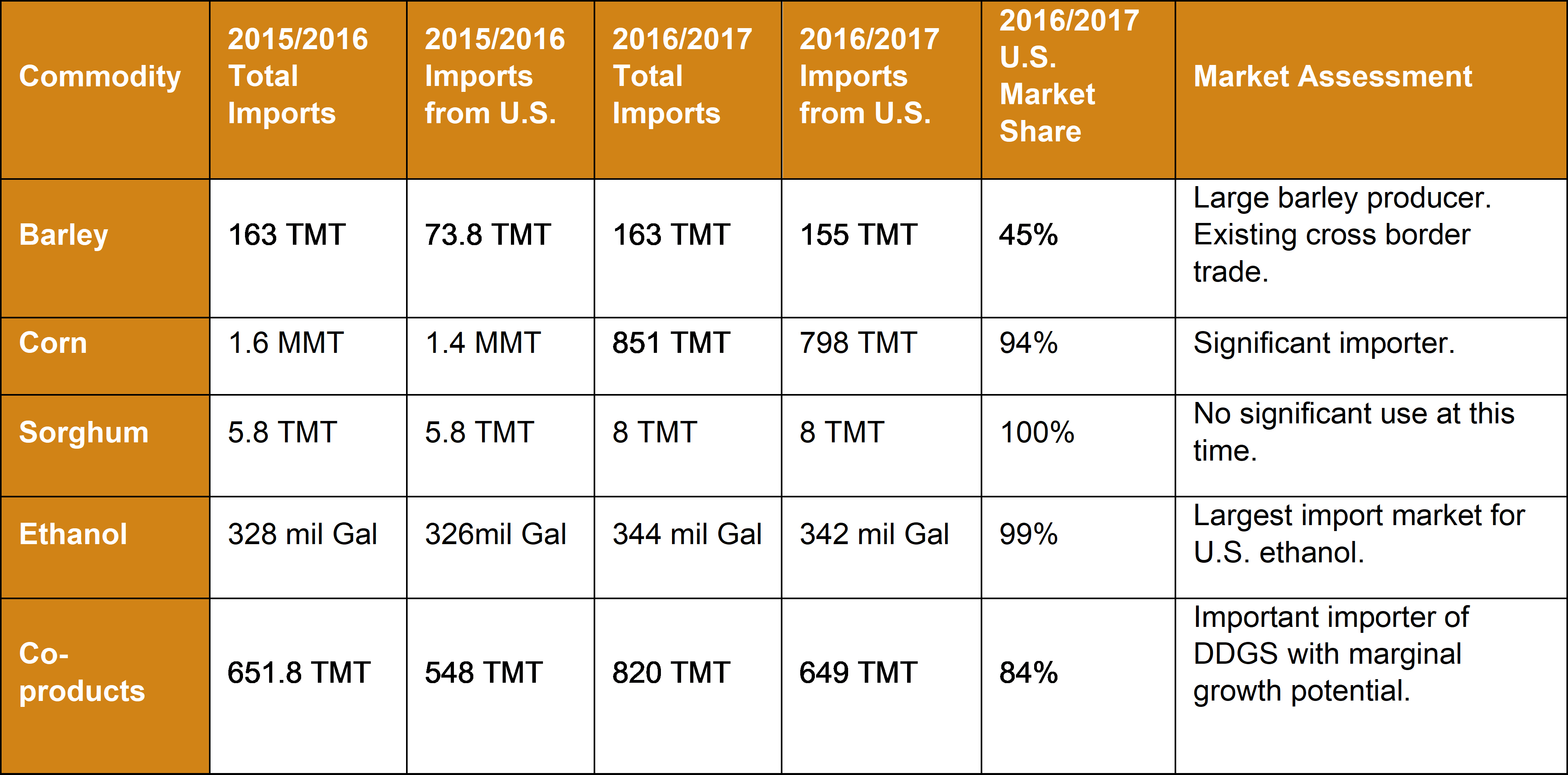 Supply/Demand Basics
#14 export market destination for U.S. corn, importing 798,000 MT in 2016/17, a 47% decrease from previous year.
#6 export destination market for U.S. DDGS, importing 649,000 MT in calendar year 2017 through November; 39% increase over the previous year.
#2 export destination import market for U.S. ethanol, importing 342 million gallons in 2016/17.
Country Overview
Population / growth: 8 million / 0.73 %
Urban % / growth: 2% / 1.16%
GDP / growth: $1.764 trillion / 3%
GDP per capita: $48,100
Large oil and natural gas sector with majority of oil production in Western Provinces.
Ranks 3rd in world in oil reserves and 6th-largest oil producer.
Trade and Market Share issues
NAFTA has been a successful agreement, playing a critical role in the development of a value chain between US producers of grains and co-products. Canada is a top market for U.S. ethanol, corn and DDGS.
Policy Issues
The 1994 North American Free Trade Agreement (NAFTA) touched off a dramatic increase in trade and economic integration with the U.S., its principal trading partner. This agreement is now under renegotiations.
Canada is the largest foreign supplier of energy to the U.S., including oil, gas, uranium and electric power.
In 2017 Environment and Climate Change Canada announced new federal Regulatory Framework on the Clean Fuel Standard to reduce its greenhouse gas (GHG) emissions through increased use of lower carbon fuels and technologies.
Ontario proposed to increase ethanol blend mandate from 5 to 10 percent. Changes proposed to take effect in 2020.