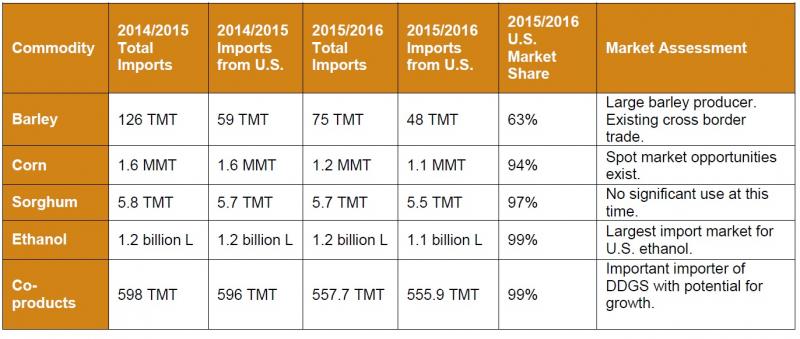 Supply/Demand Basics
#19 import market for U.S. corn in MY 2016, U.S. market share 94%.
#5 im port market for U.S.DDGS, importing 465 TMT in MY 2016 (through November).
#1 import market for U.S. ethanol, importing 1.1 billion liters in 2016.
Country Overview
Population: 35.4 million
Population growth: 0.74%
Urban %: 81.8%
Urban growth: 1.22%
GDP: $1.632 trillion
GDP growth: 1.2%
GDP per capita: $45,600
As a high-tech industrial society in the trillion-dollar class, Canada resembles the U.S. in its market-oriented economic system, pattern of production and high living standards.
Canada's petroleum sector was expanding rapidly until recently due to Alberta's oil sands development. It now ranks third in the world in proved oil reserves behind Saudi Arabia and Venezuela.
Trade and market Share issues
The 1989 U.S.-Canada Free Trade Agreement and the 1994 North American Free Trade Agreement lead to a dramatic increase in trade and economic integration with the U.S., its principal trading partner (US 53.1%, China 12.2%, Mexico 5.8%).
Policy issues
Canada enjoys a substantial trade surplus with the U.S., which absorbs about three-fourths of Canadian merchandise exports each year.
Canada is the largest foreign supplier of energy to the U.S., including oil, gas, uranium and electric power.