Chicago Board of Trade Market News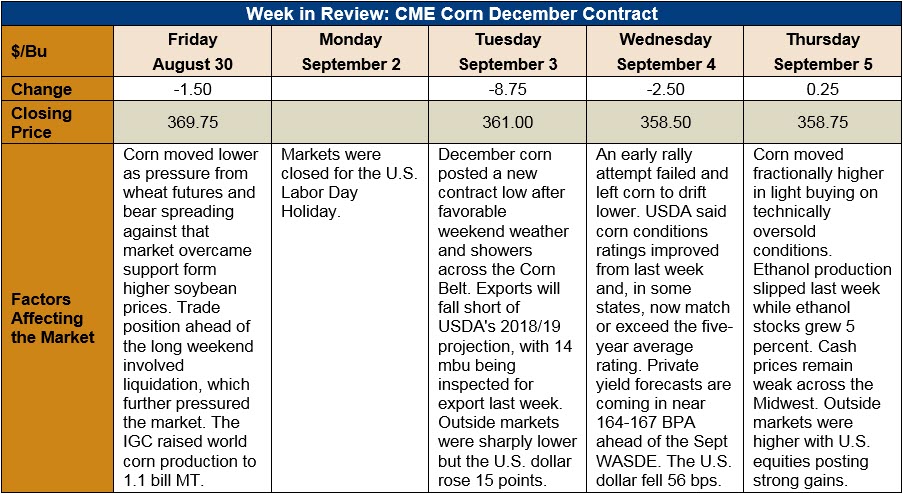 Outlook: December corn futures are down 11 cents (3.0 percent) this week after posting a new contract low on Tuesday. Noncommercial selling combined with fundamental pressure from good weather across the Corn Belt were the key drivers behind the market's weakness. Private yield estimates have come in below USDA's August WASDE projections, but are still better than many in the market expected.
USDA's weekly Export Sales report is delayed one day due to the U.S. Labor Day holiday and will be released on Friday. The weekly Export Inspections report, however, featured 355,000 MT of corn shipments that put marketing year-to-date totals down 18 percent. The report also featured large sorghum exports of 88,500 MT.
On Tuesday, USDA said that 58 percent of the corn crop was in good/excellent shape, showing modest improvement from the prior week. Notably, conditions ratings for some western states are now equal to or slightly above the five-year average. USDA's report also noted that 81 percent of corn was in the dough stage (behind the five-year average of 93 percent) and that 41 percent of the crop was dented (versus the five-year average of 63 percent). Fortunately, the weather forecasts remain warmer-than-normal with only modest rainfall that should help the crop finish maturing before the first frost/freeze. USDA cites 6 percent of the corn crop as being mature as of this past Sunday.
U.S. cash prices are weaker across the Midwest this week with the average price moving 3 percent lower (in-line with futures) to $134.85/MT. Barge CIF NOLA and FOB NOLA corn prices are lower this week with Gulf export offers at $159.50/MT.
From a technical standpoint, December corn is trending lower but is quickly becoming oversold with the Relative Strength Index (RSI) at 30.79. RSI values at or below 30 are typically interpreted as oversold and likely to post at least a modest rally as buyers run out of steam. Trading volumes have been declining as the market made its push to new contract lows, which is again a typical sign of the exhaustion phase of a bear market.
Given the technically oversold conditions for December corn, the question becomes what fundamental catalyst could spark a rally? With private firms estimating U.S. corn yields in the range of 165-167 BPA, a reduction in USDA's yield estimate in the September WASDE seems likely. Both acreage and yields could be less than projected in the August report, and if so, could spark a short covering rally in corn futures.