Chicago Board of Trade Market News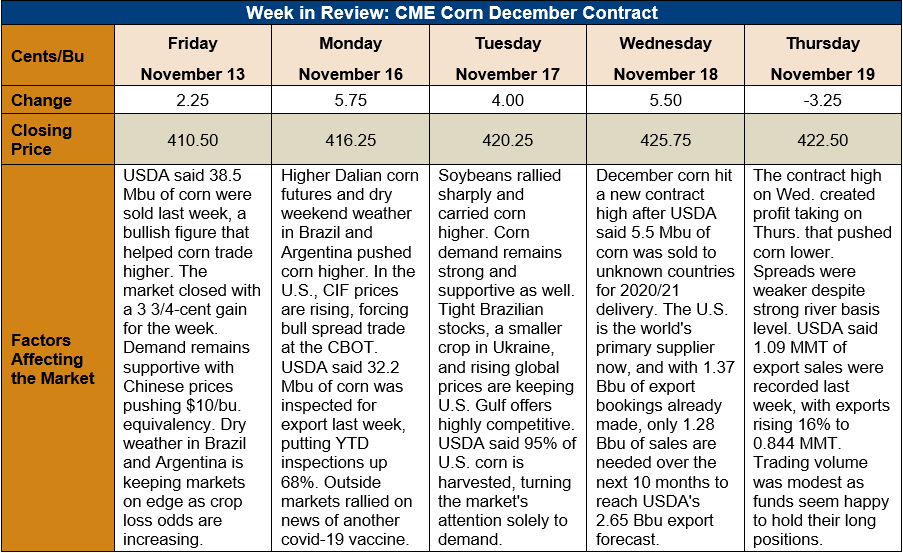 Outlook: December corn futures are 12 cents (2.9 percent) higher this week as strong export demand and bull spreading have buoyed markets. Soybean futures have traded sharply higher this week as well, offering secondary support to corn futures. With the U.S. harvest all but 5 percent finished, the market is now focusing strictly on demand estimates, and those are trending bullish.
U.S. Gulf corn is among the cheapest in the world as tight stocks in Brazil and smaller crops in the EU and Ukraine push competing origin prices higher. Recent weakness in the U.S. dollar, due to investors turning to riskier assets as coronavirus vaccine news boosts economic growth expectations, has also benefited U.S. exporters. Cash market sources note that U.S. corn is extremely competitive for both Q4 2020 and Q1 2021 positions.
The competitiveness of U.S. corn has translated into strong export sales and shipments. This week, USDA reported 1.08 MMT of net export sales, up 11 percent from the prior week, while shipments totaled 0.844 MMT, up 16 percent from the prior week. YTD exports total 8.43 MMT, up 62 percent, while YTD bookings (exports plus unshipped sales) total 35.26 MMT, up 166 percent. U.S. sorghum exports have also exceeded expectations this year, with YTD shipments totaling 940 MMT, up 831 percent.
CIF values and river basis levels have been rising this week amid strong export demand. Demand from the cash market has spurred bull spreading at the CBOT and helped December corn futures post a new contract high this week. U.S. cash corn prices are averaging $161.10/MT (($4.09/bushel) this week, up 4 percent from the prior week and up 15 percent from this time last year. Basis levels continue to tighten, with the average basis reaching 17 cents under December futures (-17Z) up from -38Z this time in 2019.
From a technical standpoint, December corn futures appear to be trying to trade higher from their recent trading range. Wednesday's fresh contract high is a bullish signal and Thursday's inside day on the charts (i.e., where the day's high and low are respectively lower and higher than the prior day's) did nothing to contradict it. Resistance lies at $4.28 ¾ (the contract high) with little to stall rallies above that level until the July 2019 weekly highs near $4.60 are reached. Support lies at $4.15 in December futures with major trendline support at $4.07 below that. Unlike the soybean market, corn futures are not overbought yet, which means rallies should continue to find strong buying interest.