Chicago Board of Trade Market News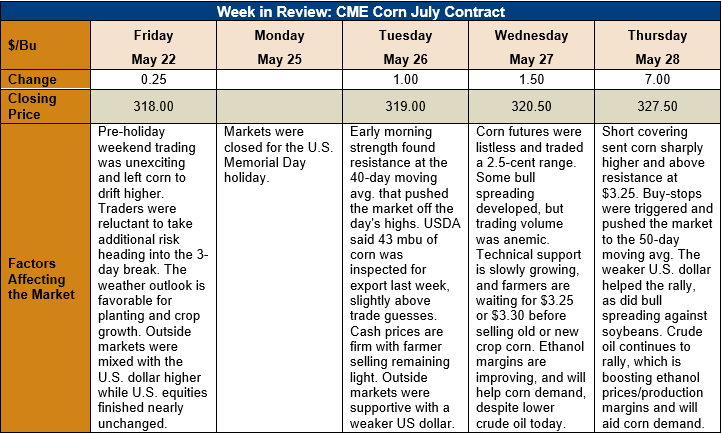 Outlook: July corn futures are 9.5 cents (3.0 percent) higher this week as firming technical indicators early in the week created a short covering rally Thursday afternoon. Bull spreading also developed on Thursday as traders reacted to signs of growing corn demand. The weekly U.S. Energy Information Agency report showed ethanol production continuing to grow while stocks fall, and the two trends are bullish for corn consumption. A weaker U.S. dollar was helpful for corn and other CBOT markets.
The weekly Export Sales report from USDA is delayed until Friday due to the U.S. Memorial Day holiday, but Tuesday's Export Inspections report featured 1.091 MMT of corn inspected for exports. That figure was down slightly from the prior week but was slightly above the market's pre-report estimates. YTD inspections are down 29 percent at 27.351 MMT. The report also noted 188,000 MT of sorghum inspections, which put YTD inspections up 137 percent.
The U.S. corn crop is 88 percent planted as of Tuesday's USDA report, which is well above last year's dismal pace (55 percent by the same day) and the five-year average (78 percent). This week has featured favorable weather with a dry trend across the Corn Belt and Northern Plains that is allowing farmers to finish planting spring crops. The dry weather is also encouraging crops to develop deeper root systems, which will offer some protection against possible hot/dry conditions this summer. Fortunately, the long-term forecast suggests U.S. crop growing conditions will be close to ideal. The good weather so far has been reflected in the U.S. corn condition ratings, which show 70 percent of the crop in good/excellent condition.
From a technical standpoint, July corn futures posted a strong bullish technical day on Thursday with a 7-cent rally occurring on near-record volume for the contract. Funds were heavily short before the rally and are thought to have bought some 25,000-30,000 contracts. Buy-stops were triggered as the market passed $3.25, and that helped propel futures to the next technical target of $3.30. The market settled slightly below the 50-day MA and a close above that point in the coming days will be a strong signal for bulls. Given the recent rally, pullbacks are likely to see increasing support even as hedge selling picks up on rallies. Seasonally, corn trends higher heading into late spring/early summer and it is doubtful speculative traders will want to be short until later in the growing season. Current market conditions don't suggest a wildly bullish market, but momentum is swinging higher and both technical and fundamental support is growing.