U.S. Weather/Crop Progress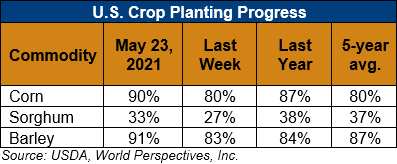 U.S. Drought Monitor Weather Forecast: During the next 5 days (May 27 to 31), parts of the Pacific Northwest, much of the Great Plains and Corn Belt, and Mid-Atlantic are favored to remain wet. Some locations in the Central Plains could receive up to 2 to 4 inches of rainfall. Temperatures are forecast to remain below-normal for much of the period across the Central and Southern Plains, with temperatures starting out below-normal across the eastern CONUS before moderating to near-normal during the period. In the West, temperatures are expected to be much above-average, with forecast positive anomalies in excess of 20°F near the end of the 5-day period.
The CPC 6-10 day extended range outlook (valid June 1 to 5) favors enhanced odds for above-normal temperatures and below-normal precipitation across much of the West and Northern Tier to the Great Lakes, with above-normal temperature probabilities extending into the Northeast. Enhanced odds for below-normal temperatures and above-normal precipitation are favored across the Southern Plains and Lower Mississippi Valley, with odds tilting toward above-normal precipitation across the Southeast. In Alaska, above-normal temperatures are predicted across the Southwest Mainland and parts of the Alaska Peninsula, while enhanced odds for below-normal temperatures are predicted over the eastern half of the state. Above-normal precipitation is favored across much of Mainland Alaska, extending to the Panhandle.
Follow this link to view current U.S. and international weather patterns and future outlook: Weather and Crop Bulletin.